Idaho undisputed No. 1 in West in per capita farm income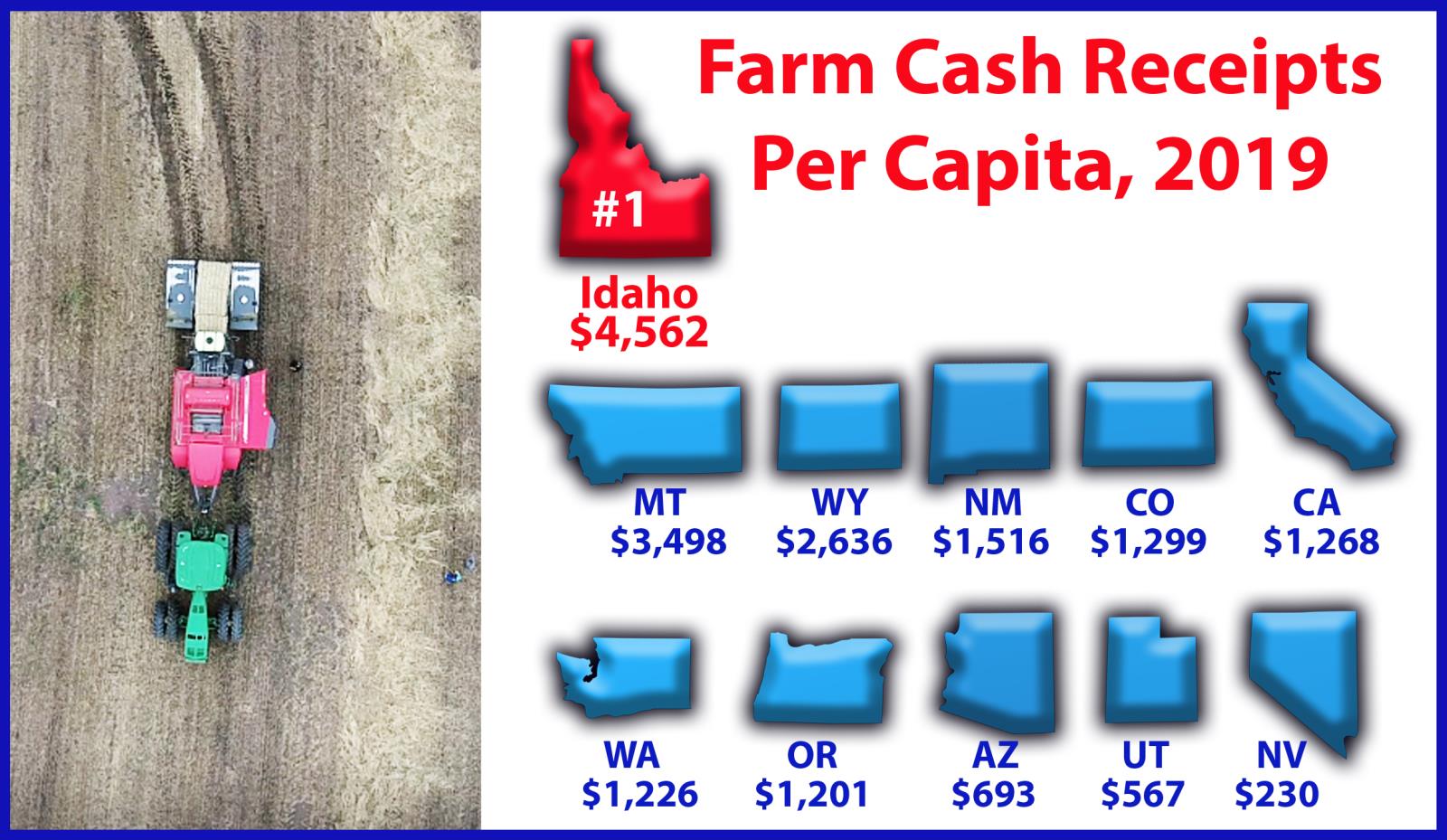 By Sean Ellis
Idaho Farm Bureau Federation
POCATELLO – Idaho is small when it comes to population but very big when it comes to agriculture.
Idaho ranked No. 1 among the 11 Western states in 2019 in farm income on a per capita basis.
USDA data released Sept. 2 shows that Idaho farmers and ranchers produced $4,562 per person in 2019 in farm cash receipts, which is the revenue that farmers and ranchers receive for selling their commodity.
No other Western state was even close when it came to farm cash receipts per capita – total farm income divided by the state's population.
"That is a remarkable statistic," said University of Idaho Agricultural Economist Garth Taylor. "Relative to our population, agriculture has a big presence in the state."
Data released by USDA's Economic Research Service Sept. 2 provided the first state-level farm income estimates for 2019. The data shows that when it comes to per capita farm cash receipts, Idaho is the big dog in the West.
Idaho producers brought in $8.1 billion in farm cash receipts last year, which ranked the state third in that category in the West. Divide that number by the state's total population of 1.78 million people and it comes out to $4,562 per person.
California farmers and ranchers brought in $50 billion in farm cash receipts in 2019, by far the most in the nation. But California's per capita farm income total worked out to $1,268.
Washington ranked No. 2 in the West in farm cash receipts last year with $9.3 billion but that state's per capita farm income total was $1,226.
The only state in the West remotely close to Idaho's per capita number was Montana, which came in at $3,498.
Wyoming was third in the per capita rankings at $2,636 and was followed by New Mexico ($1,516), Colorado ($1,299), California and Washington.
Oregon was next at $1,201, followed by Arizona ($693), Utah ($567) and Nevada ($230).
UI Agricultural Economist Ben Eborn compiles the per capita farm income rankings each year as a quick way to show people how important agriculture is to the average Idahoan.
"It's a fun way to illustrate how important agriculture is to our state. Idaho is way more dependent on agriculture than any other Western state," he said. "I hope it encourages people to think about agriculture and how important it is to the state a little more."
A University of Idaho study found that agriculture directly and indirectly accounts for 13 percent of Idaho's total gross state product, and $26 billion in annual sales and one in eight jobs in the state.
"Idaho is a relatively small state in population but we're big in agriculture," Taylor said.
Still can't find what you are looking for? Find by topic: