Idaho Beef Council invests $250,000 in industry's future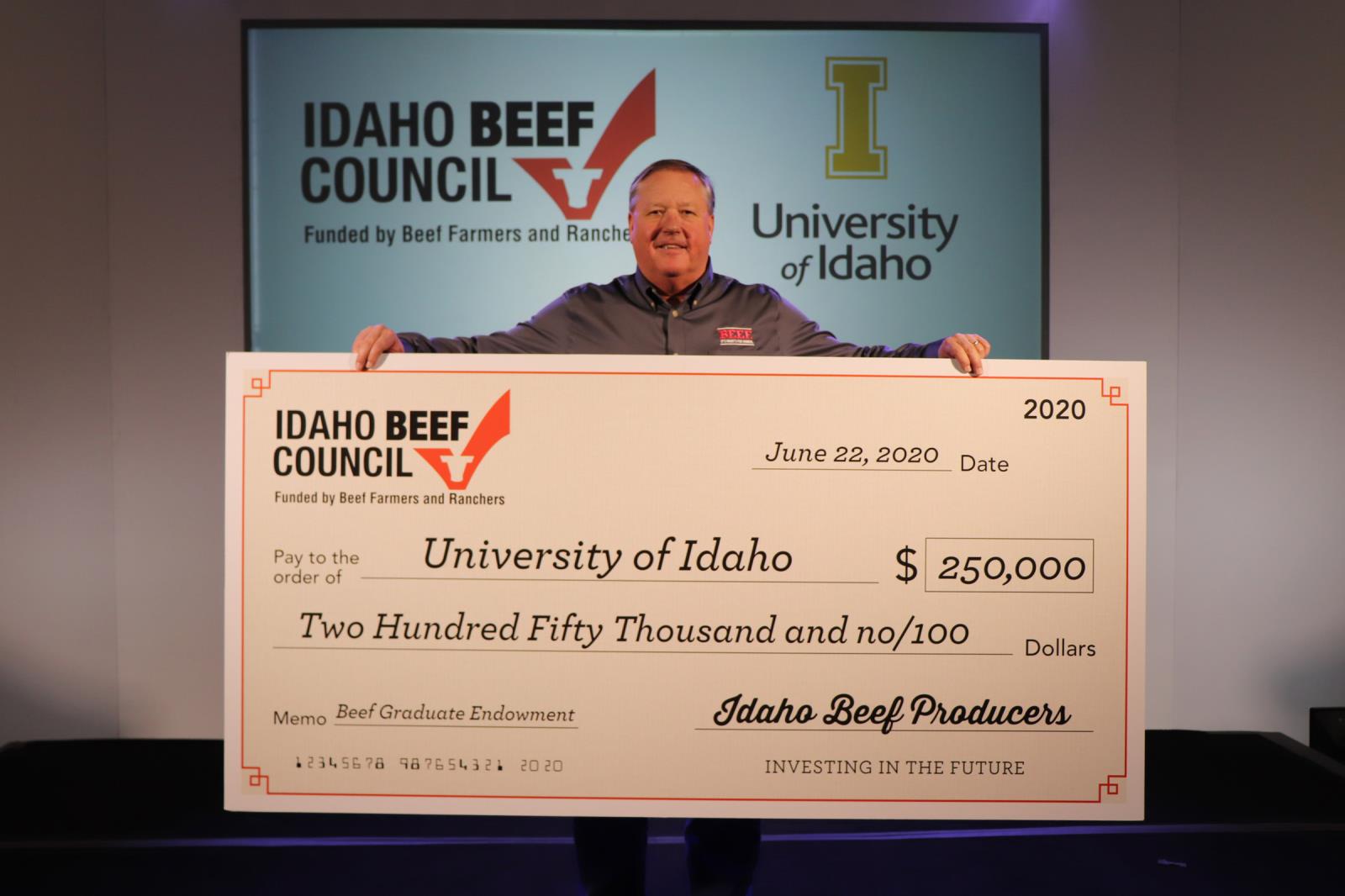 MOSCOW – The Idaho Beef Council on Jan. 12 announced a $250,000 gift to the University of Idaho to expand research aimed at strengthening consumer trust in beef production.
The investment of state beef checkoff dollars will establish the IBC Graduate Fellowship Endowment in the U of I's College of Agricultural and Life Sciences and provide scholarship support to graduate students conducting research in topics ranging from beef safety and nutrition attributes to quality, consistency and marketability and new product development.
"We believe that supporting students in this way will advance the skills and knowledge of the next generation of beef industry experts, drive sustainable solutions and strengthen the Idaho beef industry's position in the marketplace," said Idaho Beef Council Chairman Jeff Johnson.
The Idaho Beef Council is funded through an assessment paid by Idaho cattle ranchers.
"The support of Idaho cattle producers, through the Idaho Beef Council's investment, ensures the university will continue to expand the unique and transformative educational, research and outreach opportunities available to our students that, in turn, benefit Idaho's beef industry for generations to come," said CALS Dean Michael Parrella.
Idaho is ranked in the top 15 in the nation for beef cattle production. As protein choices continue to expand worldwide, the IBC is committed to funding beef quality, safety and nutrition research to ensure consumers have confidence in their purchasing decisions.
Beginning on July 1, IBC Graduate Fellowship Endowment scholarships will be awarded to graduate students who have applied, been accepted and enrolled full time in a meat science graduate program at the U of I. Recipients will be selected by the U of I's Student Financial Aid General Scholarship Committee.
To qualify for support from the endowment, graduate student projects must align with the requirements of the Federal Beef Promotion Act and Order and seek to strengthen the beef industry's position in the marketplace, to maintain and expand domestic and foreign markets, and to identify new product opportunities.
Still can't find what you are looking for? Find by topic: