FFA tractor raffle raises more money despite COVID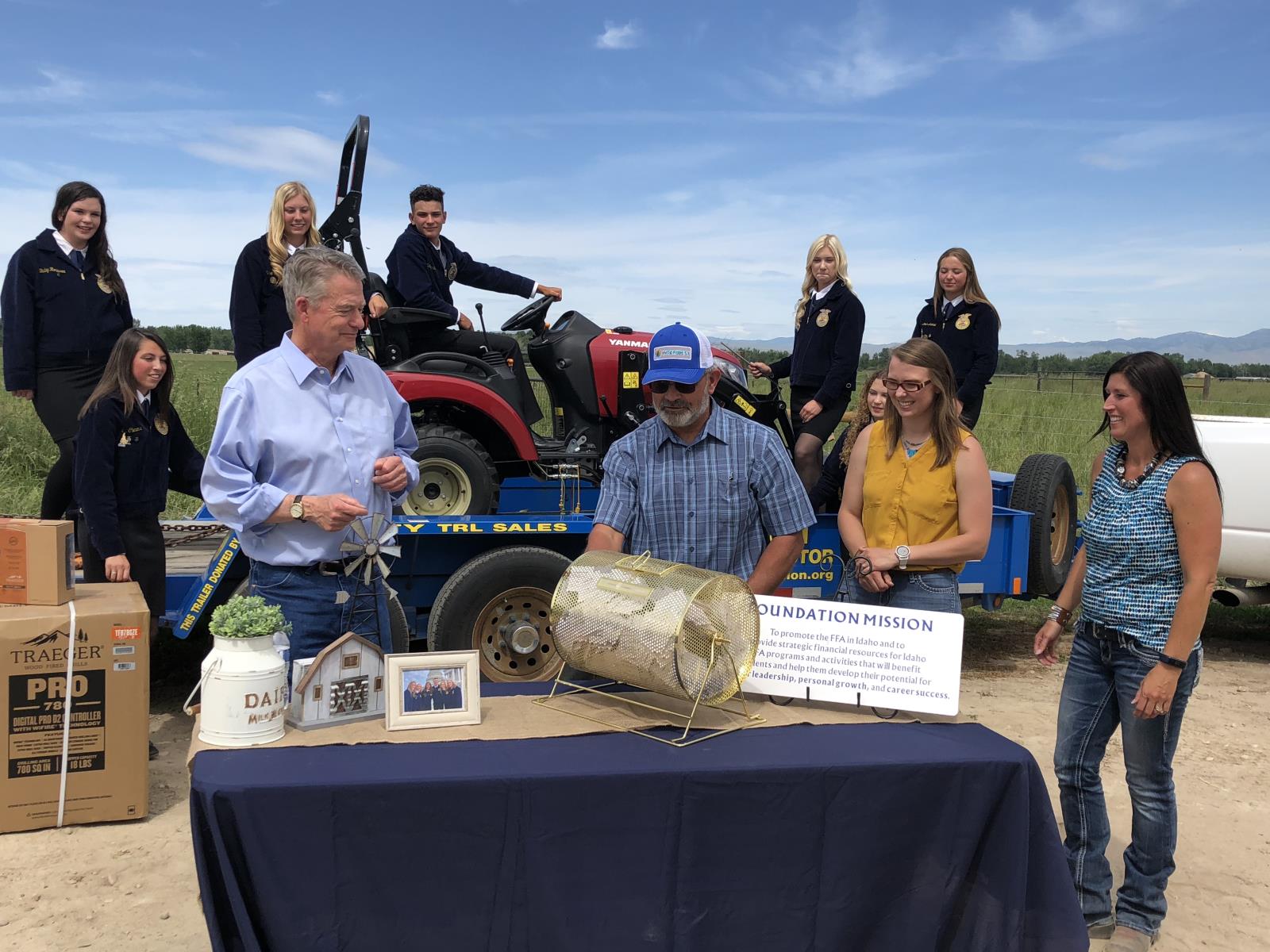 By Sean Ellis
Idaho Farm Bureau Federation
CALDWELL – The Idaho FFA tractor raffle program raised more money for scholarships this year despite the challenges posed by the COVID-19 outbreak.
The shutdowns caused by the coronavirus outbreak occurred during a time when a lot of raffle tickets are traditionally sold, during various FFA springtime events.
Despite that, the tractor raffle, which just concluded its 10th season, raised $42,240 in ticket sales in 2019-2020, 16 percent more than the previous year.
Including the money that was raised through corporate sponsorships, the total revenue was enough to provide $22,000 worth of scholarships this year to high school seniors who are FFA members in Idaho.
Tickets used to cost $10 apiece but the price was raised to $20 for the 2019-2020 season and for the first time, half of the money from each ticket sold was given back to the chapter that sold it.
Total ticket sales were down this year partly due to the higher price, although the increased price also resulted in more total revenue being raised. But the coronavirus outbreak was a bigger factor in the decreased ticket sales, said Stephen Parrott, chairman of the Idaho FFA Foundation board of directors.
"I think the higher ticket price did contribute to the down ticket sales but I think COVID had a bigger impact because we lost out on a lot of our spring events" where a lot of tickets are sold, he said. "We are very excited with ticket sales this year given all the things that have been going on."
Before this season, 60 percent of ticket sales went to scholarships, 6 percent went to the chapters that sold the three winning tickets and the remaining 34 percent was used to cover administrative costs of the program.
Sid Freeman, a Caldwell farmer and Idaho Farm Bureau Federation member, started the raffle program in 2010 along with his wife, Pam.
To help generate ticket sales, as well as raise awareness of the important role that agricultural education plays in Idaho, the tractor to be raffled is pulled 5,000 miles across Idaho each year on a trailer.
Since the first tractor was raffled off in 2011, the program has raised almost $550,000 in ticket sales, corporate sponsorships and in-kind donations.
It has provided $168,000 worth of scholarship money to 154 FFA students across Idaho.
On June 3, Gov. Brad Little, joined by FFA students and leaders, drew the winning ticket for this year's grand prize: a 2018 Yanmar 221 with blade and bucket. The winner was Hal Harris, who purchased the winning ticket from the Middleton FFA chapter.
Little, a Republican rancher from Emmett, praised the state's FFA program and he said that if there was no such thing as FFA and people wanted to start a program to help propel the state forward, "You'd say, let's invent FFA."
"This program just continues to provide incredible dividends to the entire state of Idaho," he said.
Parrott said the new program rule that gives 50 percent of ticket sales back to the chapter that sold it has been well-received among the state's 95 FFA chapters.
"I think that change has just been a great addition to the tractor raffle," he said.
Kevin Barker, an ag education teacher at Notus High School and member of the foundation board, said the tractor raffle has been a big blessing to Idaho's FFA program.
When Freeman first pitched the program to the board, it seemed like a wild idea, Barker said.
"But it has turned into a phenomenal program," he said. "It really helps get these kids into post-secondary education."
The first tractor, a 1940 International Farmall H donated by the Freemans, was raffled off in 2011.
Freeman said the tractor raffle had its genesis in his wife being "consistently persistent that I do something with that old tractor."
With the help of agricultural businesses, the tractor was refurbished and restored to "like-new" condition.
Freeman said he and his wife wanted to raise money to help fund a program they believe strongly in.
"Historically, the statistics will show that ag ed students with the FFA component are far more likely to graduate from high school, go on to a post-secondary education … and then come back and be leaders in our communities later," he said.
Parrott said the state's agricultural industry has provided a significant amount of support to the tractor raffle program.
"We've had a ton of industry support … and a lot of sponsorship dollars have gone into keeping the cost of the program down so we can provide more scholarships to students," he said.
Still can't find what you are looking for? Find by topic: