Fall calving boosts survival rates for some Idaho ranchers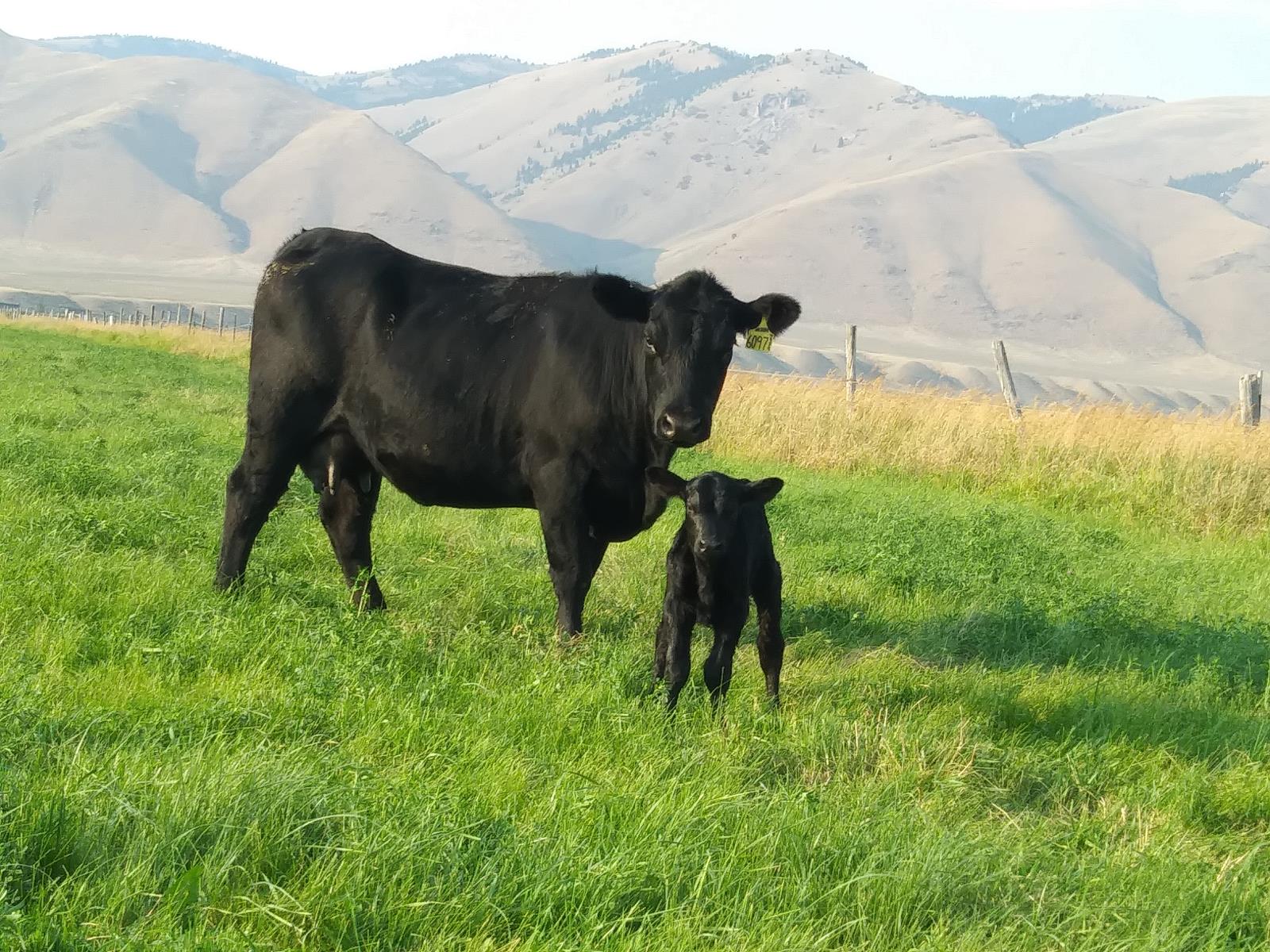 By Dianna Troyer
For Idaho Farm Bureau Federation
Instead of calving during frigid February or a March blizzard, several eastern Idaho ranchers say they are relieved to have switched to a more comfortable and profitable fall-calving season.
"We're starting to see a little more interest in fall calving in Idaho," said Dr. John Hall, University of Idaho extension beef specialist and superintendent of the university's cow-calf research center in Carmen.
For ranchers who are thinking of transitioning to fall calving, he suggests doing an economic and marketing analysis to ensure cash flow isn't negatively impacted.
"Talk to fall-calving producers and work with a team of extension professionals, nutritionists, lenders and financial advisers," Hall said.
For ranchers near Leadore and Mackay, a fall calving season means less labor checking on cows, higher calf survival rates, more choices for marketing calves, and no longer dealing with crooked calf syndrome, a disorder caused when cows eat lupine early in pregnancy.
"It's not for everyone, but it has worked well for us," said Merrill Beyeler, who raises Black Angus cattle near Leadore. "For many producers who made the switch, it's the difference between running a break-even ranch to owning a profitable business."
To minimize the impact on cash flow of his calf crop, Beyeler took about six years to change his breeding program and transition to a fall-calving herd.
"This fall, the transition will be complete for us, and we haven't looked back," he said.
Several factors convinced him to begin calving in mid-August through September instead of February.
"Calving in the fall instead of spring is a more efficient use of labor," he said. "After you start calving in February and are finally done, you have to start farming right away. You really don't get a break. It's an intense crazy six months."
During spring calving, moving cows and calves to pastures is arduous.
"We're at about 6,000 feet, so snow lingers," he said. "When we were calving in February and March, we placed pairs in different pastures based on the calf's age. It was time-consuming, labor-intensive, and expensive for us to clear roads of snow, then haul the pairs in stock trailers to the different pastures."
With fall calving, that task is eliminated.
"When moving cows that don't have calves at their side on the range, you don't worry about cows and calves mothering up, or a calf running back to where it sucked last," he said. "Put the cows through the gate, load up, and go home looking forward to a good night's rest uninterrupted by worrisome thoughts of what you will find the next day."
Beyeler said by calving in fall, he loses fewer calves to cold weather or wolves.
"Our survival rate is 4 to 5 percent better in the fall," he said. "There have been a couple of years that at the end of the calving season we have had a few more calves than cows due to twins. This never occurred when we were calving in February, regardless of twins."
During August and September, his calves were easy prey for wolves, especially on the range.
"This was one of the major factors for moving to a fall program," he said. "Calves no longer spend time on the range."
Fall calving also gives Beyeler more marketing options.
"We used to sell our calf crop in early November when most others did, too," he said. "A fall program gives us more and better marketing opportunities. We can market our calves as grass calves in the spring or sell them in the fall as yearlings. Spring and early summer is the best time to sell cows that didn't get pregnant, which has made a significant positive difference for us. Fall calving requires a little more hay to feed through winter, but it's offset by the prices we get in spring and summer."
Crooked calf syndrome
To the west of Leadore, in the Lost River Valley south of Mackay, Bo and Lewene Clark's Red and Black Angus herd has been calving in October and November for about five years.
The Clarks switched their calving season from the early months of the year to fall due to wolf depredation and crooked calf syndrome.
"Fall calving has helped us move from breaking even to making a living," Clark said. "We realized we can't keep doing business like grandpa did and expect to make a profit."
Crooked calf syndrome occurred in the herd after lupine grew prolifically on their ranges following a wildfire. When cows eat lupine between the 40th and 100th day of gestation, an alkaloid in the plant decreases the fetus' movement. As a result, calves are often born with joints that are fused at awkward crooked angles or are stillborn.
"We sent some tissue samples to two university labs and both confirmed that alkaloid in lupine caused the deformity," Clark said.
Cows can graze on lupine safely in the fall when the plants are in the pod stage.
"Switching calving seasons has been a gradual change for us for the past 23 years," Clark said. "About 10 years ago, we started getting more intense about it until the entire herd was calving in fall for the past five years."
One of the hardest adjustments "is realizing you don't have to check on your cows through the night, worrying if a calf will freeze to the ground," Clark said.
"You don't have to watch them like a hawk," Lewene said. "Most give birth fine during the daytime."
Clark said he noticed calves born in good weather are heavier at weaning than those born in cold weather.
"Our calves that have two weeks of good weather after they're born weigh about 100 pounds more than those that were born in cold weather even though they're only two weeks apart in age," he said.
For the Clarks, feeding cows and their 100- to 200-pound calves through winter is minimal.
"The calves are getting most of their nutrition from the cow, not hay, during winter," Lewene said.
Clark said fall calving allows him to take advantage of the seasonality of cattle prices and like Beyeler, he generally sells in spring.
"It varies, though," Clark said. "We sell when the market and weather tells us to. Last year a drought was forecast, so we adjusted."
Another positive factor is that after their bulls are done breeding in late fall and early winter, Clark leases them for several months in late spring to a neighbor who has a conventional calving season.
"We get paid to have our bulls taken away, fed and cared for," he said.
Clark said while fall calving works at his ranch, "it's not one-size fits all and might not be feasible for others."
Buying a fall herd
Last year, the Clarks' neighbors, Bill and Holly Seefried, transitioned to fall calving.
"We were blessed to be able to sell nearly half of our older spring calving cows and buy a fall-calving Red Angus herd from someone who wanted to get out of the business," Seefried said. "Our calf losses have declined considerably since we switched."
They even had seven sets of twins the first year.
Seefried said during the fall, almost all of their cows give birth during the day.
"It's amazing and a relief," he said. "Calving in winter and spring is always cold and miserable, especially with checking on them at night."
Before switching, the Seefrieds had calved in February and March and sold their calves in mid-October.
"But the last couple of calving seasons have been awful," Holly said. "It seemed like we were up all night long, and every calf was getting sick. Everyone was crabby and tired and heartsick. Having cattle wasn't fun anymore."
They brainstormed about what could be done differently.
"It was either change or get out of the cattle business entirely," Holly said. "That's when we really started looking into fall calving."
They talked to the Clarks for advice.
"We were fortunate to find a fall-calving herd," Holly said. "Switching calving seasons is a huge deal. You either have to switch gradually, about a month a year for several years, or skip a year with your calf crop. That is really hard to do with cattle because they have such a long gestation period and you have so much money invested in them. That's why most people don't change."
Holly said she would not recommend "switching the way we did. We took a big step of faith and did not turn out any bulls in the spring like we usually do. Then we started praying. We're so thankful it all worked out."
Advice from beef specialist
There are pros and cons to fall calving, Dr. Hall said.
In general, ranchers who switched from a spring to fall season saw improvements in weaning rates, cow nutrition, and pregnancy rate.
The downside is the need for additional hay during winter. To reduce fall and early winter feed costs while allowing cows to rebreed successfully, cow-calf pairs can be grazed on hay aftermath.
"Another constraint is how that switch might interface with permits on public lands," he said.
Hall describes the advantages of a fall-calving season.
Fall calves tend to realize a 2% to 5% increase in weaning rate because they thrive without weather stresses and will consume colostrum in greater amounts, bolstering their immune system.
Fall-calving cows build body condition throughout the summer, enabling them to cycle more rapidly than spring-calving cows.
Cull cow prices are higher from May through early September versus other times of the year, which adds value to open fall-calving cows.
Instead of marketing calves at weaning, most fall-calving ranchers shift to marketing weaned calves or yearlings. Calves are weaned in early spring to take advantage of cheap gains and high growth rates on summer forage. Seasonal price highs for 700- to 800-pound calves are July through September.
For more specific information about fall calving, Hall may be contacted at 208.756.2749 or jbhall@uidaho.edu.
Still can't find what you are looking for? Find by topic: