Zippy Duvall learns about dams during Idaho event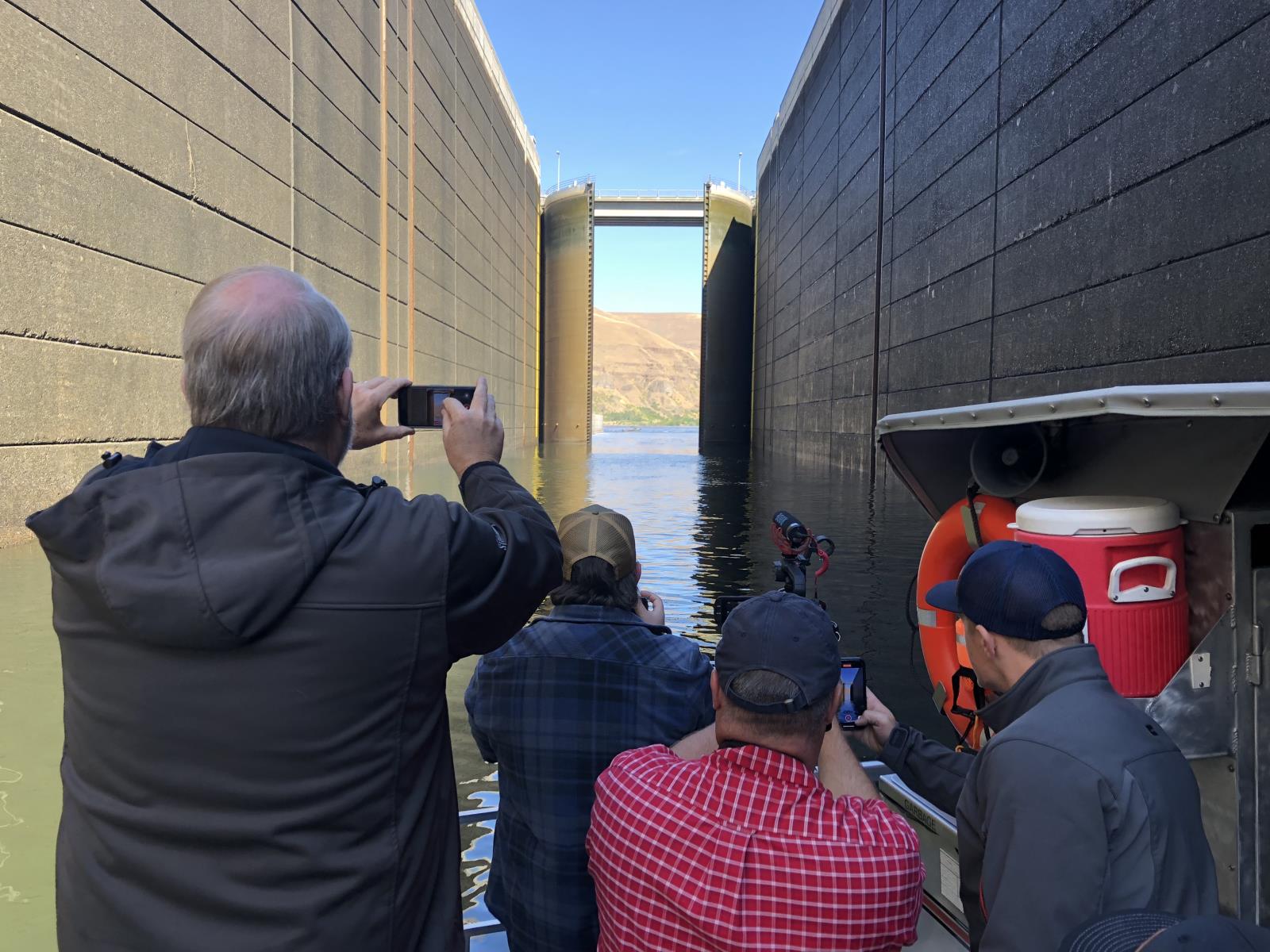 By Sean Ellis
Idaho Farm Bureau Federation
LEWISTON – Now that American Farm Bureau Federation President Zippy Duvall has seen one of the lower four Snake River dams in person, he will be better able to defend them at the national level.
That's the message Duvall, a poultry, cattle and hay producer from Georgia, delivered following a two-day event that brought dozens of farm industry leaders together in Lewiston to talk about the importance of the dams, which have been targeted by some groups for removal over the years.
Most recently, a $33.5 billion proposal introduced in February by Rep. Mike Simpson, R-Idaho, calls for the lower four Snake River dams to be removed in an effort the congressman believes will help recover populations of endangered salmon.
Participants of the dam tour event said removing the dams would be a disaster for agriculture and other businesses and industries in the Pacific Northwest, with no guarantee that it would help improve salmon survival.
Besides producing a significant amount of cheap and environmentally friendly hydroelectric power for the region, the lower four Snake River dams are also part of a system on the Columbia and Snake rivers that allows wheat and barley farmers, as well as producers of other commodities, to export their product to the world by barge.
Removing the lower four Snake River dams would make the Columbia-Snake River system unnavigable for barges that move those commodities.
The highlight of the dam tour event, which was held June 15-16 and hosted by Idaho Farm Bureau Federation and Idaho Grain Producers Association, was a tour of Lower Granite Dam.
Following that tour, Duvall told reporters during a press conference at the Port of Lewiston he now better understands why farm groups in Idaho and around the Pacific Northwest adamantly oppose removing the dam system, which allows wheat, barley, corn, soybeans and other commodities to be shipped by barge to Portland for export.
"It just doesn't make sense to think about tearing out those dams," he said.
Before touring the dam, Duvall said, he had no idea what a salmon ladder looked like. He also saw first-hand other efforts meant to help boost salmon populations, including fish slides and barges that carry salmon up and down the river.
"What is being done here is not harmful; it's actually helpful," he said about the dams. "I saw great work being done by very smart people to make sure we protect the salmon."
He said he had to experience seeing the dam system up close for himself and now that he has, he has a much better understanding of what is being done to help salmon, as well as why the river system is so important to agriculture.
Duvall said AFBF, which represents farmers across the United States, will do "everything we can to make sure everybody knows the resources that we have out here" in the dams. "I've learned so much and will be able to express it to … people."
Duvall was joined by leaders of other national farm groups, as well as representatives of major grain companies that depend on the Columbia-Snake River barging system to get their products to the West Coast for export.
During the press conference, Chandler Goule, CEO of the National Association of Wheat Growers, pointed out that removing the dams would make the lower part of the Snake River completely unnavigable for barges.
That would result in a lot more truck and train traffic, which would not only increase costs for grain producers and shippers but also result in more carbon emissions, he said.
"I don't see the upside to (Simpson's) proposal at all," he said.
Goule later told industry leaders NAWG would work with them and others to put together a strategy to oppose dam breaching and make sure members of Congress understand the importance of the dam system.
"Your concerns have been heard on the Snake River" dam issue, he said. "We will be sure to carry that (message) back to D.C. This is an extremely important battle."
Alex McGregor, chairman of the McGregor Co., which serves farmers in Idaho, Oregon and Washington, said Simpson's proposal doesn't make sense from an economic or environmental standpoint "and we shouldn't give an inch on it."
"There is nothing that beats river transportation," he said. "It is the safest, most economical way to go."
When it comes to helping salmon populations, McGregor added, "We can do a heck of a lot better than a draconian solution that harms everyone."
Idaho Water Users Association Executive Director Paul Arrington told event participants that the dams provide major benefits to not only farmers, but everyone in the region. That includes power generation, flood control, recreational opportunities and tourism, in addition to allowing farm commodities to be barged to the West Coast for export.
The entire river system "has really provided significant economic benefit to the state of Idaho," he said.
About half of the wheat produced in Idaho is barged down the Columbia-Snake River system to the West Coast to be exported.
About 4,500 farm families in Idaho grow wheat and barley and the river system allows them to be competitive globally by allowing their commodity to be barged to Portland for export, said IGPA President Stacey Satterlee.
"Barging has been good to Idaho growers," she said. "I don't think we can overstate how significant barging is to" Idaho's wheat industry.
Satterlee said if the dams were removed, it would result in transportation and storage costs for the region's grain farmers increasing by 50-100 percent.
"There is not a viable alternative to barging that exists" for the region's grain farmers, she said.
Wheat is grown in 42 of Idaho's 44 counties and is an important part of many farmers' crop rotations and as a result, removing the dams would have a negative impact on the state's entire agriculture industry, said IFBF President Bryan Searle, who farms in Shelley.
A proposal to remove the dams "should be seen as a threat to all of agriculture," he said.
Jeff Van Pevenage, president and CEO of Columbia Grain International, which is based in Portland, said his company opposes efforts to remove the dams.
Columbia Grain and its network of more than 8,000 farmers rely on the Columbia-Snake River system to export wheat around the world, he said.
The river system ranks No. 1 in the U.S. for wheat exports and No. 2 for corn and soybean exports and is also critical to other West Coast export markets, including wood and automobiles, he added.
Pevenage said the river system generated 50 million tons of international trade and at least $21 billion in cargo value in 2016 and supports 40,000 local jobs.
"The Columbia-Snake River system has successfully served our communities for over 80 years, providing our region with clean power, jobs, efficient transportation, irrigation, flood control, and more," he said.
He said Columbia Grain "supports maintaining a healthy Idaho salmon population but does not believe removing the dams is the correct course of action and will have severe, detrimental effects to the agriculture industry, including increased infrastructure costs, transportation costs, a huge compromise in efficiency and capacity, and farmers paying more and making less at the end of day."
If the dams are removed, the overall cost of handling, transporting and exporting wheat would rise substantially, Pevenage said.
Following the dam tour, more than 100 farmers, industry representatives and others attended a dinner where tour participants brought them up to speed on what happened during the event.
Michael Seyfert, president and CEO of the National Grain and Feed Association, told tour participants, "The science is with you. The facts are on your side. I think you can win this."
Searle said it is up to everyone involved in agriculture in the region to continue to educate people about why the dams are so important and why removing them would devastate agriculture in the region.
"We'll keep those dams and we'll fight every day to do it," he said. "Let's go forward and let's rally the troops. We have to continue to tell our story."
Speaking of Simpson's dam removal proposal, IGPA President Jamie Kress, a wheat farmer from Rockland, said wheat industry leaders will work together with other ag organizations to "see that this concept does not gain legs and move forward. I can tell you … Idaho Grain will continue to keep up this fight."
During the dam tour event, participants were shown a short video of Simpson explaining and defending his proposal. Detailed information on the congressman's plan can be found on his website.
Idaho salmon travel 900 miles over eight dams to reach the ocean, then later in their lives, they come back the same way to lay eggs and die.
Simpson has said that if the dams are not removed, endangered salmon will go extinct. Dam removal opponents dispute that claim and say that ocean conditions are the biggest factor in salmon survival.
Dam removal supporters "are trying to solve an ocean issue in a freshwater environment right now," said Port of Lewiston Manager Dave Doeringsfeld.
During the two-day dam tour event, participants emphasized that while they oppose Simpson's plan, they will continue to work with the congressman on future issues.
"Congressman Simpson is a good friend of agriculture … but we think he is wrong on this idea," Duvall said.
"Are we upset about the proposal? Absolutely," Searle said. "But although we disagree with Congressman Simpson's proposal, we're friends with him today."
Still can't find what you are looking for? Find by topic: