Young producers honored during hall of fame event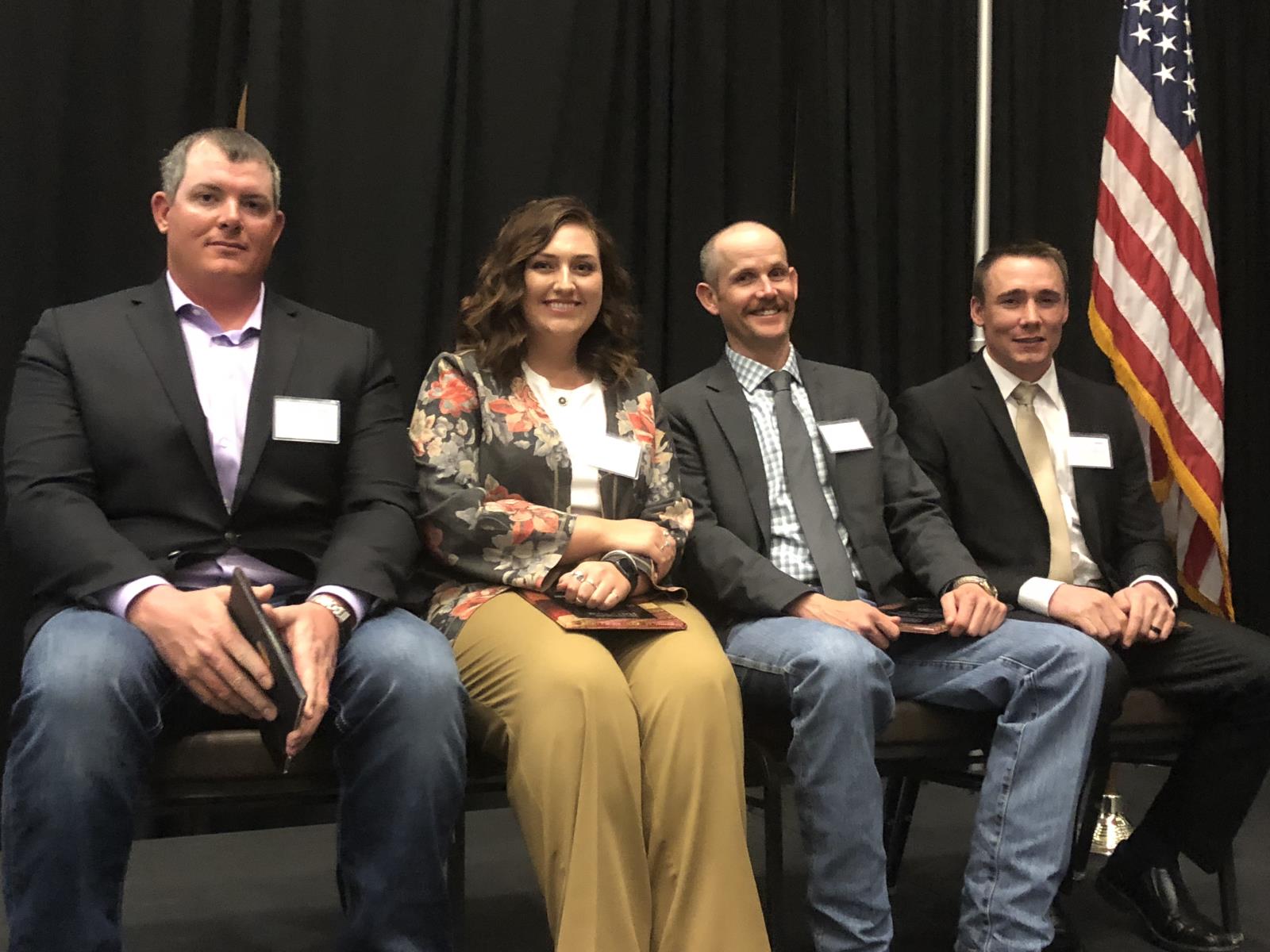 By Sean Ellis
Idaho Farm Bureau Federation
FORT HALL – Four up-and-coming young producers were honored during the Eastern Idaho Agriculture Hall of Fame's annual induction ceremony March 13.
The Edward P. Duren Memorial Young Producer Award recognizes innovative agriculture producers under the age of 40.
The hall of fame created the annual award in 2018 and it is presented in memory of Ed Duren of Soda Springs, a long-time supporter of the agriculture industry who passed away in 2017.
Idaho Farm Bureau Federation's Young Farmers and Ranchers program this year became the main sponsor of the award.
"The Young Farmers and Ranchers committee felt this is exactly the type of people that the group represents and wants to honor," said IFBF Director of Commodities Zak Miller, who is a member of the EIAHF board of directors. "The YF&R program wanted to really reach out to those young producers and say, 'you're doing amazing things,' and make sure they know Idaho Farm Bureau cares about them and appreciates what they are doing."
The award was presented to one individual in 2018 and 2019 but the votes for the four nominees in 2020 were so close "that the board decided to give it to all four because they felt they were all so deserving of that honor," Miller said.
All four recipients of the award this year are Idaho Farm Bureau Federation members.
The award recipients are Kenny Dalling of St. Anthony; Sedar Beckman of Idaho Falls; Rob Cope of Monteview; and Saydee Longhurst of Shelley.
"What an impressive group of producers," Idaho State Department of Agriculture Director Celia Gould said during the EIAHF's 48th annual banquet and hall of fame induction ceremony. "As I read each of your bios, I was impressed with how quickly and thoroughly you all have learned some of agriculture's greatest lessons."
Gould, a rancher, said the challenges and difficult circumstances that are inherent in being a farmer or rancher make producers better people, better parents and better citizens.
"The young producers we honor tonight exemplify this," she said. "Kenny, Rob, Saydee and Sedar are leaders in their families, they volunteer in their communities and they give back to their fellow producers."
Kenny Dalling
According to his award bio, Dalling, 26, got his first ag loan when he was 14 years old and "is a man who is building a successful and diverse agricultural operation in Fremont and Clark counties by recognizing and capitalizing on potential, while being mindful of risks and cash flow."
Dalling owns 100 acres of farmland, leases another 550 acres from eight different owners and manages his parents' 1,000-acre farm. He also has a 60-head beef cow herd.
He and his wife, Abby, purchase or rent neglected parcels of land that need major work and as a result are more affordable and available than developed farms.
"By hauling off junk, weed control and irrigation development, he brings these lands back to life and into crop or pasture production," his bio states. "Kenny's work ethic and accomplishments are amazing but he's a quiet guy who leads by example."
Rob Cope
Cope is a 34-year-old farmer from the Monteview area who got his start in agriculture by purchasing 160 acres, "which featured most of Idaho's noxious weeds, damaged sprinklers and exhausted soil," according to his bio. "It was a much better farm when he sold it."
He and his wife, Candace, now own 480 acres, where they raise alfalfa, barley, wheat and pasture, plus cattle and horses. He also helps his father with the family's farm and grazing ground.
"Rob is constantly educating himself about crop and livestock production and agribusiness management, pushing himself to improve, increase, conserve and restore," his bio states. "He has the well-deserved reputation of leaving his land, and the people around him, better for having known him."
According to his bio, producers of all ages watch Cope closely as he tests and adopts innovative practices relating to precision agriculture, rotation crops and soil and water conservation.
Saydee Longhurst
Longhurst started her small-bale alfalfa and grass hay venture at age 14 as an FFA project and has increased her rented acreage and financial investment every year to cover operating costs, customer demand and now her college expenses.
She is a former Idaho State FFA president, serves on the Idaho FFA board of directors and has traveled extensively as an ambassador for agriculture and Idaho, participating on a panel with U.S. Secretary of Agriculture Sonny Perdue and interacting with many national ag industry leaders.
"Few 19-year-old women post pictures of haystacks and tractors on their social media pages, or operate their own agribusiness," her bio states. "Saydee Longhurst does and is proud to say she's a member of a first-generation farm family."
According to her bio, "Saydee can discuss statistics, issues and opportunities in agriculture, help you write your farm business plan, and give you tips on adjusting your baler."
Sedar Beckman
When Beckman, 35, and his wife, Danna, purchased the original 155-acre Beckman family homestead in New Sweden, "he reaffirmed a passion and commitment to agriculture that goes back generations," his award bio states.
Besides being manager and co-owner of Beckman Livestock & Farming near Roberts, the Sedars independently own and lease farm and grazing land and are increasing the numbers and national market share of their purebred LimFlex cow herd.
"It's early when he goes out the back door every morning, but he's already been busy updating crop, farm and cattle records, and researching strategies to better manage his land and livestock resources," his bio states.
He also has a strong sense of giving back to the industry.
"Sedar has helped many kids select, train and show their steer and heifer projects, at the same time teaching them about proper care of their animals," his bio states. "When a neighbor is in need, Sedar will be among those mobilizing help, often the first there with a shovel, pitchfork or combine."
Ed Duren
Ed Duren was a University of Idaho Extension livestock specialist based in Soda Springs.
According to the EIAHF, "Ed spent a 39-year career (and many more years as a professor emeritus) providing education, outreach and leadership to producers and organizations across Idaho and beyond. His impact on agriculture in Idaho is beyond measure."
Still can't find what you are looking for? Find by topic: