USMCA could be much-needed boost for U.S. agriculture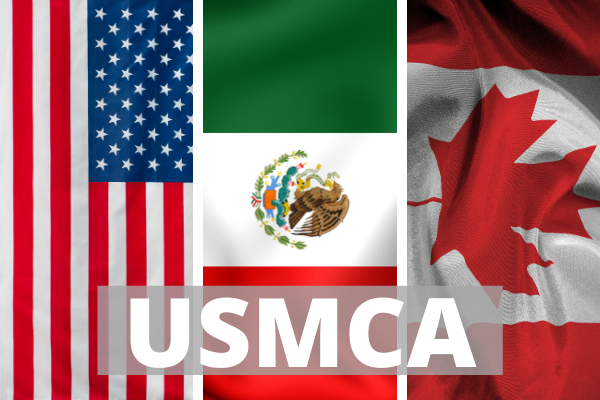 By Sean Ellis
Idaho Farm Bureau Federation
POCATELLO – Amid the market challenges farmers and ranchers are facing because of the coronavirus outbreak, the new USMCA trade deal offers the U.S. agricultural industry a ray of optimism.
The United States-Mexico-Canada Agreement, which went into effect July 1, replaces the 25-year-old North American Free Trade Agreement between those nations.
It could be a boon to American farmers and ranchers and includes some big wins for the U.S. agricultural industry, in particular for dairy and wheat, which rank as Idaho's No. 1 and No. 4 farm commodities in terms of farm-gate revenue.
The agreement includes a smaller win for U.S. wine, which should provide a boost to Idaho's fast-growing wine grape industry.
Canada and Mexico are the top export markets for U.S. and Idaho farm products and together account for almost half of Idaho's agricultural exports.
"This important trade agreement will provide additional market access for Idaho dairy, wheat, wine and other commodities to Canada and Mexico, our two largest export markets," Idaho State Department of Agriculture Director Celia Gould said in a statement welcoming the new agreement.
The COVID-19 outbreak has caused some big challenges for the U.S. agricultural community, she said.
"In trying times, farmers, ranchers and agribusinesses look for opportunity and that is exactly what USMCA affords us," Gould stated. "The agreement will provide a needed measure of stability and economic growth for our producers and trade partners."
In a statement hailing the new agreement, President Donald Trump called USMCA "a historic breakthrough for American agriculture. Canada will provide greater access for American dairy products, poultry and eggs and finally give fair treatment to American-grown wheat."
Trump's press secretary, Kayleigh McEnany, said in a statement that because of USMCA, "American farmers will have access to fairer markets in Canada and Mexico, opening up more opportunities to export their goods."
Gould said the new agreement is expected to create $450 million worth of new export market opportunities for U.S. agriculture.
After NAFTA went into effect, Idaho's agricultural exports to Canada grew almost 290 percent and they grew nearly 1,000 percent to Mexico, Gould said.
Idaho's top ag exports to Canada include live cattle, dry beans, fresh potatoes, frozen French fries, butter, canola seed and baked goods.
Idaho's top ag exports to Mexico include malt, seed, dairy products (mostly cheese), wheat and fresh vegetables.
According to the International Trade Commission, USMCA will result in 176,000 to 589,000 additional jobs in the U.S.
The U.S. dairy industry was one of the biggest winners under the new agreement. That's good news for Idaho's overall agricultural sector because dairy is Idaho's top farm commodity when it comes to total revenue.
Idaho dairy operations brought in about $2.8 billion in total farm-gate receipts in 2019, according to estimates by University of Idaho agricultural economists.
When crops that are used to feed dairy cattle, such as hay and corn silage, are considered, the dairy industry is a huge part of the state's overall farming economy.
Under the new agreement, Canada will provide new access for U.S. dairy products, including for fluid milk, cheese, cream, butter, skim milk and powder.
Canada's increase of quotas on U.S. dairy products will benefit American dairy farmers to the tune of $242 million, according to American Farm Bureau Federation.
Canada has also agreed to eliminate its Class 7 milk pricing system, which the U.S. dairy industry has charged allows that nation to undercut U.S. sales of certain milk products in Canada and dump surplus concentrated milk proteins onto global markets in direct competition with U.S. exports.
Leaders of Idaho's dairy industry have said addressing Canada's Class 7 milk pricing system was the top goal of the U.S. dairy industry during the NAFTA renegotiation discussions.
Idaho's important wheat industry should also benefit from USMCA. Wheat is also one of the backbones of Idaho agriculture and is grown in 42 of the state's 44 counties.
Idaho wheat farmers brought in about $516 million in total farm-gate receipts last year, according to U of I estimates.
Under USMCA, Canada has agreed to grade U.S. wheat imports in the same manner it grades Canadian wheat, which was one of the main goals of the U.S. wheat industry during the NAFTA renegotiations. Now, U.S. wheat shipped to Canada will not be automatically downgraded to feed wheat, which is the lowest classification and brings the lowest price.
The wine industry also scored a small win under the new agreement. Under the terms of the USMCA, British Columbia agreed to end its practice of not allowing imported wines to be stocked on grocery shelves in the Canadian province, which has a population of close to five million people.
That change will mostly benefit California wineries but it would indirectly benefit Idaho's burgeoning wine industry because increased domestic wine exports benefit the entire U.S. wine industry.
According to a study sponsored by the Idaho Wine Commission, Idaho's grape growing and wine making industry had a $210 million economic impact on the state in 2017.
Leaders of the U.S. beef cattle and potato industries, which rank as Idaho's No. 2 and No. 3 farm commodities, said their industries didn't necessarily score any major wins under USMCA. But they added that NAFTA has been good to their industries and the new agreement preserves the favorable trade terms they enjoyed under NAFTA.
"The launch of the USMCA brings optimism to the country's farmers and ranchers at a time they need it the most," American Farm Bureau Federation President Zippy Duvall said in a statement. "We're grateful for the opportunity to build on the success of the North American Free Trade Agreement and we're eager to see the results on America's farms."
Still can't find what you are looking for? Find by topic: