U.S. net farm income expected to rise 5 percent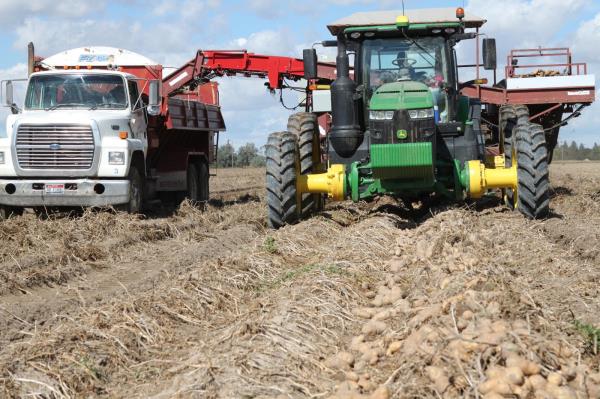 By Sean Ellis
Idaho Farm Bureau Federation
POCATELLO – The U.S. Department of Agriculture projects that U.S. net farm income will total $88 billion in 2019, which would be an increase of $4 billion, or 5 percent, over 2018.
University of Idaho agricultural economists expect Idaho's total net farm income in 2019 to rise slightly as well. If that happens, it would be the second straight year that Idaho's total net farm income has risen, following four straight years of decline.
"I think Idaho's net farm income will be up this year but not a great deal," said U of I Agricultural Economist Garth Taylor.
While prices for most of the major crops that Idaho farmers grow have remained pretty consistent this year, milk prices are up and milk accounts for almost a third of the state's total farm cash receipts, said U of I Agricultural Economist Ben Eborn.
"My guess is that net farm income in Idaho will be up but not a lot, mainly because some expenses have increased quite a bit, including labor," he said.
According to USDA's Aug. 30 U.S. farm income forecast for 2019, total farm production expenses nationwide are forecast to increase $1.5 billion, or 0.4 percent, to $346 billion. Hired labor expenses are forecast to increase 6 percent in 2019 and feed expenses are expected to rise 4 percent, while expenditures on seed, pesticides, fuels and oils, and interest are forecast to decline.
USDA's 2019 farm income forecast calls for total U.S. farm cash receipts to decrease 0.6 percent ($2.4 billion) to $371 billion this year.
Eborn said it's possible the forecast for an increase in net farm income could partially be a result of USDA's so-called "trade aid" payments to farmers and ranchers this year, which are meant to help offset the impacts of what the administration calls unjustified retaliatory tariffs on U.S. farm products by some major trading partners.
USDA forecasts that total direct government payments to farmers and ranches will increase 43 percent to $20 billion in 2019. A big reason for that large increase is the trade aid payments. USDA will provide billions of dollars in trade aid payments this year.
Both Eborn and Taylor expect total Idaho farm cash receipts and net farm income to rise slightly this year.
Since hitting a record $2.2 billion in 2011, according to USDA data, Idaho's total net farm income declined steadily, reaching $1.3 billion in 2017. It rose 29 percent to $1.7 billion in 2018.
Idaho's total farm cash receipts reached a record level of $8.8 billion in 2014 but declined to $7.2 billion in 2016. That total increased to $7.3 billion in 2017 and then to $7.4 billion in 2018.
Idaho is the No. 3 milk producing state in the nation and big swings in the state's net farm income and cash receipts are usually dictated by prices the state's dairy operations receive.
The price that Idaho dairy farmers receive for their milk has risen significantly this year compared with 2018.
"We've seen a nice response in prices the last couple of months to the point where they are back above the break-even point," said Idaho Dairymen's Association Executive Director Rick Naerebout. "Dairymen aren't exactly raking in the dough … but it's much better than it was this time last year."
USDA forecasts that total U.S. milk farm cash receipts will increase 13 percent this year and the agency also forecasts that cash receipts for cattle and calves, Idaho's No. 2 farm commodity, will increase 0.3 percent.
Vegetable and melon cash receipts, which include potatoes, are expected to increase 6 percent. Potatoes are Idaho's No. 3 farm commodity in terms of cash receipts.
Wheat ranks No. 4 in Idaho and USDA forecasts cash receipts for that commodity will rise 8 percent in 2019.
USDA also expects total U.S. farm sector equity will increase by $46 billion, or 2 percent, to $2.7 trillion in 2019, and farm assets are forecast to increase by $60 billion, or 2 percent, to $3 trillion due to an anticipated 2 percent rise in the value of farm sector real estate.
Still can't find what you are looking for? Find by topic: