Tour teaches elected officials, media about agriculture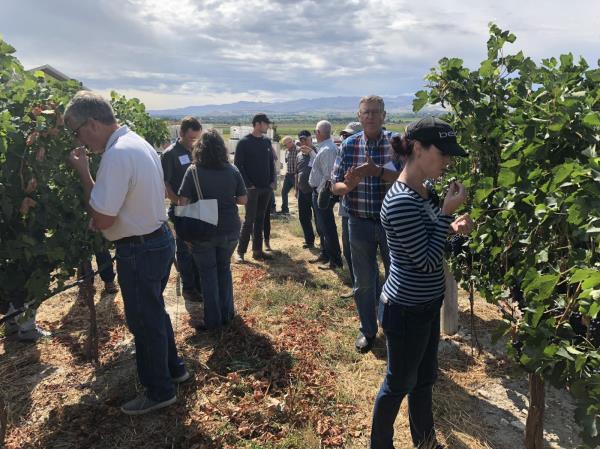 By Sean Ellis
Idaho Farm Bureau Federation
NAMPA – Several dozen elected officials and members of the media were taken on an extensive tour of farm country in southwestern Idaho Sept. 10.
The Treasure Valley Agricultural Tour is held every two years and is designed to give local and state leaders as well as media members an appreciation and basic understanding of the industry that underpins Idaho's economy, said Roger Batt, a member of the and Caldwell-Nampa Agribusiness Committee, which hosts the event.
"When we're talking with these elected officials in the future about issues involving agriculture, this tour helps provide them an understanding of what we're talking about," Batt said.
When it comes to the media, "We want those folks to be more focused on agriculture and what this industry does because we have a great story to tell," Batt said. "We want the news media to be a little more aware of what we do and how important agriculture is, being the backbone of the state's economy."
About 45 people participated in the all-day tour, which started with an update on the multiple lawsuits targeting Roundup, the popular weed killer that is critical to many farmers.
"The potential loss of that product is the biggest issue in agriculture right now so we wanted to make sure we covered that," Batt said. "It's the No. 1 product in the ag industry and a lot of farmers are dependent upon it for production."
The bus tour included a stop at the Materne North America GoGo squeeZ applesauce plant in Nampa. Materne is a global leader in the fruit squeeze industry and the facility has the capacity to produce 2 million applesauce and other fruit pouches per day.
It employs 250 people and the company has invested about $90 million in the Nampa facility since it opened in 2014, company officials told tour participants.

Brian Gunnell, director of human resources for Materne North America, said the positive business climate in Idaho was what ultimately led the company to choose Nampa over several other possible U.S. locations.
"The partnership between Materne and the city of Nampa and state of Idaho was nothing short of phenomenal," he said.
Materne is also a global leader in the yogurt squeeze industry and that product is produced at a facility in France. If demand in the U.S. for the company's yogurt squeeze pouches reaches a certain point, it's possible Materne could build a yogurt facility in the United States, Gunnell said.
The same factors that made Idaho the top location for Materne's fruit squeeze facility would make the state a great candidate to locate a yogurt facility, he said.
"I think there are a lot of reasons it would make a lot of sense to locate the plant here," Gunnell said. "If and when that time comes, we'll be advocating for that right along with all of you."
During the bus ride in-between stops, tour participants were shown short videos that highlighted some of the area's main ag commodities, including the Treasure Valley's extensive seed industry.
Batt explained that the Treasure Valley, particularly Canyon County, is one of the top five seed producing areas in the world and the seed industry in Southwestern Idaho and Eastern Oregon is valued at about $750 million.
He also said that the valley's rapid growth threatens that industry.
"With that growth, less land is available to grow that seed," said Batt, executive director of the Idaho-Eastern Oregon Seed Association. "Our first and foremost concern is to have the land to grow our products. Without that farmland, our industry is over in this area."
The tour included a stop at Forage Genetics International's Nampa facility, where the company's variety development program researches new and better varieties of alfalfa seed.
Forage Genetics alfalfa breeder Jake Blauer said his company chose to locate here because "This is by far one of the best places we can produce that seed."
He said a good alfalfa grower in southwestern Idaho can produce about 1,200 pounds of alfalfa per acre, while a similar grower in Canada, Montana and Wyoming produces about 700 pounds.
Tour participants learned about the state's burgeoning wine industry and were briefed on important water issues during a tour of Koenig Winery.
A 2013 study found that Idaho's wine industry has a $170 million economic impact on the state's economy, said Idaho Wine Commission Executive Director Moya Shatz-Dolsby. But the industry is growing so rapidly that a study due out later this year is almost sure to show that impact has grown substantially, she added.
The tour also stopped at Fort Boise Produce in Parma, where about 2 million 50-pound bags of onions are package annually. The facility is one of 30 onion packing facilities in Idaho and Eastern Oregon that combined pack and ship more than 1 billion pounds of Spanish big bulb onions each year.
Fort Boise manage Joe Farmer told participants that limited rail shipping capacity is sometimes a major problem for the industry.
Two years ago, the industry lost a lot of money due to a lack of rail cars when onion prices reached $10 per 50-pound bag. Most of the onions were shipped later, when prices had dropped to $5, Farmer said.
"It really affected the returns … growers were able to receive," he said.
Tour participant Rep. Ryan Kerby, R-New Plymouth, a member of the House Agricultural Affairs Committee, said the tour helps give him a background of the many different ag commodities produced in the area so that when issues affecting those commodities arise, he has a basic understanding of them.
This was his third tour and although he grew up on a dairy and has been around agriculture his entire life, he said he learns something each time.
"Agriculture in southwestern Idaho is so diverse it's hard to fathom," Kerby said. "You learn something new about different commodities each time you come on one of these tours. It really helps me to understand the diversity of agriculture in Idaho and the issues that people in the industry are facing."
Another tour participant, Rep. Judy Boyle, a Republican rancher from Midvale, said it's important for elected officials to have at least a basic understanding of the state's most important industry.
"Elected officials make the decisions that affect agriculture, which affects everybody," said Boyle, chairwoman of the House Agriculture Affairs Committee. "It's important that everybody understands agriculture because most people don't come from ag backgrounds anymore."
Still can't find what you are looking for? Find by topic: