This is officially the 'Decade of Ag' in Idaho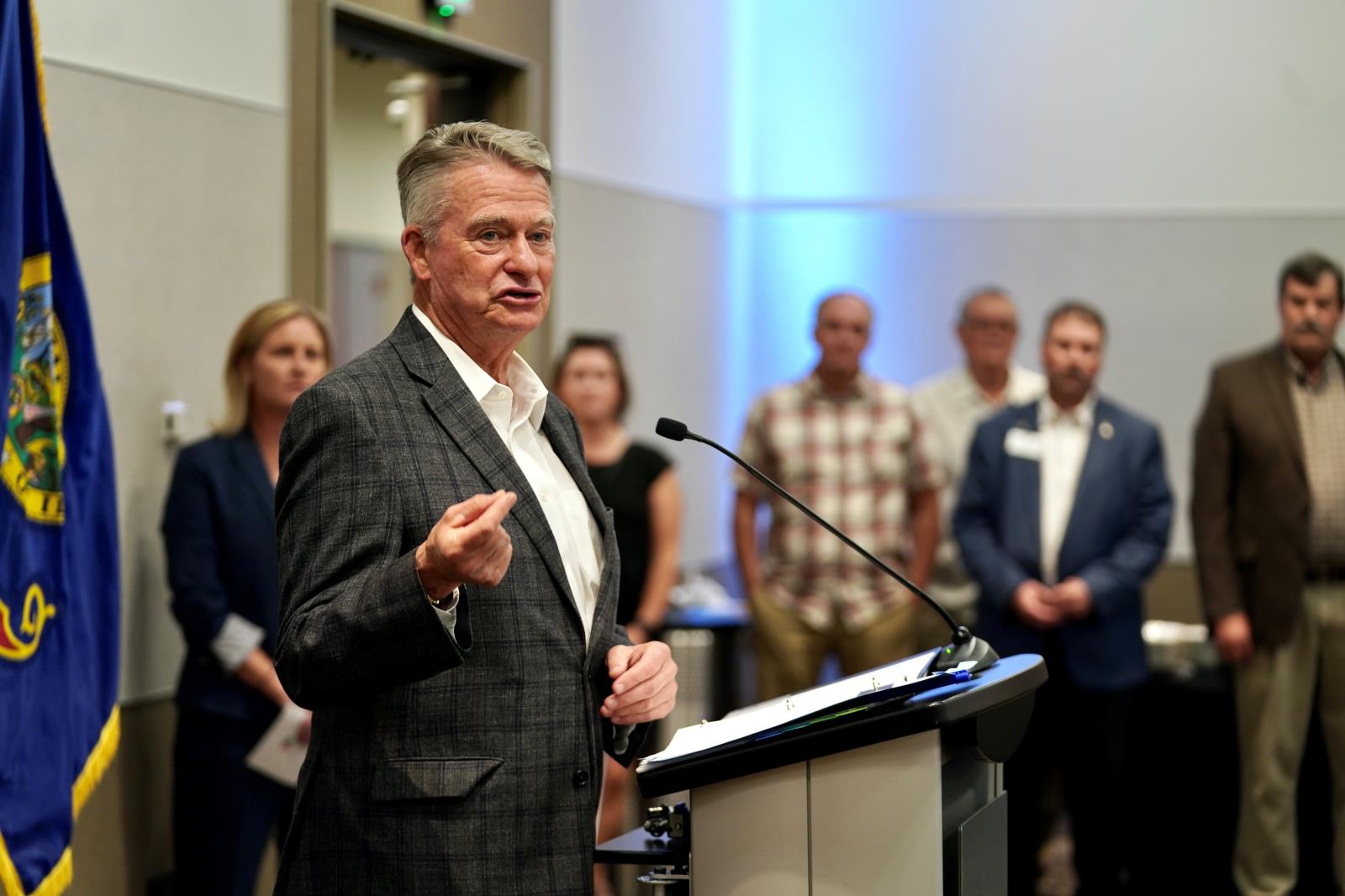 By Sean Ellis
Idaho Farm Bureau Federation
BOISE – Gov. Brad Little has signed a proclamation declaring the period of 2020-2030 as the Decade of Agriculture in Idaho.
Little, a rancher and farmer from Emmett, signed the declaration Aug. 24 in a room filled with about 50 people involved in Idaho's agricultural industry.
Little became the first governor in the United States to issue such a declaration and he was joined by Erin Fitzgerald, CEO of U.S. Farmers and Ranchers in Action, a coalition of agricultural groups around the nation, including American Farm Bureau Federation.
USFRA seeks to unite farm and ranch and other groups to push for more private investment in agriculture that can enable farmers and ranchers to not only feed a fast-growing global population but also help provide solutions to environmental challenges such as carbon emissions.
"Farmers and ranchers can do this," Little said about the goals of feeding the world and protecting the environment. "They have done it literally for generations."
According to USFRA's website, the group's principles include: having U.S. agriculture "lead the creation and deployment of global climate solutions; valuing ag land, people and communities as the foundation for a thriving America; bringing innovate mindsets, technology and practices to evolve the agricultural system and value chain" and "informing agricultural food, fiber and energy production with scientific research."
The group's vision for the Decade of Ag is: "A resilient, restorative, economically viable and climate-smart agricultural system that produces abundant and nutritious food, natural fiber and clean energy for a sustainable, vibrant and prosperous America."
USFRA has asked leaders from across the nation's ag value chain to endorse that vision statement.
Fifty-seven organizations, including AFBF, have endorsed the group's Decade of Agriculture push.
Sixty-one groups representing Idaho's agricultural industry, including Idaho Farm Bureau Federation, have endorsed this state's involvement in the Decade of Agriculture vision.
"In Idaho, we're all in," Little said. "We might even do two decades."
The governor said farmers and ranchers are innovators and can handle any challenge provided they have the necessary resources and incentives.
"The farmers and ranchers that are represented here are all survivors," he said. "We've had crisis after crisis after crisis and agriculture has done an incredible job adapting to change."
He said ensuring producers have a financial incentive to tackle these challenges should be a major part of the plan.
"Everyone wants clean water, clean air, efficient, sustainable agriculture but the best signal you can give to agriculture is profit as the motivator," Little said. "If they can see profit out there, farmers and ranchers are more than willing to (take on) a little risk, particularly if they think it's going to make them and their families feel good about doing it."
The governor said agricultural producers will adapt and rise to the challenge if the right market signals are there.
"Change is inevitable; adaptation and survival are optional," he said. "People still in agriculture in this state all did that. They all adapted to change. Farmers and ranchers can do this. They just need to have the right signals. It really is about allowing the signals to get from the market and society to those people who are out there on the ground and who have dirt on their fingernails."
Rick Naerebout, executive director of the Idaho Dairymen's Association, which has endorsed USFRA's Decade of Ag, echoed the governor's sentiments about making sure farmers and ranchers are incentivized to participate in any new solutions to help and protect the environment.
He said agriculture is already helping achieve USFRA's goals "and if you want us to help more, find a way to do it in concert with us. Don't try to … force ag into a corner. But if you incentivize it and show farmers and ranchers a way they can profit off things like carbon sequestration, agriculture will be all in and we will exceed expectations."
"We already produce well beyond our own country's need for food and if you want to see the same productivity in carbon sequestration and climate initiatives, provide that same market opportunity for farmers and ranchers in this country and you will be surprised at what they will be able to achieve," he added.
Naerebout said dairymen and farmers will add their own capital toward projects if there are market-based incentives.
"There were expectations at one time that we would fall short on food production at this point in history and we're nowhere close to that," he said. "We can over-produce the same way in carbon reduction and sequestration and in helping people achieve their climate goals."
Fitzgerald said farmers will need to produce a lot more food to feed a global population estimated to increase by two billion people over the next 30 years.
She said the Decade of Ag push "is all about farmers stepping up … and saying, we are the solution."
Dairy West CEO Karianne Fallow told people who attended the governor's proclamation signing that consumers around the globe are continually looking to the agricultural industry to solve some of the biggest challenges facing the world.
"I would challenge everyone in the room to think about the unique opportunity we have to come together, to rise up to this challenge … and build a prosperous and productive future for farmers and ranchers," she said.
The proclamation that Little signed says that farmers and ranchers "have shown over the course of history the ability to create economically viable solutions in harmony with ecological sustainability, thereby feeding the world."
It also recognizes that Idaho agriculture is already engaged in meeting the economic, social and environmental demands of a growing global population through sustainable practices and investment in much-needed research.
The proclamation adds that "the agricultural industry of the state of Idaho is resilient, innovative, evidence-based, solution-oriented and learns from its remarkable past."
It notes how valuable the state's agricultural sector is to Idaho's overall economy, pointing out that agriculture in Idaho is directly and indirectly responsible for $26 billion in annual sales, which equals 18 percent of the state's total economic output; one out of every eight jobs; and 13 percent of Idaho's gross domestic product.
Still can't find what you are looking for? Find by topic: