Senators want Secure Rural Schools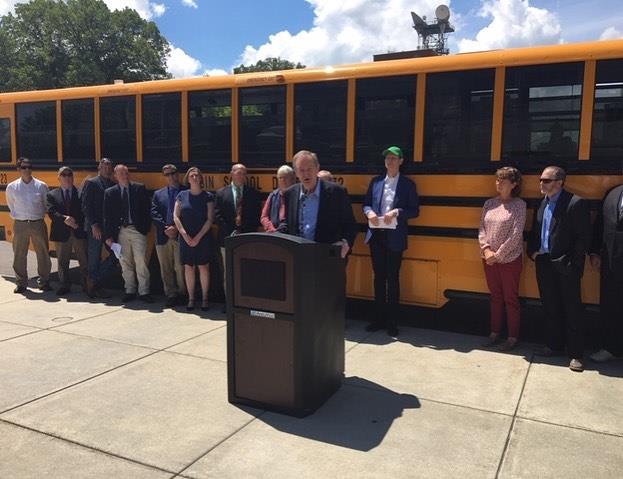 BOISE—With the threat of another fire season, aging infrastructure and uncertain of tax revenue, Idaho and Oregon counties face a firestorm of problems if the Federal Government does not fund the Secure Rural Schools and Self Determination Act.
Idaho Senators Mike Crapo and Jim Risch joined Oregon Senator Ron Wyden this past week to reintroduce federal legislation creating a lasting endowment for forested counties through the Secure Rural Schools program.
The SRS grew out of the 2000 Craig-Wyden Bill to compensate rural counties for the decline in timber harvests in the national forests. SRS provides 775 rural counties and 4,000 schools with funding support from roads and bridges to forest health. This payment in lieu of taxes compensates local governments for non-taxable federal lands in their jurisdictions for other big ticket items like road maintenance and law enforcement.
Custer County Commissioner Wayne Butts says counties are not looking for a handout, just a fair shake.
"If we had our timber receipts to add on top of this," said Commissioner Butts. "We would then have a base to begin with our budgets, I support our Senators and hope we can make it work."
The bipartisan bill that creates a more permanent tax funding program in these rural areas where the federal government owns most of the land.
"It's time to create a permanent, lasting program for Idaho counties and schools surrounded by tax-exempt federal lands," said Crapo. "A long-term endowment assisted by forest products receipts would ensure certainty for parents, students and those traveling Idaho's roads and bridges."
County commissioners, school boards, and tax payers from both states say that small towns have always relied on tax receipts from logging to support local funding.
"The SRS program helps counties and school districts deliver needed services like education, bridges, wildfire prevention and environmental stewardship," said Valley County Commission Gordon Cruickshank. " Federal policies have cut timber revenues, leaving hundreds of counties susceptible to dramatic budgetary shortfalls. We applaud this effort to fulfill the federal government's long-standing commitment to forest counties and provide the long-term certainty we need to serve our residents."
Since 2000 the secure rural schools and community determination act or SRS has bridged the gap this created. The program provides $6 billion dollars for essential county services, schools and roads.
"For too long, active forest management has not been made a priority, SRS payments have been unreliable, and Idaho's rural counties have paid the price," Risch said. "These communities deserve a long-term solution that enables them to provide critical county services, and this legislation helps restore predictability while investing in county projects and timber management."
The SRS program expired at then end of fiscal year 2018. For smaller counties the program is a big piece of their budget. The new Forest Management for Rural Stability Act would create a permanent endowment fund so they wouldn't have to request it every year.
"This is a matter of making sure that those living and working in rural counties have the financial certainty they need and deserve," Senator Wyden said. "It's time to put an end to the financial roller coaster in forested counties in Oregon and permanently invest in our teachers, law enforcement officers, bridges and roads."
Critical services at the county level have historically been funded in part with a 25 percent share of timber receipts from federal U.S. Forest Service lands and a 50 percent share of timber receipts from federal Oregon and California Grant Lands managed by the U.S. Bureau of Land Management. As those revenues have fallen or fluctuated due to reduced timber harvest and market forces, SRS payments helped bridge the gap to keep rural schools open, provide road maintenance, support search and rescue efforts and other essential county services.
Since enacted in 2000, SRS has provided a total of $7 billion in payments to more than 700 counties and 4,400 school districts in more than 40 states to fund schools and essential services like roads and public safety.
In recent years, Congress has allowed SRS funding to lapse and decrease, creating massive uncertainty for counties as they budget for basic county services. The senators' Forest Management for Rural Stability Act ends the uncertainty and provides rural counties financial security.
Still can't find what you are looking for? Find by topic: