Reed Farms of Filer recognized as Century Farm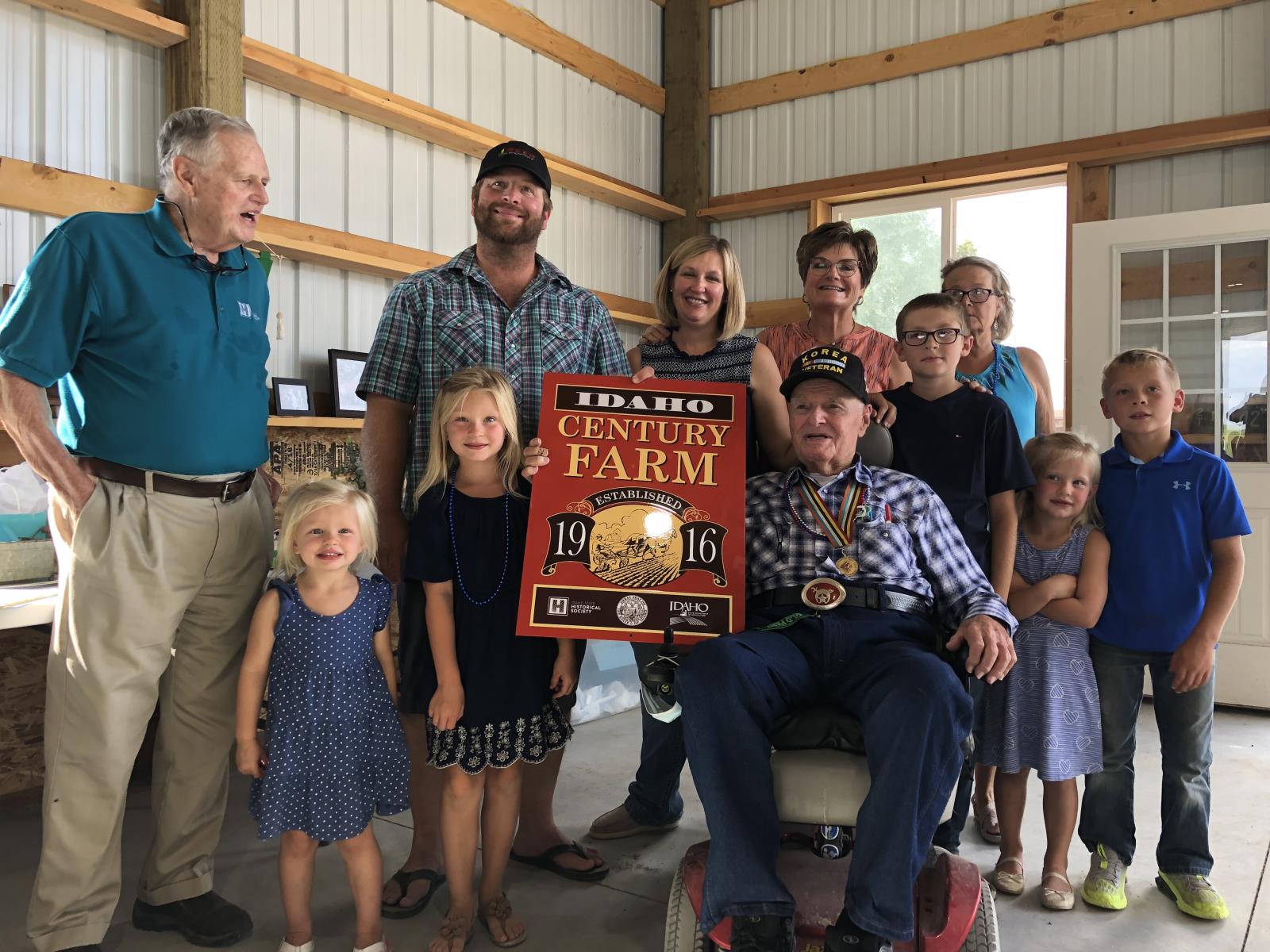 By Sean Ellis
Idaho Farm Bureau Federation
FILER – Considering all the economic challenges of owning a farm or ranch, as well as the agronomic ones, it's no small task to remain in agriculture for more than a few decades.
So, when a farm remains in existence under the same family for 100 years, it's a significant achievement that is recognized by Idaho's Century Farm program.
On July 31, the Reed family farm in Filer became the latest Idaho farm or ranch officially recognized by the state as a Century Farm. The operation has remained in the same family since it was purchased in 1916.
"It's hard for a family to hold onto a family farm. It has to be important to every descendant to want to keep farming it and keep it in the family," said Alex Reed, who owns and operates the 420-acre farm with his wife, Leah, and their six kids, along with Alex's father, Rex, who has spent his entire life there.
Alex Reed, president of Twin Falls County Farm Bureau, said the Century Farm designation "is very exciting to me and my family. We're mostly proud of all the hard work my parents and grandparents and great-grandparents put into the farm."
"I drove a team of horses on this farm when I was 9 years old," Rex Reed said during a Century Farm celebration that attracted 140 family, friends and neighbors.
The state's Century Farm program is jointly operated by the Idaho State Department of Agriculture and Idaho State Historical Society. Recognized farms or ranches are presented with a plaque honoring their longevity.
Idaho has 450 Century farms or ranches that have been in the same family for at least 100 years and include at least 40 acres of the original land parcel.
Paul Smith, a trustee for the ISHS who presented the Reed family its Century Farm plaque, said documentation to prove a farm has remained in existence for at least 100 years under the same family is checked by state archivists.
"This is my favorite duty as a trustee," Smith said before presenting the family with its Century Farm plaque.
"Hopefully, our family can hang onto it for another 100 years," Alex Reed told people gathered for the celebration. "I've had a lot of help hanging onto the farm and I want to thank everyone who has helped."
ISDA Director Celia Gould, a rancher, sent a letter to the Reed family congratulating them for becoming Idaho's latest Century Farm.
"I cannot imagine life in Idaho without farming and ranching and fortunately don't have to," Gould wrote. "With long-time family operations, the industry remains dynamic and carries traditions forward into the future."
She said the Reed family can take pride in the contributions it has made to the history and prosperity of agriculture in Idaho.
"The Reed Farms has survived hardships and persevered throughout the years," Gould wrote. "The work you have put into your family operation for so many years is an admirable model for other farm owners to follow."
Sen. Jim Risch, R-Idaho, also sent the family a letter of congratulations.
"Sustaining a working farm through so many generations is exciting and commendable," the senator wrote. "Your family's continued operation of Reed Farms is a great example of the dedication, determination and stewardship that has been demonstrated by Idaho farmers for more than 100 years."
Still can't find what you are looking for? Find by topic: