Oneida County farmers meet to discuss FSA firings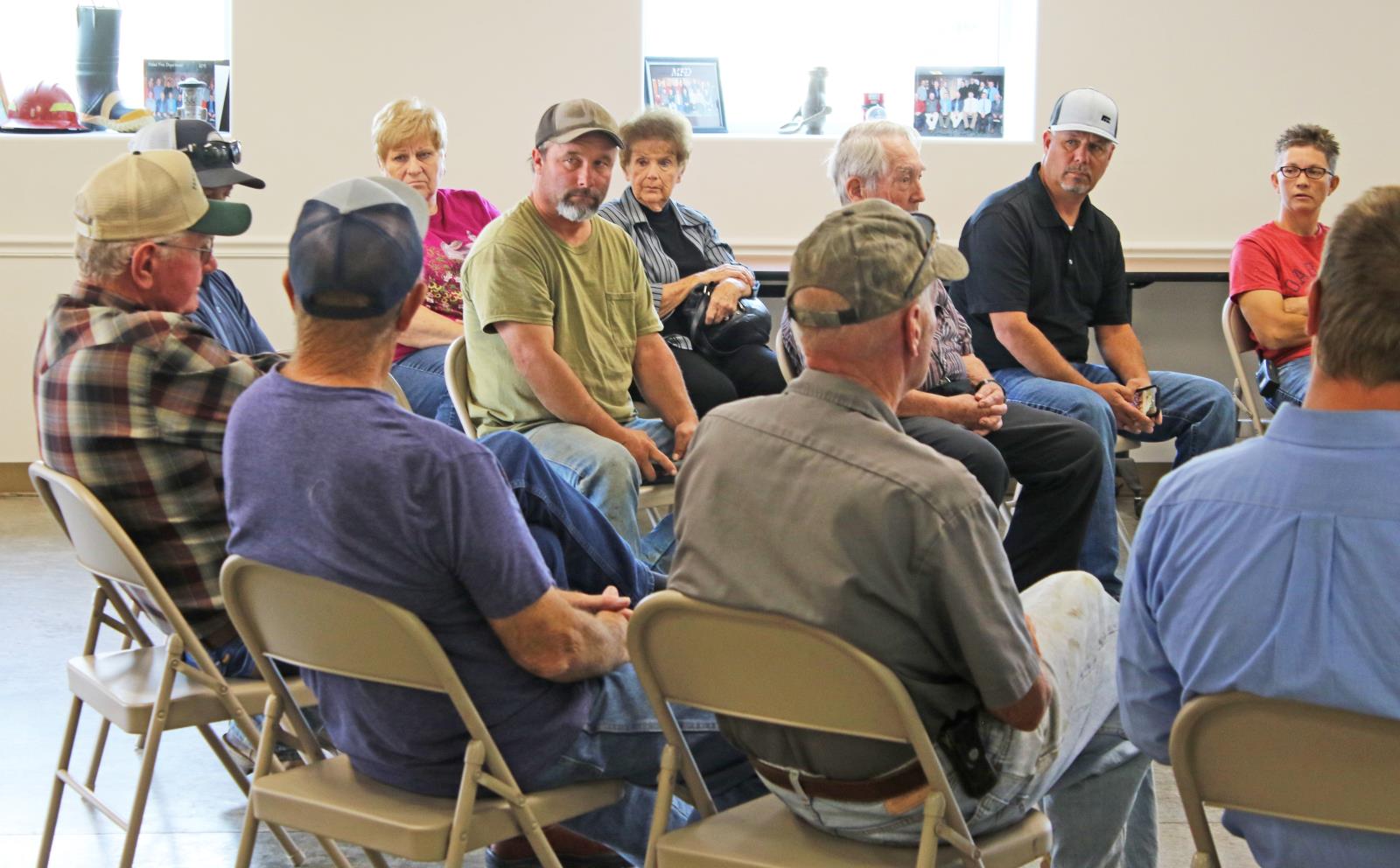 By Sean Ellis
Idaho Farm Bureau Federation
MALAD – Oneida County farmers and ranchers are still looking for answers to why two long-time and well-liked employees in the USDA's Malad office were removed from their jobs and what that means for the county agricultural producers going forward.
So far, they're not getting them.
About 25 ranchers and farmers met at the Malad Fire Station Sept. 16 to discuss the situation, which began when two employees at USDA's Farm Service Agency service center in Malad were escorted out of the building by armed guards.
FSA, an agency under the U.S. Department of Agriculture, implements federal agricultural policy and handles farm credit and loan programs and manages disaster, commodity, conservation and farm marketing programs.
Agricultural producers in this county said the employees knew important and detailed information about their operations and as a result, were able to effectively and quickly help them navigate important farm programs.
Sept. 30 is the deadline to complete paperwork for many important USDA farm programs and Oneida County producers are concerned that they might not be able to meet the deadline because of the absence of those two employees.
After 100 farmers and ranchers met in front of the FSA office Sept. 8 to discuss the issue and seek answers, acting Idaho FSA Director Charles Newhouse responded by closing the office Sept. 9-10.
The office was reopened Sept. 13 without the two recently removed employees. While the office is open again, with an armed guard present, producers here are still looking for answers and they say they are still not getting them.
State Sen. Mark Harris, a rancher from Soda Springs, told the farmers and ranchers that met at the Malad Fire Station Sept. 16 that he has been asking a lot of questions about the situation but getting very little information.
"I haven't gotten anything, other than an assurance the office will stay open," he said. "It's frustrating to me. I can imagine how frustrating it is to you."
Jay Hansen is an elected member of the four-person Oneida County FSA committee. He was put on administrative leave after speaking his mind on the issue.
He told farmers and ranchers Sept. 16 that he, too, isn't getting answers.
"There is just no communication, no open dialogue, no, 'Let's come together and work this out,'" he said. "There is absolutely none of that at all."
Harris said he's been told by representatives of Idaho's congressional delegation that the issue surrounding the employee firings is being investigated and attorneys are involved.
Harris' advice to Oneida County farmers and ranchers was to be patient but keep pressing the congressional delegation to stay involved in the issue.
"Hopefully, they can help get this resolved quickly," he said. "I think we let the attorneys do their thing at this point. I'll keep poking and prodding where I can and see what I can find out."
This year's severe drought has had a major impact on many producers in the county who will rely on some farm programs to help mitigate their losses. There is some serious concern among many producers here whether they will be able to meet the Sept. 30 deadline for those programs because of the loss of the two employees.
"This has happened at probably the worst possible time ever," Harris said. "It's the worst time of the year in one of the worst years we've ever had."
FSA sent local media a statement attributed to Newhouse that said the Malad service center was closed Sept. 9-10 "in order to ensure the safety of employees and customers…." The statement said the move was taken "because of a disturbance related to personnel decisions."
The fact that FSA responded to farmers' concerns about the employee suspensions by closing the office and locating an armed guard there is a major concern to farmers and ranchers here.
"That's an insult to me as a producer to have an armed guard at an FSA office," Harris said. "That's deeply disturbing. It's not right what happened here."
"We're not an angry mob; we're concerned producers and friends of the two people who were fired," said Malad farmer and rancher Tracey Davis.
Farmers and ranchers who met at the fire station said their biggest long-term goal is to make sure the two employees receive due process.
"Our biggest concern is they get a fair shake on what they are accused of," said Tim Keller, an Oneida County farmer and rancher.
According to the 2017 Census of Agriculture, there were 422 farms in Oneida County in 2017 and 320,000 total acres of land in farms.
The county's farmland was split evenly between cropland and pastureland and producers brought in $36 million in farm-gate receipts during the census year.
Still can't find what you are looking for? Find by topic: