New hard white wheat variety could improve yields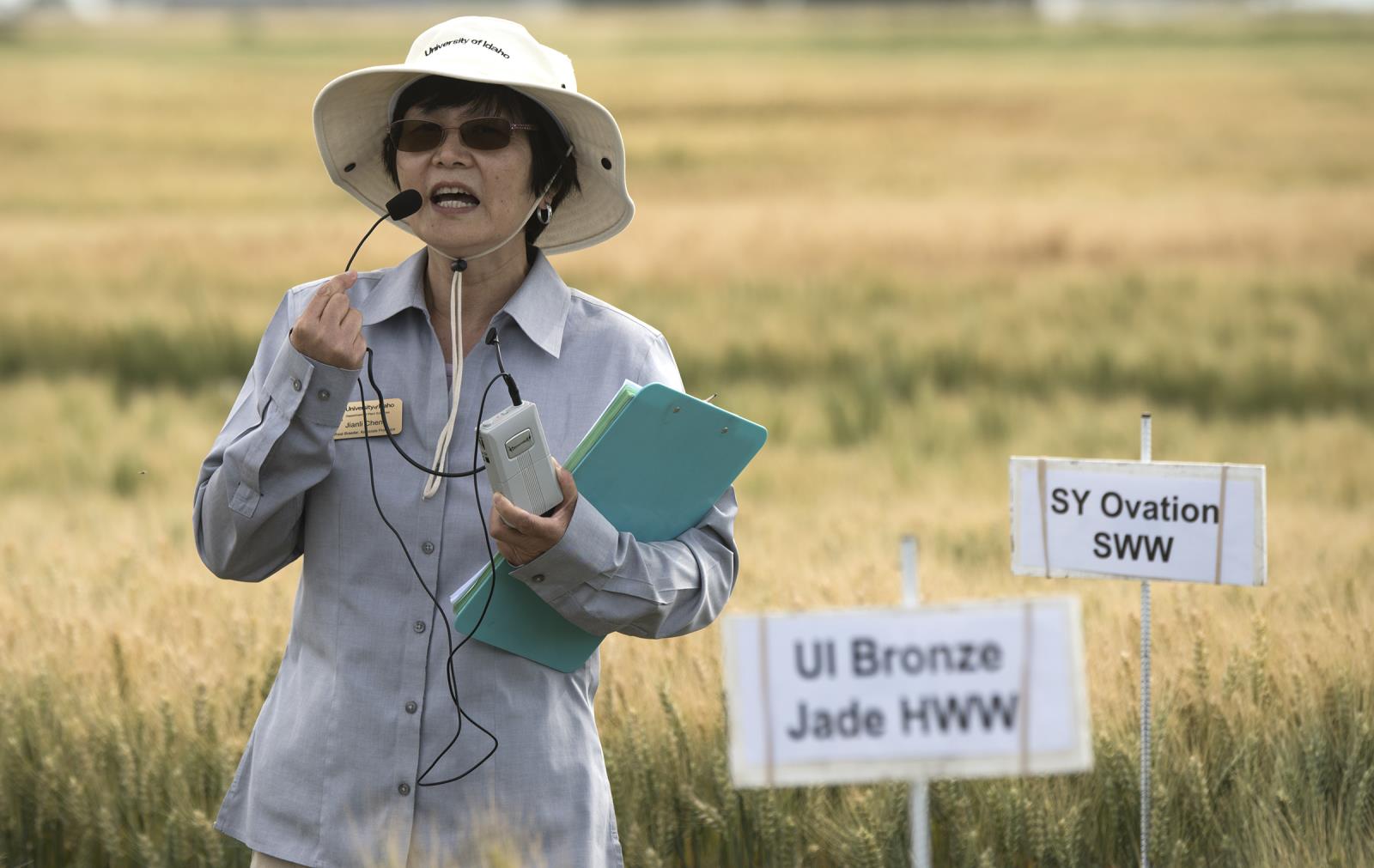 By John O'Connell
Intermountain Farm and Ranch
ABERDEEN — As a rule of thumb, Idaho farmers have fetched a small premium per bushel by raising hard white wheat — a class demanded both domestically and abroad for its light color and sweet flavor.
They've typically gotten better yields, however, with hard red wheat.
University of Idaho Extension wheat breeder Jianli Chen has been shaking things up lately, developing new hard white varieties that can out-yield even the best hard reds raised in the region. Chen has especially high hopes for her program's promising recent hard white winter release, called UI Bronze Jade.
Chen devotes about half of her Aberdeen-based program's time and resources toward breeding better, regionally adapted hard white wheat varieties. Though Idaho is already the top hard white-producing state, Chen anticipates her recent varieties and a few others nearing release will further bolster regional interest in the class.
Chen emphasized millers can also produce more flour from every pound of hard white wheat, which is a relatively new market class.
"In general, the number of hard white varieties are much, much less than hard red because hard white breeding started later than hard red and other market classes," Chen said.
In 2011, Chen's program released UI Silver, which is a hard white winter wheat well suited for the area's dryland farms.
"Some customers pay a premium for UI Silver," Chen said.
Last spring, Chen improved upon UI Silver, releasing UI Bronze Jade, which is extremely high yielding, has good resistance to stripe rust and is ideal for both irrigated and dryland fields. She said it also has acceptable end-use qualities.
"In general, hard white yield will be lower than hard red. However, UI Bronze Jade has comparable or higher yield than LCS Jet," Chen said, referring to a Limagrain hard red winter wheat that tends to be the top yielder among hard wheats in area variety trials. "This release showed hard white winter wheat can yield higher than hard red and soft white winter wheat."
UI planted foundation seed of UI Bronze Jade last fall and will make it available for planting next fall. Chen said the university will seek to find a collaborator to license UI Jade.
"The return will help to enhance the breeding program and help when we have a funding shortfall," Chen said.
Chen also has another hard white winter and two hard white spring lines in the pipeline awaiting release. She said the spring lines have improved stripe rust resistance and stronger gluten strength.
Seed of the new hard white spring lines should be available in 2021.
She's also developing a pair of hard white spring wheat lines, which should be released by 2022, with two-gene resistance to Beyond herbicide.
Chen said another point of emphasis of her breeding program has been to incorporate Hessian fly resistance into its elite hard white spring wheat lines to expand the growing area for the class into Northern Idaho and Washington.
She has also been working to add Fusarium head blight resistance to hard white wheat lines, given that the disease is a mounting threat in southeast Idaho.
"My philosophy is I want to release a group of hard white winter wheats that can be grown under different production practices — make it so production can meet (demand of) U.S. markets and overseas markets," Chen said. "The demand of hard white is increasing in the domestic market for whole-grain and overseas use in noodles."
American Falls farmer Jim Tiede grew hard white one year when he was offered a decent contract and was pleased with the results. He believes higher yielding hard white varieties will entice growers to diversify their grain portfolios.
"The hard whites are just coming into vogue," Tiede said, adding the class is especially popular with Idaho's foreign export markets. "Hard whites seem to be in demand a little bit."
Still can't find what you are looking for? Find by topic: