National Ag Day event highlights Idaho farming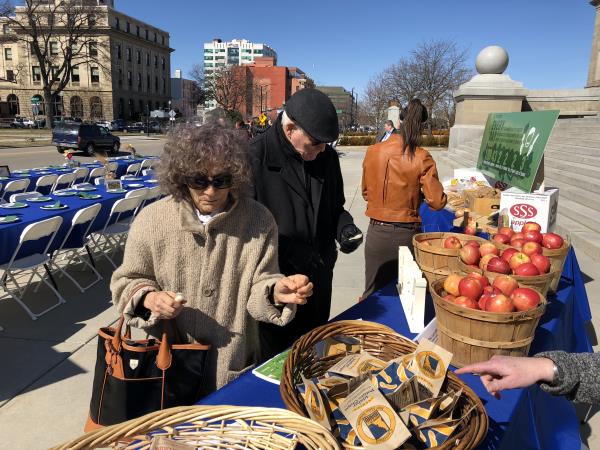 People visit a display in front of Idaho's Capitol building steps March 14 during an event that celebrated National Ag Day. The tables in the background had 165 place settings that signified how many people the average American farmer feeds each year.

By Sean Ellis
Idaho Farm Bureau Federation
BOISE – Two very long tables with 165 place settings were positioned near the front steps of Idaho's Capitol building March 14 for National Ag Day.
The 165 place settings were a striking visual display that signified the number of people fed each year by the average American farmer.
That number is up dramatically from the 15 people the average U.S. farmer fed in 1940 and it shows just how important the nation's and state's farmers and rancher are, said officials from the Idaho State Department of Agriculture, which hosted the event.
"We really wanted that visual impact to show how our farmers and ranchers feed all of us and the world," said ISDA Chief of Operations Chanel Tewalt.
The three-hour event included a separate table that showed how much food every person in the state would have to eat every day if Idahoans had to consume all the farm products produced in the state.
That would be 43 potatoes, 180 slices of bread, three cups of beans, two onions, two pounds of beef, two pounds of cheese, two onions "and a whole lot more," Tewalt said. "That is astounding and it shows the productivity of our farmers and ranchers."
The event included a display with facts about how agriculture helps support the state's economy, including that farming, ranching and food processing generate almost 20 percent of the state's total sales.
"Those are numbers we want people to see," Tewalt said. "We really love the visual element of this particular type of showcase."
People visiting the display could also learn other facts about Idaho agriculture, including that the state's 24,000 farms and ranches produce 185 agricultural commodities and export $2 billion worth of ag products annually to other nations.
Or that Idaho ranks No. 1 in the nation in potato, barley and trout production, No. 2 in hops, alfalfa hay, sugar beets and peppermint, No. 3 in cheese and No. 4 in milk, onions, spring wheat and lentils.
The event also commemorated the 100th anniversary of the Idaho State Department of Agriculture but ISDA Director Celia Gould said the event was not about celebrating the department.
"The main point we want to get across to people today is how important Idaho's farmers and ranchers are," she said. "This isn't ISDA celebrating ag day. This is us showcasing what Idaho's producers do for all of us."
Tewalt said the main points the department wanted people who viewed the display to walk away with are that "Agriculture is part of our culture and heritage. It's a huge part of our economy; it's the economic engine of Idaho. And it is truly what puts food on our table."
Stacey Katseanes Satterlee, executive director of the Idaho Grain Producers Association, said the event was a great platform to educate people, particularly urban residents, about agriculture and help farmers and ranchers tell their story.
"If we're not telling our story, somebody else is telling it and there's so much misinformation about agriculture out there and so much of it is fear-based information that is not correct," she said. "We don't have anything to be afraid of. We need to tell our story. People should be proud of how their wheat and barley is grown here in the state."
During the event, several lawmakers and Gov. Brad Little visited the display during a break in legislative activities.
Rep. Thomas Dayley, R-Boise, said it's important to use events like this one to educate Idahoans about how important agriculture is to them personally.
"Agriculture is important to each individual Idahoan, not only because they eat but because of what agriculture means to the Idaho economy," he said. "This is a great idea that the department of agriculture had to make sure that people focus on how important agriculture is to the state and to the world."
Still can't find what you are looking for? Find by topic: