Learning about food and farming at the Bannock County Fair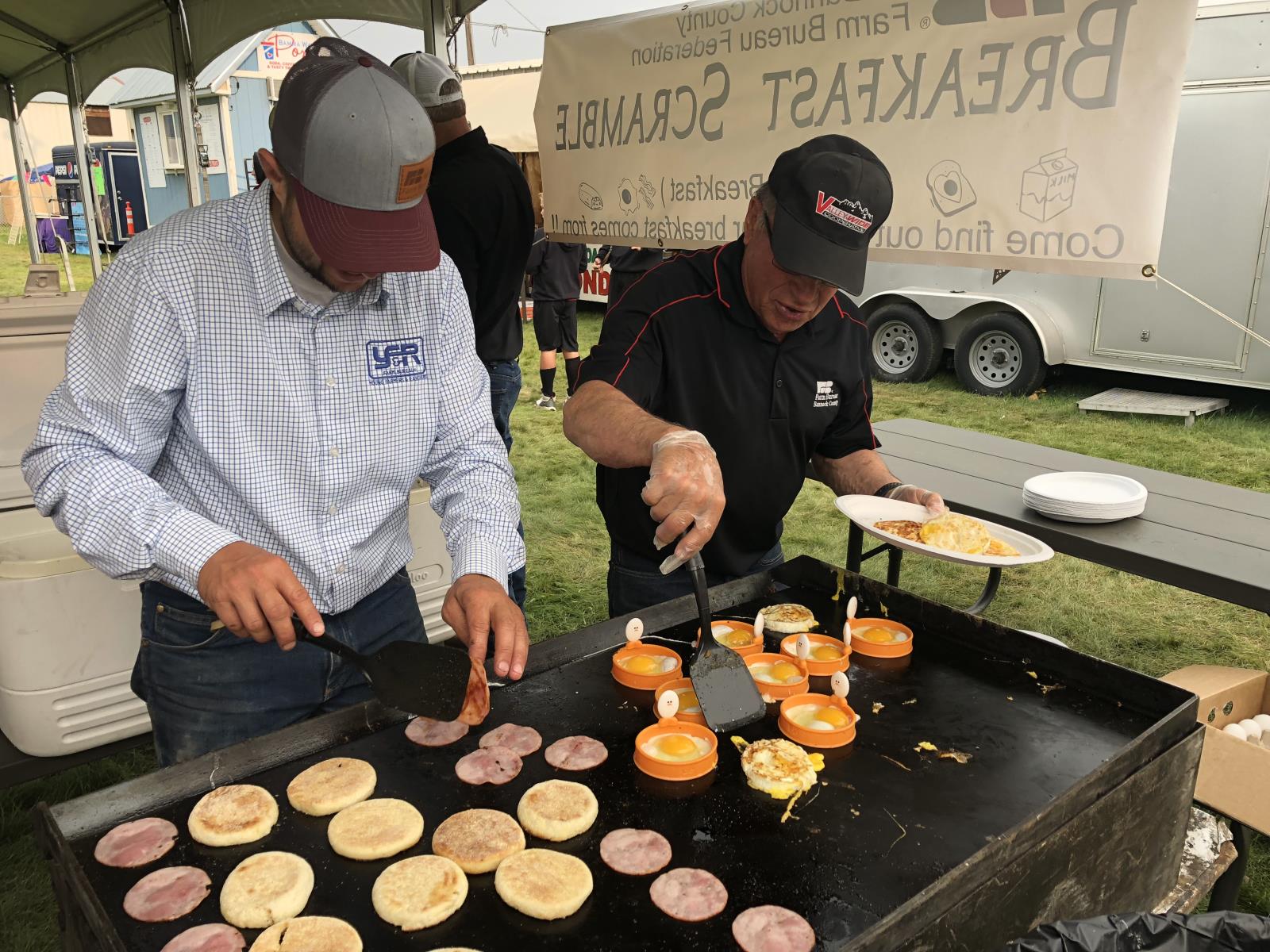 By Sean Ellis
Idaho Farm Bureau Federation
DOWNEY – Bannock County Farm Bureau members used some fun activities to help people who attended the Bannock County Fair Aug. 6 learn how their food is produced and how it gets to their table.
Those who participated in BCFB's annual Breakfast Scramble were rewarded with a free breakfast sandwich.
Participants visited five different booths where they learned a little about the nutritional value of different farm commodities, including grains, eggs, dairy, meat and other proteins and fruits and vegetables.
They also learned how those products make it to their table.
After completing each of the stations, they were provided with a free breakfast sandwich.
"It's a fun way for them to learn a little about where their food comes from," said local farmer Sandra Smith, who organized the event and who is a member of BCFB's board of directors.
Smith is a retired health teacher who taught food and nutrition in Bannock County and she said there's a real need to continue to educate kids, and adults, about where their food really comes from, even in a rural area like Downey.
"I had an eighth grader in one of my home economics classes who once thought potatoes were a grain," she said. "We just need to get the information out their about where our food really comes from and the role farmers play in growing it."
The breakfast scramble ended up feeding about 200 people who went from booth to booth learning a little about agriculture.
At the first booth, Stacy Burmester, a farmer who heads BCFB's Promotion and Education Committee, had participants play a quick board game that taught them a little about meats and other protein sources.
She then asked them several questions, including, "Where does your meat come from?" and, "How does it get to your table?"
She said a lot of people take for granted that food is always available and the activities at the different booths are designed to provide people with at least an elementary understanding and appreciation of the food and farming industry.
"It's amazing to me how many people think we just get our food from the grocery store but they don't really know where it comes from," Burmester said. "We want people to see how it comes from the farm to their table."
Bannock County farmer and BCFB board member Brad Kent used some wheat he harvested the night before to help teach event participants about how bread is made.
"We're just trying to educate people that bread doesn't just come from the store and about the process of how it gets to their table," he said.
Bannock County farmer Mike Swore, who is also a member of the BCFB board of directors, taught event participants a little bit about the nutritional benefits of dairy products, as well as how milk is produced.
"We want people to understand that food isn't created in a grocery store," he said. "It's created by families and farms. It's just like the saying goes, 'No farms, no food.'"
Still can't find what you are looking for? Find by topic: