Intermodal facility already helping Idaho hay industry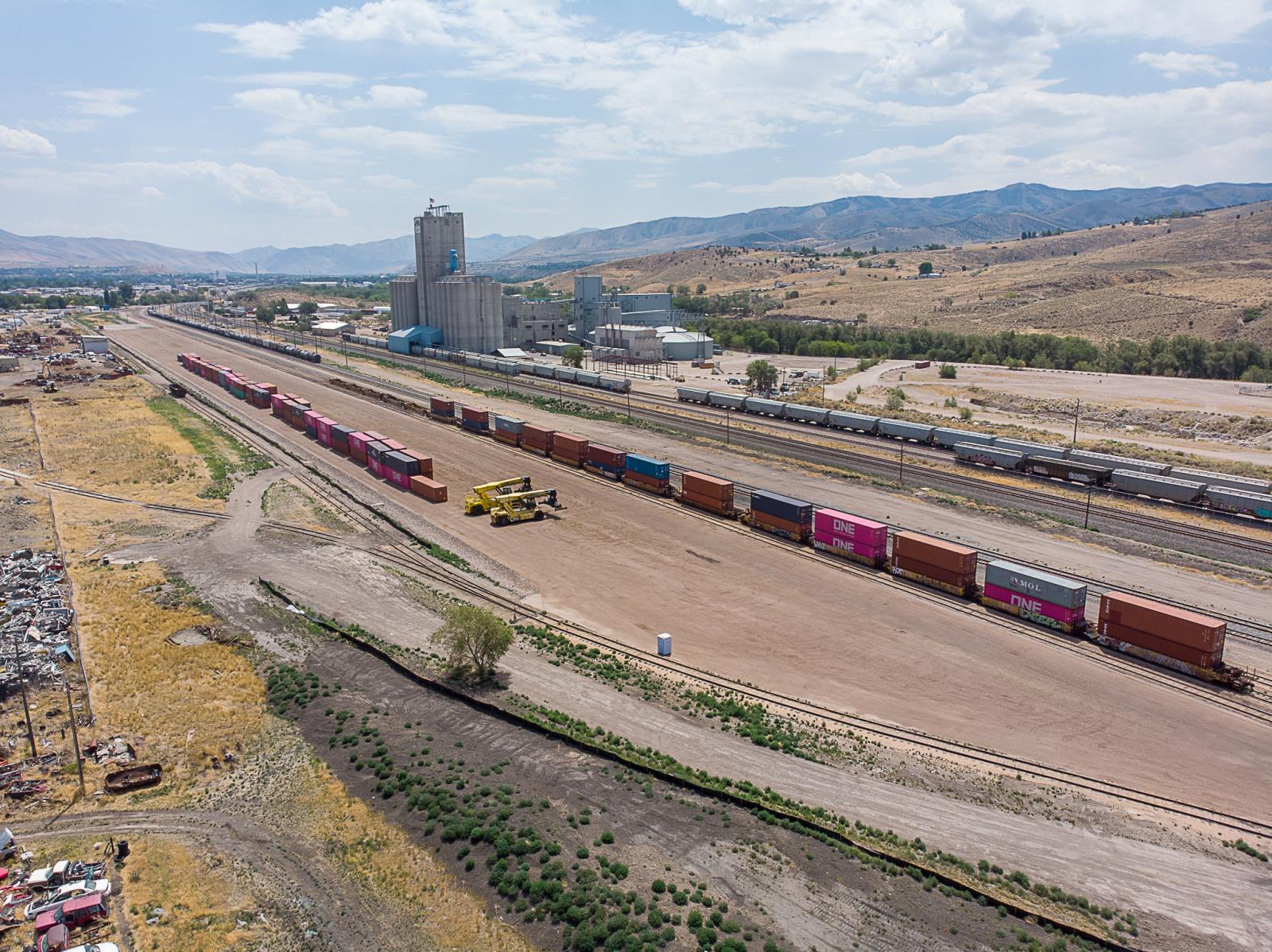 By Sean Ellis
Idaho Farm Bureau Federation
POCATELLO – Idaho's first intermodal rail facility went operational earlier this summer and is already paying off for one of Idaho's top agricultural commodities: hay.
"It has right out of the chute in these last couple of months significantly impacted our bottom line already, in transportation costs," Driscoll Management Co. CEO Dirk Driscoll told dozens of people who attended a ribbon-cutting ceremony Sept. 1 for the intermodal facility.
The facility, located along a Union Pacific rail line in Pocatello, transfers metal shipping containers between trucks and UP trains destined for Northwest Seaport Alliance ports in Tacoma and Seattle, Wash.
The ag commodities contained in those containers are ultimately destined for export to Asia and other global markets.
The facility, officially known as Savage Railport-Southern Idaho, is owned and operated by Savage, a global supply chain company.
Before the facility opened, Driscoll, which owns Driscoll Top Hay, was sending containers by truck to the nearest intermodal facility in Salt Lake City, where they were put on trains and backtracked through Pocatello on their way to West Coast ports to be exported.
Driscoll, which buys and presses hay at its facility at the Pocatello Airport, is saving money by having the hay loaded directly onto rail cars in Pocatello rather than having to truck it to Salt Lake City first.
Driscoll officials were among those included in early discussions 2.5 years ago with Savage and Union Pacific Railroad about the possibility of locating an intermodal facility in Pocatello.
Before the Savage facility opened, Driscoll was sending on average 80 containers of hay to Salt Lake City per week.
"This really is an answer to prayer," Driscoll said during the ribbon-cutting ceremony, which included local, regional and state elected officials, ag industry leaders and economic development officials. "We are excited and grateful for what has taken place (here)."
Hay is Idaho's No. 5 agricultural commodity in terms of total farm-gate receipts, behind dairy, cattle, potatoes and wheat.
Idaho hay farmers brought in $460 million in farm-gate revenue last year. A lot of hay is used on-farm so the total value of hay produced in Idaho is significantly more than that.
While hay is the Idaho agricultural commodity that is benefitting the most right now from the new facility, the intermodal operation has the potential to improve the transportation situation for other Idaho ag commodities as well, speakers during the Sept. 1 ribbon-cutting event said.
Leaders of Idaho's wheat industry were on hand for the event with an eye for how the facility could potentially help Idaho wheat farmers in the future.
The logistics of moving wheat grown in southern Idaho via rail are complicated and getting more expensive, said Idaho Wheat Commission Executive Director Casey Chumrau.
"We are looking for new and diversified modes of transporting our wheat," she said. "If this facility could somehow facilitate new and additional ways for us to be able to get our wheat exported, we would be very excited about that."
The new intermodal facility is certainly a positive for the region's wheat industry, said Rockland farmer and IWC Chairman Cory Kress.
"The more options we have to get our wheat out of southern Idaho, the better," he said.
Armando Tirado, Savage's vice president and industrial rail unit leader, told Idaho Farm Bureau Federation the potential is there for the Pocatello facility to handle a lot more ag commodities in the future.
"As this gets up and going more, I think the potential is really limitless for what we could do from here and what we intend to do from here," he said.
Gov. Brad Little, a rancher and farmer from Emmett, said Idaho farmers and ranchers have always faced transportation challenges to get their products to market in an efficient and timely manner.
At the same time, he said, the railroad needs to be efficient in order to be profitable.
"Savage has basically figured out a way to make that model work for everybody," Little said.
What the facility does, he added, "is it moves our farm families in Idaho closer to the ultimate consumer … The minute you take a farm in Aberdeen and move that grower's commodity to either a national market or an international market in this case, it makes farming more profitable and more sustainable."
For now, the rail cars that travel through the intermodal facility can handle hay and other non-refrigerated agricultural products.
But leaders of Idaho's potato industry have been looking at the possibility of the facility loading refrigerated ag commodities, such as spud products, onto refrigerated rail cars in the future.
Shawn Boyle, president of the Idaho Grower Shippers Association, which represents potato growers and shippers in Idaho, has visited Idaho potato warehouses over the past few years to get their feedback on that possibility.
"Any routes that get us closer to our major markets would be a big deal for Idaho potato growers," Boyle said.
Idaho's entire ag industry, including potato growers, could realize a big benefit through the Savage intermodal facility in the future by organizing to show UP officials the total volume of farm products that come out of Idaho, he said.
Boyle said he's not sure what UP's long-term goals are, "But our goal has been, with Savage, to position ourselves and show the value in coming to Idaho with those rail cars."
Savage is a global provider of industry infrastructure and supply chain services and has 4,500 employees in 200 locations around the world.
Savage's Pocatello intermodal facility is the company's most recent project.
"This is a fantastic new location for us," said Savage President and CEO Kirk Aubry.
He said the facility is an access point that can provide farmers and other shippers in land-locked Idaho an economical way to get their products to market.
"This railport brings Idaho families, Idaho businesses, closer to their markets," Aubry said. "That's what this is all about."
Shipping containers coming from the East Coast and headed for the Seattle and Tacoma ports are often empty, said Don Myer, a Port of Tacoma commissioner and managing member of the Northwest Seaport Alliance.
Meyer, who was born and raised on a farm, said exporting empty containers is unacceptable to him because he knows they can be filled with ag products on their way to West Coast ports.
"Instead of air, I want to see ag products in those empty containers," he said. "There is one priority that I as a … managing member of the Seaport Alliance have and that priority is ag products."
Still can't find what you are looking for? Find by topic: