Idaho wheat harvest late but yields average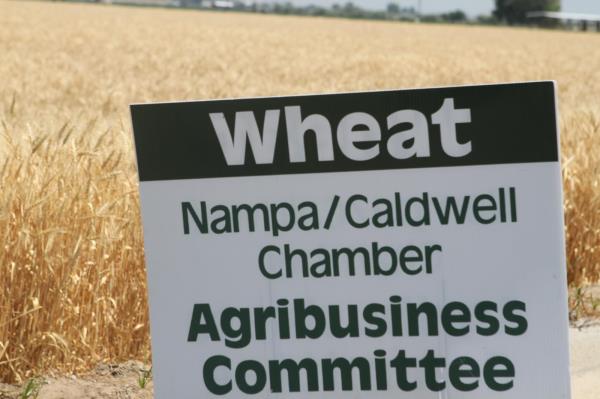 By John O'Connell
Intermountain Farm and Ranch
Wheat farmers throughout Idaho are reporting average yields and good quality, though they're harvesting about two weeks behind schedule, according to industry sources.
In general, University of Idaho Extension cereals experts say disease pressure was light throughout the state's southern and eastern growing areas, but there were some isolated cases of severe losses caused by rot and frost damage.
For the week ending Aug. 17, USDA's National Agricultural Statistics Service reported 36 percent of Idaho's winter wheat had been harvested, compared with a five-year average for the week of 70 percent.
"We're running way behind schedule," Idaho Wheat Commission Executive Director Blaine Jacobson said. "We had a lot of late-spring moisture, and it took a long time to warm up. That put the crop behind."
Jacobson said harvesting late elevates the risk of heavy rainfall arriving and contributing to sprout damage of kernels, but the harvest weather has cooperated thus far, and big storms aren't in the forecast.
"Overall, I think it's a decent harvest year. We're running pretty close to average — good quality and good yields," Jacobson said. "Last year was an all-time record year, so we're off from last year but pretty close to the five-year average."
Jacobson said the wheat market had been strengthening until recently, when NASS released some forecasts raising some grain crop-production estimates.
UI Extension cereals pathologist Juliet Marshall said she was pleased that crop damage from an airborne fungal pathogen called stripe rust was minimal this season.
A few soil borne diseases — including take-all root rot and strawbreaker foot rot — posed challenges for certain growers, however.
Marshall said the soil-borne diseases surfaced throughout Eastern Idaho and west to Burley, especially in fields in which farmers planted wheat in consecutive seasons. In some fields, yield losses exceeded 10 percent, she said.
"It's important to break that potato, wheat, wheat rotation wherever possible," Marshall said.
Marshall said cool and damp spring weather in the region provided ideal conditions for the soil-borne diseases to take hold. Other fields, especially in the Rexburg area, sustained frost damage. Marshall explained the severity of frost damage varied depending on the growing area, the variety planted and the date of planting. Fields that were flowering when frost occurred were highly susceptible to damage, she said.
"Depending upon the timing of flowering, we could see side-by-side fields of spring wheat where it was 80 percent empty heads next to a variety that wasn't affected," Marshall said. "We've also seen damage in winter wheat and spring barley."
Marshall said damaging frosts occurred from June 6 through June 8, as well as on a few other days, depending on the location.
Early season moisture also contributed to decent yields, Marshall said.
"There are certain growers around Buhl and Twin Falls who have hit near 200 bushels," Marshall said, adding that many Magic Valley growers who managed their fields appropriately have enjoyed above-average harvests.
Olga Walsh, a UI Extension research assistant professor of cropping systems and agronomy, said disease pressure was also generally low in the Treasure Valley, though some growers in the Nampa area suffered yield losses of up to 50 percent due to Fusarium root rot.
Walsh said grain test weights — referring to a quality standard based on the weight of a bushel of grain — were encouraging in Southwest Idaho.
"Our yields in Nampa are also very good," Walsh said. "We had very good conditions for grain this year."
USDA-NASS forecast on Aug. 1 that the Idaho winter wheat crop will total 58.5 million bushels, which would be down 1 percent from its July forecast and down 4 percent from last year. The NASS report predicted spring wheat production will total 40 million bushels, which would be up 1 percent from the July forecast but down 5 percent from last year.
Still can't find what you are looking for? Find by topic: