Idaho's important farm sector did well in 2019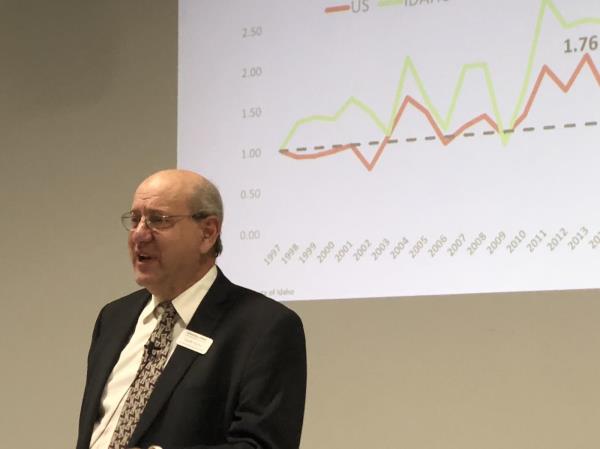 By Sean Ellis
Idaho Farm Bureau Federation


IDAHO FALLS – 2019 was a pretty good year for Idaho farmers and ranchers.
Although prices for grain and some other commodities are still lackluster, several of Idaho's main farm commodities fared pretty well in 2019, according to several presenters who spoke during University of Idaho's recent Idaho Ag Outlook Seminars.

That's a good thing for Idaho's overall economy since agriculture is the state's top economic sector.
"The largest economic driver in Idaho is agriculture and 2019 was a darn good year," said U of I Agricultural Economist Ben Eborn, who organized the seminars, which were held Dec. 10-12 in Idaho Falls, Burley and Caldwell.

One of the brightest spots for Idaho's agriculture industry this past year was the state's iconic potato sector, which until very recently had suffered through several years of ho-hum prices.

A series of weather-related issues in many of North America's main potato growing regions decreased the 2019 potato crop and prices have soared as a result.

"If you're a potato farmer, you're thankful to be a potato farmer this year," Eborn said.

Idaho's dairy producers have also enjoyed significantly higher milk prices the past few months. Average milk prices for Idaho producers started out the year around $15 per hundredweight (cwt) but quickly rose to $18 and then $19 cwt in recent months and are now pushing $20.

The state's dairy farmers had suffered through several years of depressed milk prices until the recent price surge.

"Dairy prices are good for a change," Eborn said. "We've had four years of not-good prices, so that's a nice change. In the last two or three months, they've been really good."

Dairy is Idaho's top agricultural commodity in terms of cash receipts, followed by beef cattle, potatoes and wheat.

The significantly higher milk prices should drive herd expansion and the global milk supply and as a result, milk prices are forecast to start declining early next year, said James Carr, director of West Coast Dairy, which has an office in Twin Falls.

"Idaho milk producer margins are very strong," he said. "We expect that comes down a little bit as we get into 2020. All in all, I think the dairymen are going to have a good year in 2020…."

The better margins are good not only for dairy producers but for hay producers as well, Eborn said.

"Hay was one of those crops where people actually made money this year," said Reed Findlay, a U of I Extension crop educator in Bingham County.

Alfalfa hay exports are strong despite some trade headwinds, he said.

"I'm not exactly sure the trade wars have had a huge detrimental movement on the alfalfa exports," Findlay said. "We still have a good export market … Export demand was up in 2019 (and) we're hoping it will be up even higher in 2020."

He said he does not see hay prices changing dramatically in 2020. "I see them being at least level (with 2019). I see no reason they are going to drop or rise significantly."

Beef consumption and exports are increasing and that bodes well for the state's beef cattle producers, said U of I Extension Educator Joel Packham.

"While trade is an issue, we do have really good exports at the time," he said. "It looks to me like we're going to have good exports going forward…"

With the U.S. economy performing well, that is good for beef sales because Americans spend more money for beef than all other meats, Packham said.

"The strong economy favors beef demand," he said. "We want the good stuff. We want a good eating experience."

The flip side to that, however, is that if the U.S. enters a recession, that could put a damper on beef demand domestically, Packham said.

Beef products are becoming more of a luxury item and that's a good position to be in when the economy is doing well, Eborn said, "But what happens if we go into a recession and people don't have so much disposable income?"

Riley Griffin, vice president of Northwest Farm Credit Services, said the ongoing trade disputes are a big issue right now but he does not think the U.S. is headed for a recession.

There are a lot of positive things happening in the U.S. economy right now, including high consumer confidence, good job growth and an unemployment rate at historic lows, he said.

"I tend to think we won't see a recession in 2020," Griffin said. "There is just a lot of good things going on in the U.S. right now."

The outlook for Idaho grain growers in 2020 is nothing to get excited about as long as U.S. and global wheat stocks remain high, said Jon Hogge, a U of I cereals Extension educator.

"We're just way too good at what we do; we're excellent farmers (and) we're really good at producing this particular commodity," he said.

Stocks have declined somewhat and "we're kind of moving in the right direction but there is still so much out there it puts a damper on prices," Hogge said. As long as global and U.S. stocks remain high, "we're going to have downward pressure on prices."

The outlook for irrigation water, the lifeblood of Idaho agriculture, is positive heading into 2020, said Terrell Sorensen, a U of I Extension educator.

When it comes to the amount of carryover water left in the state's important reservoir systems following the 2019 season, "We're off to a really good start," he said.

One of the main challenges for Idaho farmers and ranchers heading into 2020 will be steadily rising labor costs, said Ashlee Westerhold, a U of I Extension economist.

"Our unemployment rate is so low (that) it is so hard … for agricultural producers to find workers," she said. "I really think the cost of labor will … keep increasing as long as our unemployment rate is low."

U of I Agricultural Economist Garth Taylor said agriculture in Idaho accounts directly and directly for about $26 billion in sales annually and 1 of every 8 jobs in the state.


"That makes us the largest industry in the state of Idaho," he said.
Still can't find what you are looking for? Find by topic: