Idaho producers receive awards during Ag Summit
By Sean Ellis
Idaho Farm Bureau Federation
BOISE – Several producers from around the state, including a former Idaho Farm Bureau Federation president, were recognized Feb. 18 for the outstanding contributions they have made to Idaho's agricultural industry.
Former IFBF President Frank Priestley was one of four farmers and one farm that received Governor's Excellence in Agriculture awards during the annual Larry Branen Ag Summit.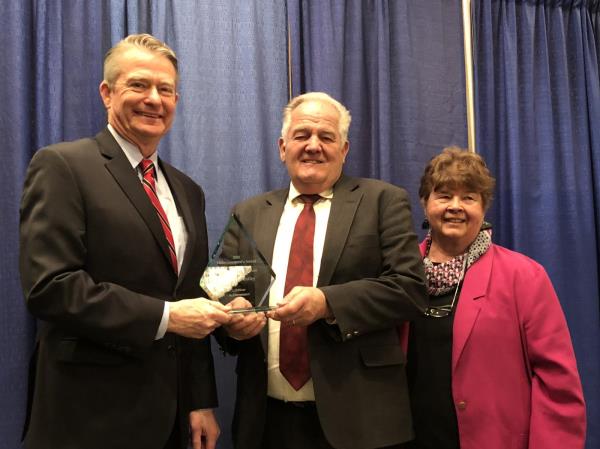 "The people we honor at this event are the heart and soul of Idaho," Gov. Brad Little, a rancher from Emmett, said before handing out the excellence in agriculture awards.
The governor said Idaho has always been a place where bright ideas are born and hatched out "and this award epitomizes that."
Priestley, who served as president of IFBF for 18 years, received a Lifetime Achievement award, which, according to the award criteria, is given to an individual who has dedicated their life to advancing agriculture and "who embodies the high standards of Idaho agriculture and sets an example for others to follow."
He raises dairy heifers and operates a farm in Franklin and was Idaho Farm Bureau Federation's longest-serving president, having served in that position from 1997-2015.
Priestley has been involved with Idaho agriculture since he was a kid and started his own custom hay business when he was 14.
"Frank has been a strong advocate and spokesman for Idaho agriculture for nearly five and a half decades and has been attentive to responsible land usage, water issues, defending property rights and promoting freedom to operate," his award bio states. "His voice has resonated both nationally and internationally to promote Idaho agricultural products, good farming practices and appropriate governance."
Boyer Farms, which is located on the hills outside of Lapwai, received a Technical Innovation award, which is given to an individual or business that develops or implements new methods to advance agricultural production or processing.
The diversified operation includes a cow-calf operation, an extensive farming operation, a legume processing facility and a rock crushing business that provides gravel and rock products to the local area.
The farm, which is run by three generations of Boyers, has hosted Ag in the Classroom tours, Leadership Idaho Agriculture participants, and has invested in local FFA members to provide them projects and work experience opportunities.
Dwight Little Sr. was presented a Marketing Innovation award.
The owner and operator of Little Farms in Newdale, he runs a diversified operation with his son that includes malt barley, hard red spring wheat, potatoes, alfalfa and Black Angus cattle.
He has served on the Idaho Grain Producers Association's Executive Committee the past five years, is currently serving as the organization's past president and recently served for two years as president of the National Barley Growers Association.
He also served six years on the Idaho Barley Commission.
"He is a tremendous asset to Idaho's grain industry and has advocated on behalf of Idaho's wheat and barley farmers for years," his award bio states. "Dwight … has been an outstanding spokesman and advocate for agriculture, especially in the grain industry, on state and national levels."
David Mosman, who passed away in September at the age of 58, received an Environmental Stewardship award, which is given to someone that demonstrates a commitment to maintain and improve the quality of air, water or soil as a result of innovative practices or technologies.
"Dave Mosman was always a thinker and an innovator who was never content with business as usual," his award bio states.
According to his bio, Mosman saw early in his farming career "the potential for growing various turf grass seed crops to compliment the grains and pulse crops that he grew."
He was also an early adopter of conservation farming practices on the Nezperce Prairie of northcentral Idaho.
"Dave's impact on Idaho agriculture has been broad and noteworthy, with decades of contributions, such as innovation in grain farming to highly effective leadership in numerous agriculture organizations," his award bio states.
Wayne Hurst was given the Education/Advocacy award, which is presented to someone who is committed to educating Idahoans about how important the state's agricultural industry is to their life and the economy.
He operates a multi-generational diversified crop farm in Declo that grows wheat, potatoes, sugar beets, dry beans and forage crops.
He has held numerous county, state and national leadership posts in agriculture "and has been deeply engaged in the national farm policy debate for more than 20 years," his bio states.
Hurst currently serves as president of the Cassia County Grain Growers, and served in leadership positions within the Idaho Grain Producers Association, including president.
"Wayne brings a significant skill set and respect to any organization he associates with," his bio states. "His broad perspective, attention to detail, and big-picture thinking has benefited Idaho's wheat industry for many years."
Pat Takasugi Leadership Award
During the ag summit, wine industry leader Mike Williamson was presented with the Pat Takasugi Leadership Award, which is named after the late director of the Idaho State Department of Agriculture and given to someone who has shown strong leadership for Idaho agriculture.
He manages Williamson Orchards and Vineyards in Caldwell.
Idaho Wine Commission Executive Director Moya Shatz-Dolsby said that when she was asked who in the wine industry should receive the award, "it took me about five seconds to figure out who should get it."
Williamson "welcomed me into this agricultural community 11.5 years ago and is always so nice and willing to help anybody and everybody," Shatz-Dolsby said. "He has served on various commissions and he is a true leader in this community. He's definitely helped Idaho's wine industry grow."
Special Lifetime Achievement Award
Rich Garber, IGPA's director of governmental affairs, was presented with a special ag summit lifetime achievement award.
Garber, who raised mint and sugar beets as a young farmer, served as president of Food Producers of Idaho from 1991-1993 and as chairman of the board of trustees for Leadership Idaho Agriculture.
He also served as executive director or lobbyist for several farm groups and as director of industry and government relations for the University of Idaho's College of Agricultural and Life Sciences.
Ag summit organizer Rick Waitley said Garber "is highly respected as a spokesman for agriculture, he is a trusted confidant, a gentleman's gentleman and has a passion for any position he has ever held."
"Rich, on behalf of Idaho's agriculture industry, we say 'thank you' for all you have done to make the industry stronger and more secure," Waitley said.
"I just can't tell you what a privilege it's been to work with all of you," Garber told ag summit attendees.
Still can't find what you are looking for? Find by topic: