Idaho Potato Commission names new CEO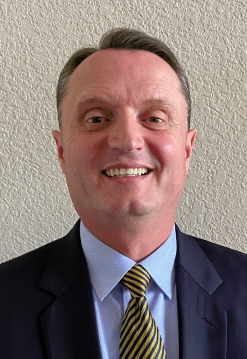 By John O'Connell
Intermountain Farm and Ranch
EAGLE — A marketing expert who was raised in Shelley and has deep roots in the potato industry will be tasked with maintaining Idaho's reputation for having the world's top taters.
Jamey Higham will become the new president and CEO of the Idaho Potato Commission beginning in early 2022.
Higham will assume the role from Frank Muir, who led the IPC throughout an 18-year period in which the state's potato industry doubled farm-gate receipts to more than $1 billion. Muir retired in mid-September.
The IPC, a state agency charged with promoting and protecting the renowned "Grown in Idaho" seal, is funded by an assessment of 12.5 cents per hundred pounds of potatoes raised by Idaho farmers.
"IPC has done a tremendous job of stewarding the brand, and I'm very humbled and excited for this opportunity," Higham said in a press release. "I started in the potato industry in 1991, and it's in my blood."
Higham is a graduate of Shelley High School, which fittingly has a russet potato as its mascot, and he served for 12 years on the Shelley school board.
He started his career with Walker Produce in Idaho Falls and then worked for several years in sales with Potandon Produce in Idaho Falls.
He earned a master's degree in international business from Arizona State University and then spent five years working in marketing and sales for Ford Motor Co.
He then returned to Potandon in 2003, where he worked for 13 years, including as vice president of sales. He became president and CEO of Farm Fresh Direct in Colorado in 2016.
According to a press release, he helped drive "strong growth for the company's conventional and organic potato lines."
Higham is also a current member of the United Fresh Government Relations Council and was part of the 13th class of United Fresh Produce Industry Leadership.
"Jamey is a potato guy through and through, and he really understands the industry," IPC Chairman Brett Jensen, of Idaho Falls, said in a press release. "With his lifelong love for Idaho potatoes, we know he's going to do an amazing job of supporting our growers, shippers and processors around the state. We've got a great brand and a great story to tell about our potatoes."
IPC Commissioner Mark Darrington, of Declo, said several top-notch candidates applied for the job, but he was impressed by Higham's enthusiasm and leadership skills.
Darrington believes Higham will bring fresh perspectives to the IPC, though he said Muir set the bar high.
"I think Idaho growers are the envy of most growing states as far as the notoriety of the Idaho potato and we want to be innovative and capitalize on that investment that's been made over so many years," Darrington said.
Higham will wait to wrap up his job with Farm Fresh Direct before starting with the IPC, explained Travis Blacker, the IPC's industry relations director.
"He's going to be fantastic. I've known Jamey for many, many years, and he's going to be really good in this role," Blacker said.
Blacker said the budget has been set for the year and IPC is poised to continue its high-profile marketing programs for the year.
IPC sponsors the Famous Idaho Potato Bowl, which is carried by ESPN and hosted at Boise State University. The college football game is scheduled for Dec. 21 this year.
Blacker said IPC also plans to have another tour of its Great Big Idaho Potato Truck, which hauls a 6-ton replica of a russet potato.
Blacker said the IPC is planning a unique sendoff for the truck's next trip, inspired by middle school science fair projects in which students power a lightbulb with a potato.
Instead of starting the truck with a battery for the next trip, the IPC will start with power from a sack of spuds.
Blacker explained the truck will "literally be powered by Idaho potatoes."
Still can't find what you are looking for? Find by topic: