Idaho hop production rises again, despite COVID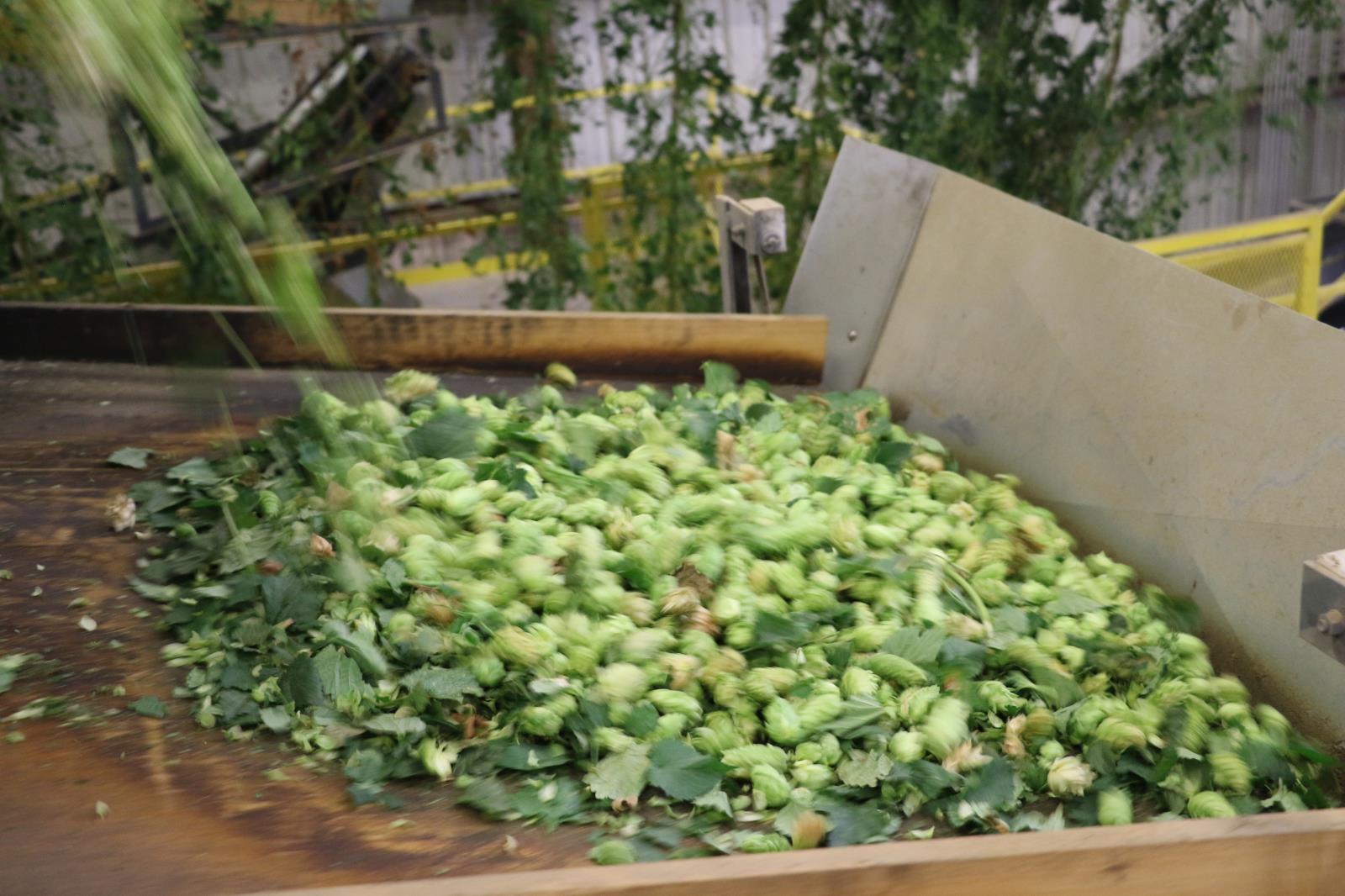 By Sean Ellis
Idaho Farm Bureau Federation
POCATELLO – Despite challenges posed by COVID-related shutdowns, Idaho hop acreage and production increased again in 2020.
That's the ninth straight year hop acreage and production has increased in Idaho and the crop, once a minor part of the state's overall agricultural industry, has quickly become one of Idaho's top crops in terms of overall farm-gate revenue.
For the first time since 2012, U.S. hop production decreased this year, according to data released Dec. 22 by USDA's National Agricultural Statistics Service.
More than 98 percent of U.S. hop production comes from the Pacific Northwest – Washington, Idaho and Oregon – and Idaho ranks No. 2 in the nation in hop production, behind Washington.
U.S. harvested hop acreage increased 4 percent in 2020 to 58,641 acres but yields declined by 11 percent and as a result, overall production dropped from 112 million pounds in 2019 to 104 million pounds in 2020.
Average hop yield per acre declined by 9 percent in Idaho this year, according to NASS, but harvested acreage increased 11 percent, to 9,268. That resulted in Idaho farmers producing 17.2 million pounds of hops this year, up slightly from 17 million last year.
That's no small feat considering the challenges the government-ordered shutdowns related to the COVID-19 outbreak posed to the industry.
Hops are one of the main ingredients used in beer brewing and brew pubs were hammered by the COVID-related shutdowns, said Idaho hop producer Mike Gooding.
The rapid growth in hop acres in the United States and Idaho that has occurred since 2012 has mainly been driven by the nation's fast-growing craft brewing industry.
Many brew pubs changed their plans, sometimes dramatically, when the shutdowns took effect and that resulted in hop farmers having to pivot as well and quickly, Gooding said. That included planting different varieties than they had planned to, sometimes at the last minute.
"People were trying to adjust at the last moment due to COVID," he said. "They adjusted things and that trickled back to us. It was just a real mess last spring. There were some tense moments last spring."
Gooding hopes things in the industry will start to return to some semblance of normal this spring, although he believes farmers will have to continue to adjust as the brewing industry does. He sees total hop acres, in Idaho and the U.S., remaining about the same.
"The acres will still be there; we just don't know what varieties they will be planted to," he said.
Idaho hop farmer Brock Obendorf said it's possible the industry hasn't seen the brunt of the COVID-related effects yet and he suspects it may take longer to return to normal. He believes total hop acres will be down in 2021.
"I don't know that we have really seen how bad the effects are yet," he said. "I think it's going to be two to three years out before it stabilizes."
Obendorf said it seems like morale in the industry is down somewhat with the latest round of COVID-related closures in some areas.
"We really need to get tap handles pouring beer again is what we need," he said.
Hop Growers of America Administrator Ann George said the significant yield reductions this year can be attributed largely to a major windstorm that hit Washington and much of the PNW on Labor Day weekend.
The high, sustained winds knocked down a lot of hop vines, she said, and that weather event was followed by smoke cover from major fires that blocked sunlight and fooled hop plants into thinking it was winter so they shut down, reducing yields.
"The big problem with yields was that Labor Day storm that hit during the peak of harvest and then the subsequent smoke cover," George said.
Because of the last-minute changes, Gooding said, some hop farmers ended up planting different varieties than they had planned to, resulting in more "baby" or first-year hop yards, which yield significantly less.
At least in Idaho, "The overall yield per acre was down mainly because there were a lot of babies," he said.
Problems with spider mites and powdery mildew near harvest time also helped knock yields in Idaho down somewhat, Obendorf said.
The COVID-related social distancing restrictions and sanitizing rules had a significant financial impact on the industry this year and increased production costs, George said.
In addition to providing personal protective equipment, farmers had to hire more people to do the monitoring and sanitizing, she said.
And the social distancing requirements resulted in some farmers having to provide more housing because of the reduced number of people allowed in a dwelling. They also had to increase the number of buses they used for the same reason.
"There was a lot more administrative overhead because you had to implement those ongoing daily cleaning activities," George said. "It was a huge additional cost of doing business."
Hop acres and production, both in Idaho and the United States, have increased rapidly since 2012.
U.S. hop acreage has risen from 29,683 in 2012 to 58,641 in 2020, while in Idaho it has increased from 2,596 to 9,268 during that same period.
Idaho passed Oregon in 2016 to become the No. 2 state in the nation for hop production and the Gem State passed Oregon in 2017 in hop acreage as well.
Since 2015, the total value of Idaho hop production has increased from $31 million to an estimated $100 million this year. Hops ranked as Idaho's No. 9 farm commodity last year in terms of total farm-gate receipts.
Still can't find what you are looking for? Find by topic: