Idaho farmers learn about wheat industry in Portland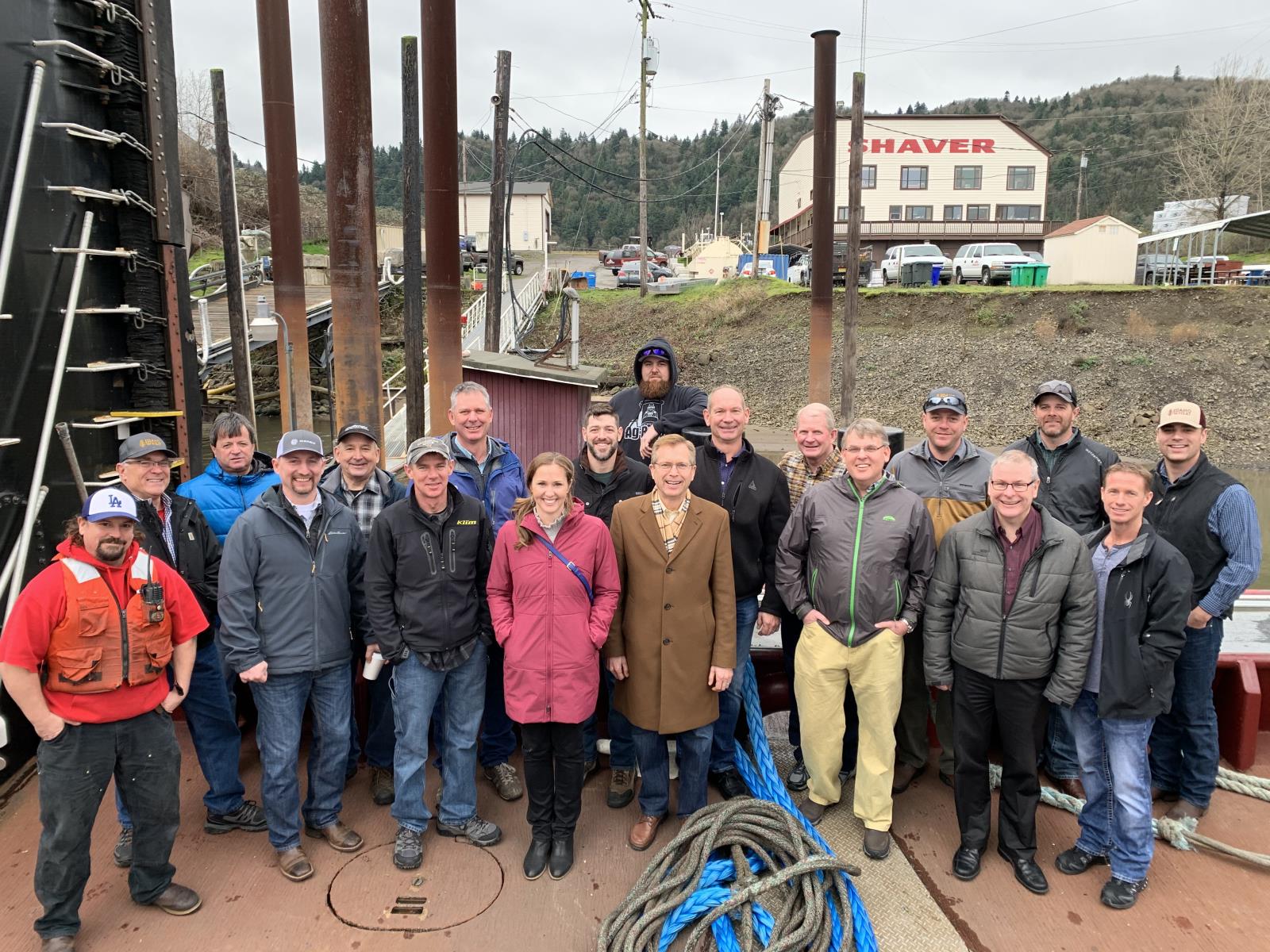 PORTLAND, Ore. – A group of Idaho wheat farmers and industry representatives visited Portland recently on a tour designed to give them a better understanding of the region's wheat industry and the importance of the Columbia-Snake River system.
Portland is the third largest grain export gateway in the world and 53 percent of U.S. wheat that is exported to other countries travels through the port.
Every January, the Idaho Wheat Commission takes two growers from each of five districts in Idaho, and a handful of industry representatives, to Portland to provide them an overview of the Idaho and regional wheat industry and show them the importance of the Columbia-Snake River system.
IWC Executive Director Blaine Jacobson told participants of the 2020 PNW Wheat Export Tour that the commission hopes that educating growers about the industry and the important issues it faces will benefit the industry in the long run.
"It's our hope that as you get back home, you get involved in industry affairs," he said. "We hope this tour pays dividends for the wheat industry in Idaho."
The Jan. 5-7 tour included an overview of the important role dams on the Columbia-Snake River system play in allowing wheat to be barged to port at a competitive price.
The critical role of the dams was a big focus of the tour and their importance to Idaho and the entire PNW, as well as the wheat industry, was stressed.
Participants also visited the Wheat Marketing Center, which is financed by wheat growers from eight states and tests and documents quality characteristics of the Pacific Northwest (Idaho, Oregon, Washington) wheat crop. The center provides data on wheat quality to current and potential customers, as well as technical training so they know how to use U.S. wheat.
WMC Director Janice Cooper said quality is the main selling point for the PNW wheat crop and it's important to be able to provide customers detailed data on quality characteristics.
"The Pacific Northwest certainly leads the country in paying attention to … quality," she said.
The tour included a visit to Columbia Grain Export Terminal, which ships a large amount of grain to Asian countries, as well as a stop at Shaver Transportation, which transports wheat by barge down the Columbia-Snake River system.
"The wheat you're producing out here is feeding the world; it's an incredible value," Rob Rich, vice president of marine services for Shaver, told participants.
Jacobson also provided tour participants an overview of the Idaho Wheat Commission, which is funded by grower assessment dollars and governed by five commissioners, all farmers.
During the presentation, participants learned that wheat is grown in 42 of Idaho's 44 counties and that Idaho has led the nation in wheat yields four of the last five years and ranks No. 5 in total wheat production in the United States.
"Wheat is a steady, consistent contributor to Idaho's economy," Jacobson said.
The IWC's annual budget is $3.4 million and Jacobson also provided a breakdown of how that money is spent. Half is spent on research, one-fourth on market development and one-fourth on grower education and communication.
He said the commission's vision is to keep Idaho a premier wheat-growing state and make Idaho wheat the preferred choice of domestic and export customers.
Idaho wheat is used in a lot of popular food items, including Goldfish, Wheat Chex, Chips Ahoy cookies, Sun Chips, Oreos, Wheaties, KFC, and McDonald's products.
"All of the people that came before us built a wonderful, magnificent wheat industry," Jacobson said. "We want to turn it over to the next generation in at least as good a shape as it is now."
"Thank you for taking time out of your busy schedule," North Idaho wheat farmer and IWC Chairman Bill Flory told tour participants. "We think this is some of the best grower money that we spend."
East Idaho wheat farmer Cory Kress, an IWC commissioner, said his previous participation in the tour "is kind of what spurred me into seeing the bigger picture … of what happens outside the farm."
Fort Hall wheat grower Kevin Loveland said the information presented during the tour "was super interesting. Seeing how grain flows through that system, and the amount of grain that does, was super valuable."
Still can't find what you are looking for? Find by topic: