Idaho cattle ranchers helping fight hunger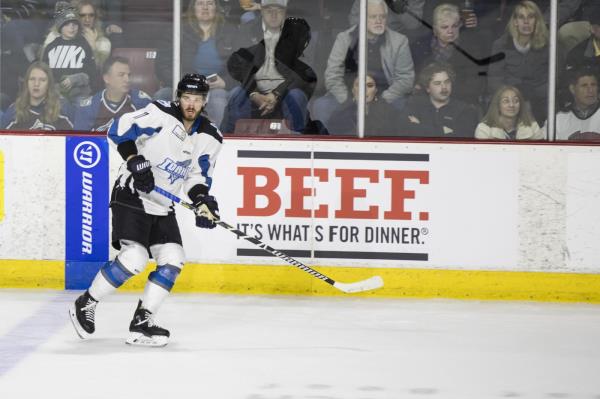 BOISE – There are more cows than people in Idaho and that is a lot of beef. But not everybody in the state has regular access to that high source of protein and Idaho's ranching families are doing what they can to change that.
Together with the Boise-based Agri Beef Co., the state's beef cattle producers have raised enough money since 2010 to provide more than 1.5 million 3-ounce servings of beef to needy families in Idaho through The Idaho Foodbank network.
They have done that through events such as the Feb. 1 "Beef Night on the Ice" event in Boise, which featured the Idaho Steelheads hockey team. A plethora of activities were held during the game to raise money for the foodbank.
Through a program called Beef Counts, Agri Beef matches, every year, up to $50,000 raised by the state's beef producers for the foodbank, which uses the money to purchase and distribute beef to its 400 pantry partners across the state.
The Beef Counts program is a partnership between the Idaho Beef Council, Idaho Cattle Association and Agri Beef.
IBC CEO T.K. Kuwahara said the program is really important to the state's cattle producers "because they are producing a high-quality, safe, nutritious product and they want to make sure that every Idahoan has access to that beef.
They want to make sure beef is on the menu at The Idaho Foodbank and that everyone in Idaho has access to it."
The money the state's beef industry raises to purchase beef for the needy is critical to the foodbank, said Carlyn Blake, development manager for The Idaho Foodbank.
The foodbank receives a lot of general food donations but not a lot of high-quality protein, she said, and the Beef Counts program helps fill that gap.
"It absolutely goes a long ways," she said about the program. "Honestly, I don't know what we would do without the beef council and their promotion of the Beef Counts program because they have been instrumental in getting beef partners all throughout the state … to donate so that we have that high-quality protein."
She said one in eight Idahoans is "food-insecure" and "it's really important that we're not only providing those people with things like pastas but that we can also provide them protein as well."
Many of Agri Beef's employees volunteer at mobile distribution centers where beef items are provided to the needy, said Liz Moore, the company's brand marketing specialist.
"Everybody in the company feels like they are invested in the program in one way or another," she said. "We feel it's a great way to give back to our communities."
The Feb. 1 hockey game featured fun events such as a Build a Burger event that had teams of two people trying to build a hamburger on the ice faster than other teams, and hamburger races on the ice. It also included some beef industry trivia, raffles and half-off hamburgers during the game.
Proceeds raised for the event are matched by Agri Beef and go to The Idaho Foodbank.
Dozens of ranchers from across the state showed up to support the Beef Night on the Ice event, and another three dozen 4-H students were on hand to educate people about the Beef Counts program.
IBC Chairman Jeff Johnson, a fourth-generation cattle rancher from Parma, said Idaho's ranchers have a strong connection to the state and their local communities.
"We feel really passionate about the product that we produce and the business that we are in and we feel it's important that we give back to the community and help make people's lives better," he said. "Beef Counts is something that a lot of producers are really passionate about."
Jerome rancher Bill Lickley said Idaho's beef producers realize they are blessed because even when times are rough financially, they can go into their freezer and take out some beef.
"Not everybody in Idaho has that opportunity and we want to do whatever we can do to help them," he said. "Supporting the program is something we can do to help our neighbors and communities."
Boise is by far Idaho's largest population center and besides raising money to help fight hunger, the hockey event also served as an opportunity for Idaho's beef ranchers to educate people about the important role their industry plays in Idaho.
Beef cattle is the state's No. 2 farm commodity in terms of total farm cash receipts and the economic impact the industry has helps underpin a lot of rural communities in Idaho.
"Tonight's event is one of the ways we can reach into the largest metropolitan area in the state and tell our story," Johnson said during the hockey game. "Hopefully, people that come here will learn a few things about our industry and come out with a positive feeling about the beef producers in Idaho."
Still can't find what you are looking for? Find by topic: