Idaho ag department plans Farm Forward program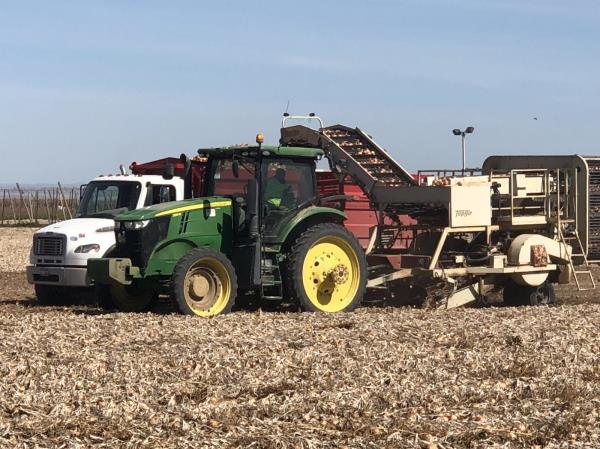 BOISE – Gov. Brad Little's budget request for fiscal year 2021 recommends $95,000 to create a program that would help Idahoans enter or remain in agriculture.
Called Farm Forward, the program would use existing funds within the Idaho State Department of Agriculture.
"All services in this new program will be non-regulatory and will be aimed at helping people get into or stay in agriculture, the most significant driver of Idaho's economy," states a "backgrounder" on the proposed program provided by ISDA.
"The whole focus of the program will be to help keep families on the farm," said ISDA Director Celia Gould.
She said many if not most people involved in the farming and ranching industry have a personal story about them or a neighbor struggling to stay on the farm.
"The overriding drive for this program is that agriculture is the economic foundation of Idaho but it's not something that we can afford to take for granted," Gould said.
Rather than recreating existing resources aimed at helping people get into farming or remain on the farm, the program would instead serve as an aggregator of the many such resources that already exist, said ISDA Chief of Operations Chanel Tewalt.
In effect, it would serve as a one-stop shop for people looking for resources that can help them get into agriculture or remain on the farm or ranch and serve as a clearinghouse to better leverage and utilize existing resources.
That could include lending options, training programs, business planning and succession planning. The program could maximize coordination among state offices, federal programs, higher education and non-profit organizations.
"There is currently no one-stop shop in Idaho that can provide people access to all of these existing resources," Tewalt said. "We are not going to recreate something that exists, but there is no central location that aggregates these resources."
While the program would focus on helping anyone stay in agriculture, it will focus heavily on emerging farmers as well as disabled farmers and ranchers and producers with military service.
According to the 2017 Census of Agriculture, there are 4,613 agricultural producers in Idaho –10 percent of all of Idaho's farmers and ranchers – with military service.
The program could coordinate with the U.S. military on programs to provide on-the-job agricultural training.
The program is something that Gould and ISDA officials have been thinking about for years.
The agriculture department basically has two missions: to regulate and promote agriculture in the state of Idaho. Helping people stay on the farm is not something the agency typically does.
Even though the department knew a program such as this was needed, "it was something that we thought another organization might fill," Tewalt said. "But we've given it time and it has not come up anywhere else. We feel the time is right to start this program."
Before deciding to move forward with Farm Forward, the ISDA formed an advisory committee to mull the idea over. It included members from the agriculture industry as well as representatives from Veterans Services, the financial industry, the Idaho Legislature, College of Southern Idaho and the University of Idaho's College of Agricultural and Life Sciences.
"We really wanted input from a lot of people outside this agency on whether this is a good idea and we are going down the right road," Tewalt said.
The committee considered several things, including the fact that the average age of an Idaho farmer is 56 years old and the average age of Idaho farmers with military service is a decade older.
"We asked the committee whether we should proceed with trying to put some flesh on the bones of this idea," Gould said. "And we got a resounding, 'yes.' They said, not only is it a good idea but it's desperately needed in the state."
"I think this is going to be a great program to enhance Idaho agriculture," said Stephen Parrott, who is chairman of the Idaho FFA Foundation and represented the ag lending industry on the advisory committee. "I'm optimistic and excited about the program and think it will be a really good … resource that can help farmers and ranchers."
Advisory committee member Robin Kelley Rausch, who owns Kelley's Canyon Orchard outside Filer, said there are some good resources available to help producers with succession and business planning.
"The first piece is gathering all these resources in a place that is accessible to people," she said. "Farm Forward (will be) an aggregator of information and resources to farmers and resources…."
ISDA also spoke to agribusinesses about the idea "and we had an overwhelmingly positive reception to it," Tewalt said.
The Idaho Legislature still has to approve the internal funds transfer to create the program. If it does, ISDA would hire someone to run the program and it would kick off July 1.
The program manager would be located at an existing ISDA office in Twin Falls.
Still can't find what you are looking for? Find by topic: