Hundreds attend 'Farm Bureau Salute to Idaho Veterans'
POCATELLO – More than 600 people paid tribute to past and current military members Nov. 8 during the 9th Annual Farm Bureau Salute to Idaho Veterans.
The participants packed three floors of the Farm Bureau building in Pocatello for the two-hour event, which included military veterans from every branch of service, active duty military personnel, family members and Farm Bureau employees.

"This is always a humbling experience," Idaho Farm Bureau Federation President Bryan Searle, a farmer from Shelley, told participants. "On behalf of Farm Bureau, thank you … very much for your service."
Searle fought back tears as he thanked the veterans for their service.
"We enjoy the blessings of freedom because of these men and women (and) we recognize and pay tribute to you for your service," he said.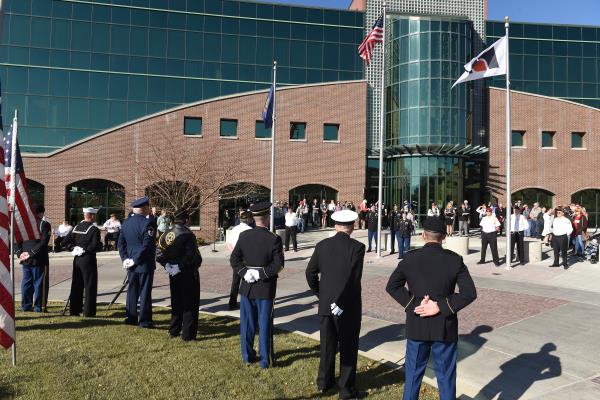 The event included a flag ceremony, a veterans group photo and lunch. Veterans also received a 2019 Salute to Veterans commemorative coin.
"I am honored to be speaking to the heroes of our nation," said Jason Williams, treasurer of Farm Bureau Mutual Insurance Co. of Idaho. "We are here to remember each and every veteran who is or was part of our country's military. Your commitment and sacrifices have secured America's freedom throughout our history."
The guest speaker was a former Air Force pilot who now serves in the Idaho Legislature.
Rep. Priscilla Giddings, R-White Bird, was raised on her family's ranch near Riggins, Idaho. She flew the Air Force's beloved A-10 "Warthog" and later flew intelligence, surveillance and reconnaissance missions in the MC-12 aircraft.
Giddings, who logged almost 1,000 combat hours, regaled the crowd with tales of the A-10's abilities and her own experiences in the Air Force.
But a palpable silence fell over the participants when she spoke of flying cover for the ground personnel who were tasked with recovering the remains of 17 Navy SEALs who died after the Chinook helicopter they were flying in was shot down in Afghanistan with a rocket-propelled grenade.
"Words can't describe the feeling that ran through my blood as I recounted talking to many of those same SEALs on the radio just days before that tragic moment," Giddings said.
She said the experience drove home "the significance of why we salute those stars and stripes. There is no greater feeling of awe and humility than to watch another soldier give up their life for freedom…."
Giddings said although she and other veterans have stepped out of their uniforms, "we'll never stop serving."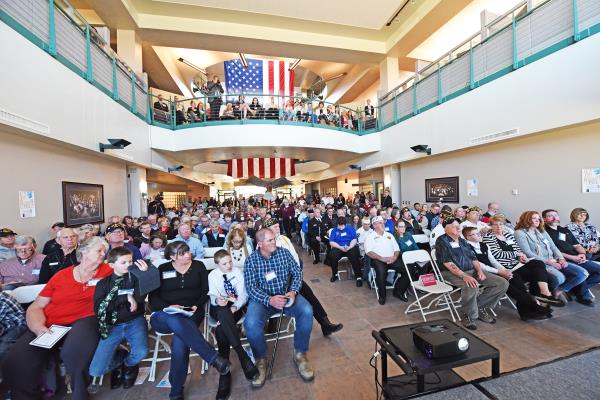 She encouraged her fellow veterans to keep serving their country and state by getting involved in local government.
"We must maintain the kind of government you fought to protect," she said. "America still needs you."
"You have the training and leadership skills that our state needs to lead Idaho into the next decade," Giddings added. "You may not want to run for Congress, or even the legislature, but consider all the other positions: county clerk, county commissioner, city council, school board, highway district, library district…."
"Through all my experiences serving both in the military and in the legislature, the one thing I know for certain is that our republic is worth fighting for," she said. "We live in the greatest nation in the world and the best state in the nation. You have helped make it that way."
Still can't find what you are looking for? Find by topic: