Growers see potential for solid potato market, with COVID-19 as a wildcard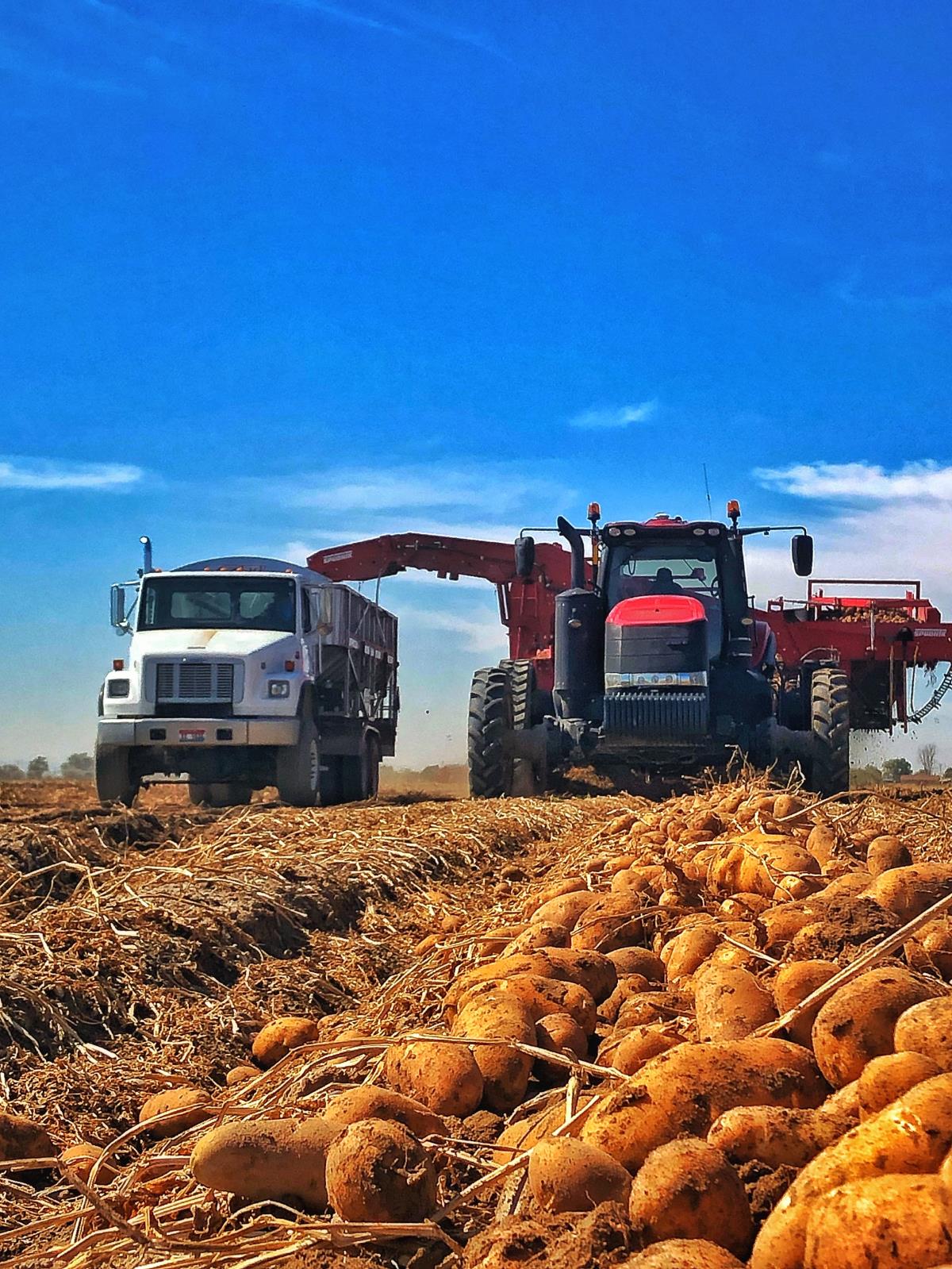 By John O'Connell
Intermountain Farm and Ranch
Shelley farmer Bart Wattenbarger was banking on a strong market to help him recover from a widespread early season freeze last fall that destroyed about 30% of his potato crop.
For a while after the 2019 harvest, things looked good, with a manageable potato supply leading to decent returns to growers and rising prices of fresh 50-pound cartons used by the foodservice industry.
Then COVID-19 hit and after an initial price escalation for retail potatoes caused by supply chain constrictions, the market unraveled.
Processors cut contracts, farmers returned unneeded seed to their seed potato suppliers and growers with no markets for their surplus spuds made national headlines by giving them away to local struggling families.
As he prepares for this fall's harvest, Wattenbarger believes the table is once again set for a manageable spud supply, a high-quality crop and a good market.
The wildcard, however, remains COVID-19.
Some farmers have already begun digging in East Idaho growing areas with sandy soil, such as Fort Hall, and they've been killing vines elsewhere in preparation for harvest.
The region's farmers are generally reporting excellent tuber quality and average yields.
"It had been five years since we had made much money at all on the farm and we were looking forward to a prosperous year last year," Wattenbarger said. "In February, that market crashed. It took the wind out of the sails for every farmer around here. We were all excited a month before that, and then everybody was in depression mode almost."
A small decrease in supply can make a significant difference in price for specialty crops such as potatoes, and Idaho growers anticipate starting this fall with a much smaller volume of spuds compared with recent years.
USDA's National Agricultural Statistics Service estimated Idaho farmers planted 300,000 acres of spuds this season — down 10,000 acres from 2019 — driven largely by major contract cuts from processors.
A grower organization that surveyed planted acreage by visiting and observing each field in the state estimated the crop is even smaller, at 295,790 acres.
Potato prices that crashed after the coronavirus forced shutdowns of restaurants and foodservice buyers have since rebounded somewhat.
USDA Market News reported on Aug. 25 the price of five, 10-pound mesh sacks of Russet Norkotahs from the Upper Valley, Twin Falls-Burley District was $6.50 to $7.50, and 50-count Norkotah cartons were selling for $16 to $19.50.
"I think it's all based on COVID," Wattenbarger said. "If we can control that, I believe we have a good market coming. If we have a flareup and shut down again, that was a disaster for the farmers."
Wattenbarger planned to kill his vines on Aug. 28 and start harvesting on Sept. 21. Based on his test digging, he believes his crop will have excellent quality.
"I think yields are going to be kind of an average yield — maybe a field here or there might be a little above average," he said. "I believe we are in a situation that warrants a good market."
Wattenbarger reduced his planted potato acreage by 17% this season, shifting to spring wheat. He sells fresh potatoes to Shelley-based GPOD of Idaho, which ships a large volume to New York, where many small restaurants remain closed or have gone out of business due to COVID-19.
Pingree farmer Garth Van Orden was hit with a 20% reduction in his contract with a potato processor; he also cut back his fresh potato acreage by 10%, planting soft white spring wheat in their place.
Van Orden, who farms on sandy soil, started harvesting Norkotahs for the fresh market on Aug. 15. Despite some early season frost, his spuds have recovered, and he's harvesting an average-yielding crop with terrific quality.
"It's OK. It's not a huge crop. It's not disappointing either," Van Orden said. "I'm just trend line or slightly below that."
Van Orden said farmers in East Idaho have benefited from better weather throughout the growing season than last year, and he's aiming to finish harvest in a more timely manner to avoid the risk of an early frost, following last season's experience.
"We've got a manageable crop coming. I say that as an industry," Van Orden said. "Growers, processors, fresh sheds, we all went through the rollercoaster of, 'There's not going to be any business,' to where we couldn't keep up. We were short, we were long, and now we're actually short again."
He said this fall's crop should be ample, but Van Orden also doubts there will be anything extra. Overall, he believes the crop has a slightly smaller size profile, which should drive up prices of larger-sized fresh cartons.
With most of the crop still in the ground, Travis Blacker, industry relations director for the Idaho Potato Commission, sees evidence already that it should be a good year for the potato market.
Blacker said growing conditions have been outstanding, and the state's reduction in acreage should pay dividends with better returns.
"I've been over to Glenns Ferry, Wilder and Egin this week, and everything I've seen is looking very good as far as quality. I haven't heard anything as far as yields, but the quality looks fantastic," Blacker said. "I'm pretty optimistic that it's going to be a good year."
Blacker said IPC will adjust its programs to market the crop according to this season's unique circumstances. And he acknowledges there are always "wildcards" that could emerge and change the outlook.
"I think we're all praying we get the crop in and who knows what's going to happen this year?" he said.
Still can't find what you are looking for? Find by topic: