Giant sugar beet to be dropped to ring in new year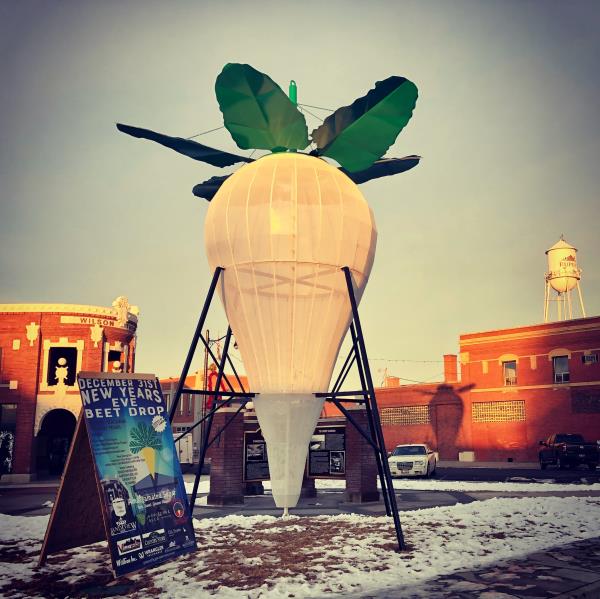 RUPERT – A giant, two-story tall sugar beet will be slowly lowered in Rupert Town Square just before midnight Dec. 31 to ring in the new year.
The inaugural event is a nod of respect to the humble sugar beet, which is a major but quiet part of Idaho's agricultural economy, said event organizer Ryan McEuen, owner of E Street Deli in Rupert.
Sugar beets bring in about $300 million per year in farm-gate receipts to Idaho farmers, making that crop one of the state's main agricultural commodities.
McEuen said he hopes the New Year's Eve sugar beet drop helps bring that crop some of the respect it deserves.
"It's a huge commodity in this whole region and it just made sense to celebrate it," he said. "It's an uncelebrated hero to the region."
Rupert sugar beet farmer Duane Grant applauded the event and said it will be a fun way to celebrate the crop that has underpinned much of southern Idaho's economy for 100 years.
The sugar beet processing factory in nearby Paul, which is more than 100 years old and produces more sugar annually than any other facility in the world, "provided the economic horsepower to really develop this valley," Grant said. "The sugar beet industry was here before the potato industry, the malt barley industry and the dairies."
"This sugar beet drop is fun, appropriate and significant and my hat's off to the folks that put it together," Grant said.
The annual New Year's Eve Idaho potato drop that occurs in Boise attracts the attention of national and international media and McEuen said the planned beet drop has already caught the attention of major national media, including CNN and ABC.
"The event has caught wildfire," he said. "It's going to turn downturn Rupert into Times Square."
He also said fairs and rodeos have already contacted him, asking if they can display the giant beet later in the year.
The family friendly beet drop event gets underway with music at 7 p.m. and the countdown and beet drop starts at 11:59 p.m., followed by fireworks.
Still can't find what you are looking for? Find by topic: