First-year farm owner takes over local corn maze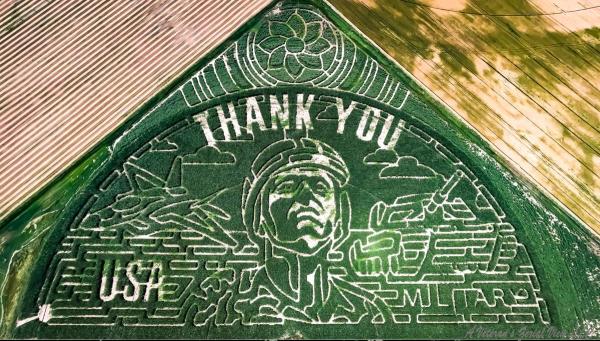 SHELLEY — Ryan Searle suspects the ears of his first corn crop will be a bit light on grain, following a tough growing season.
Even if his yields are poor, the 36-year-old Shelley farmer is confident that his field of maize will provide his best cash crop this year. Prior to this season, Searle purchased the rights to host Eastern Idaho's Wild Adventure Corn Maze from a neighboring farmer, Richard Johnson.
Once the 13-acre maze closes for the season, he'll harvest the grain to sell to a local feed lot. He'll be happy if the field yields 100 bushels of grain per acre, given that wet weather delayed planting and frost abruptly ended the season.
"I am going to harvest what I can when we're done here, but really I'm harvesting people," Searle joked. "My buddies ask me how it goes, and I say, 'Just think of spud harvest, but it lasts seven weeks long instead of two weeks long and the potatoes can talk back.'"
The design of the maze offers a salute to military veterans, featuring the image of a soldier flanked by a jet and a tank. The words "Thank you" are carved above the soldier's helmet, and "USA" is written in the left corner. The maze, located just off exit 113 of Interstate 15, which leads to Shelley, includes three separate courses comprising 6 combined miles of pathways. The easiest course is about a half mile, and the most difficult one is 3.5 miles.
The maze opened Sept. 16 and will close on Nov. 2, when Searle will be drawing the winner of a Polaris RZR. Customers will be entered in the drawing for each paid admission, plus Searle has added other ways in which customers can earn additional entries.
Admission is free for children 3 and under, $6 for children 11 years old and younger and $11 for adults. He also offers group rates and a date-night special. He hosted a free day for veterans, active military members and first-responders, who are also entitled to a $2 discount on general admission.
Each course also features a game: One game teaches children to identify farm animal tracks, another game is a treasure hunt and the third game is similar to Clue, challenging participants to discover which animal kidnapped Farmer Joe.
Searle planted two other new crops in the same field for the enjoyment of his guests: He raised a 6-acre pumpkin patch and a 6-acre stand of sunflowers.
The sunflowers form an addition to the maze. While in bloom, they were a popular backdrop for family photographs. He plans to harvest them for culinary oil after the season. Next year, Searle plans to stagger planting dates of his sunflowers so they'll bloom at different times.
Visitors can also purchase pumpkins, and he'll offer pumpkin carving on Saturday, along with a "candy drop" at 6 p.m. from an ultralight aircraft.
The maze was first opened in 1998 by local farmer Shawn Stolworthy. Stolworthy sold the maze to Johnson in 2010. Stolworthy now runs a company that specializes in designing and planting elaborate corn mazes throughout the country, called MazePlay.
Based on the high cost of corn seed, Searle had Stolworthy plant the Wild Adventure Corn Maze using GPS planting technology, rather than returning to cut the design into a full field. Searle later came in with a cultivator to clean up the weeds in the open paths.
Searle grew up on a farm but is new to running his own operation. In 2014, he bought out his family's interest in the farm. Searle, who farms 1,830 acres, specializes in grain and collaborates with some cousins, who lease his fields when it's time to rotate into potatoes. He explained running a maze is one way in which he expects to supplement low commodity prices for grain.
Searle plans to keep the maze in the same general area, enabling him to invest in some permanent infrastructure. Searle also has a working agreement with the previous owner, Johnson, to make and sell Mexican crazy corn at the maze, following their recipes.
Johnson leased ground for the maze from Searle last season, giving Searle a trail year to observe the intricacies of the business. This year, Searle said attendance has been about average — stymied by some challenging weather — and he's hoping for good weather in his final days of the season.
"We've definitely had our struggles with the weather," Searle said. "It will not be a big money-maker. We'll be profitable, but we'll be sinking everything we've got back into improvements to get to the level we want."
Still can't find what you are looking for? Find by topic: