FB Dairy Committee tours robotic operations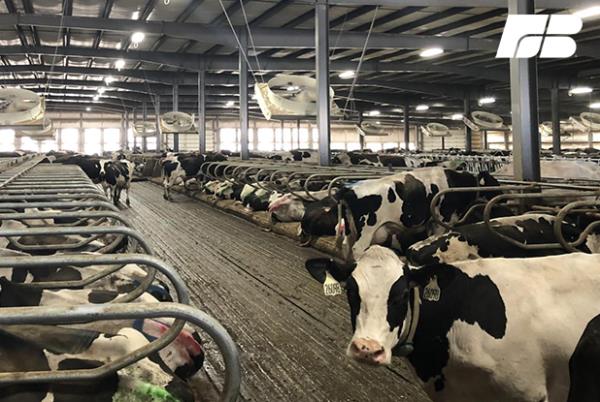 Raft River—The Idaho Farm Bureau Dairy Committee toured two nearly deserted dairies in Minidoka County on Thursday.
Both dairies had the normal number of cows, but there were only a handful of workers, that's because both Heglar Creek and Midway Dairies are robotic.
Heglar Creek milks 720 cows and started robotic operations last year. Twelve robots now milk 60 cows three times a day, with six more robots coming online later this year, they'll have the capacity to milk 1,080 cows a day. Midway is twice the size of Heglar Creek but has a different robotic setup, they're seeing similar production numbers.
Heglar partner Mike Garner says labor costs are one of the biggest issues facing dairies, and they're now able to operate with a third fewer workers.
"At night there's no one here, We don't need staffing at night and yet we can still monitor the cows 24/7 from an app on the cellphone," said Garner
Heglar owner Todd Webb says robots never need a day off. "We have a lot less administrative problems with the robots. They can work holidays and never get sick, and we don't have to worry about keeping enough workers to keep operating."
On the tour, the committee found the dairies eerily quiet. The cows were cleaner, less odor, fewer flies. The handful of workers on site were tending to the robots and monitoring data not spending countless hours herding cows.
"The cows choose when to get milked, and when to eat, they walk up to milking station and the robots milk them. Some keep coming back," said Webb.
Webb says they're able to monitor the herd closer and in their robotic operations they're seeing up 20 percent fewer culls, 10 percent better pregnancy rates and 20 percent higher productivity rate from the herd.
Inside the massive barns, giant fans keep the barns cool and comfortable for the cows, even in the heat of summer and chill of winter.
Cows are able to wash their feet in a special bath, while robots push feed into feed bunks after milking. Scrapers and water constantly clean up manure.
The Dairy Committee toured with dairies with keen interest, they want to improve the bottom line and reduce input costs in the future.
"It's a significant concern," said Melinda Wolfe of Dairy West. "The dairy industry right now is going through challenging times. Cost is exceeding what they're getting for their milk. Farmers are looking at their margins and looking at robotics as a way of saving money. With high start-up costs, they'll have to sharpen the pencil and figure out how to do finance this, but it can be done."
The mountains of data produced each day are staggering. Everything from milk output to the hourly temperature of cows, to how much the cow eats and drinks. The information is showing encouraging changes, according to Todd Webb. Data is showing the comfortable living conditions in the barn, more milkings and reduced stress on the herd means more milk. Data also shows that cows are living longer, producing more and suffer fewer injuries in robotic operations.
Garner says the robots, have at least a 20-year shelf life. Software updates are frequent, but overall the system is working and this latest technology could very well be the future of dairy farming.
Still can't find what you are looking for? Find by topic: