Farmers, neighbors unite in effort to save potato crop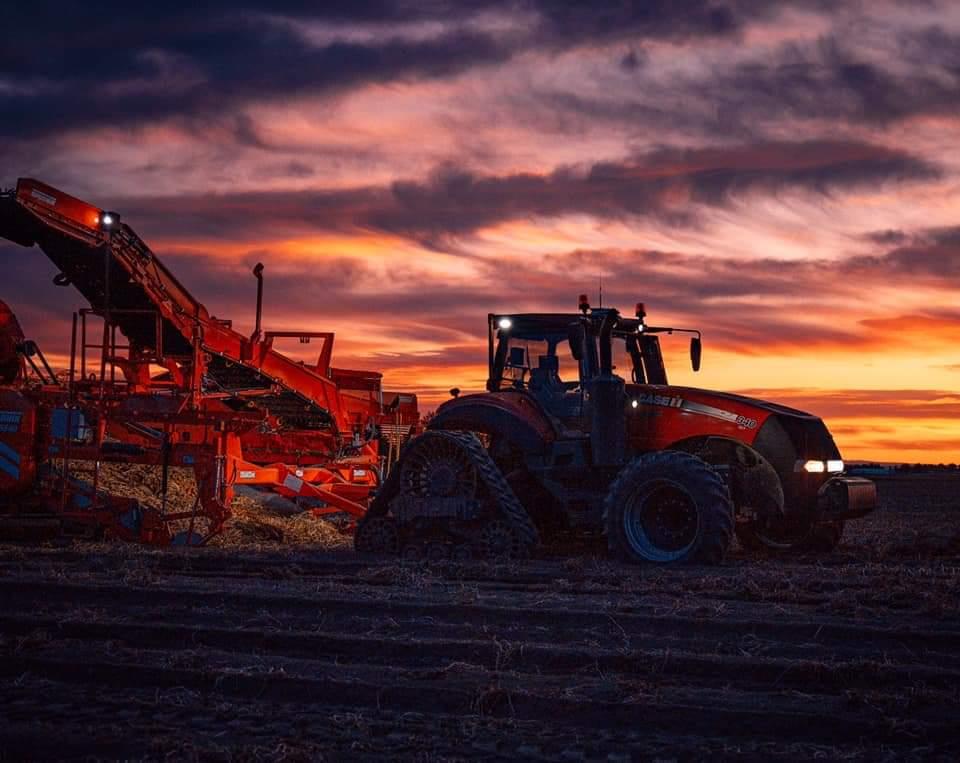 POCATELLO – When it became clear that a bitter early October cold snap was bearing down on Eastern Idaho, potato farmers in the heart of spud country began scrambling to get as much of the remaining crop in as possible.
Though as much as 15-20 percent of the state's iconic potato crop was still in the ground when the record-setting cold weather hit, it wasn't for lack of effort.
When word got out that potato farmers throughout Eastern Idaho were under the gun – the kind of cold temperatures that hit the region can cause major damage to spuds in the ground – fellow farmers and even non-farmers joined in a massive effort to minimize the damage.
When one farmer was done harvesting their spuds, they quickly lent a hand and equipment to their neighbors.
"There are stories up and down the valley about people sharing equipment and labor in an effort to get the potato crop in before that cold snap," said Shawn Boyle, president of the Idaho Grower Shippers Association, which represents potato growers and shippers. "As farmers finished up getting their own crop in, they took their crews over and helped their neighbors out."
"There was a lot of that you didn't hear about," Boyle added. "People just silently going and helping their neighbor. That's Idaho at its greatest."
But it wasn't just farmers helping farmers.
Some farmers report that neighbors and other members of the community who have nothing to do with agriculture seemingly popped out of the woodwork to pitch in.
"On my little farm personally, people started calling and said, 'I'm coming to help, figure out how to use me,'" said St. Anthony potato farmer Zak Miller. "I saw people on my farm that I didn't know. They could just see we were in need and they came to help, and that sort of thing happened everywhere."
"A lot of people that have nothing to do with farming came out of the woodwork to help," said Idaho Farm Bureau Federation President Bryan Searle, a potato farmer from Shelley.
What resulted was farmers and their neighbors and communities mobilizing in a herculean effort to try to save the state's important potato crop.
A good chunk of the crop didn't get harvested before the cold hit – potato harvesting equipment can only move so fast – but it wasn't for lack of trying.
"Everybody was just so willing to help out," said Aberdeen farmer Ritchey Toevs. "Neighbors on both sides of me called and asked if there was anything they could do to help."
Record low temperatures were recorded throughout Eastern Idaho the night of Oct. 9-11. Though the extent of the damage won't be known for several more weeks or even months, it is expected to be significant.
"It could have been a lot more disastrous than it was if we hadn't had the help that we did," Miller said.
As heart-warming as the stories are, many farmers said it was important to keep in mind that this sort of neighbor-helping-neighbor thing happens a lot in farm country. It was just more evident this year because the media picked up on the "looming cold snap" story.
"It was a feel-good story and it happens all the time in farm country," said American Falls potato farmer Klaren Koompin. "That's normal."
"I think this type of thing really happens quite often," said Travis Blacker, industry relations director for the Idaho Potato Commission.
Searle said he can remember this sort of thing happening when he was a young boy.
"It's the goodness of farmers and I've seen it my whole life," he said. "We are in competition for ground and for markets but, boy, when there's a need, all the competition is gone and the generosity of farmers comes through."
Miller, IFBF's director of commodities, said when people look back on this event, he wants them to remember the goodness of farmers and their communities pitching in to help rather than whatever financial losses will result.
"When history is written on this year ... what I really hope is that people remember the rallying of the community," he said. "It's just a reminder that there is so much more that unites us than divides us. I hope we can all remember that lesson. I know that I will."
Still can't find what you are looking for? Find by topic: