Farmers, conservation groups work together in Teton County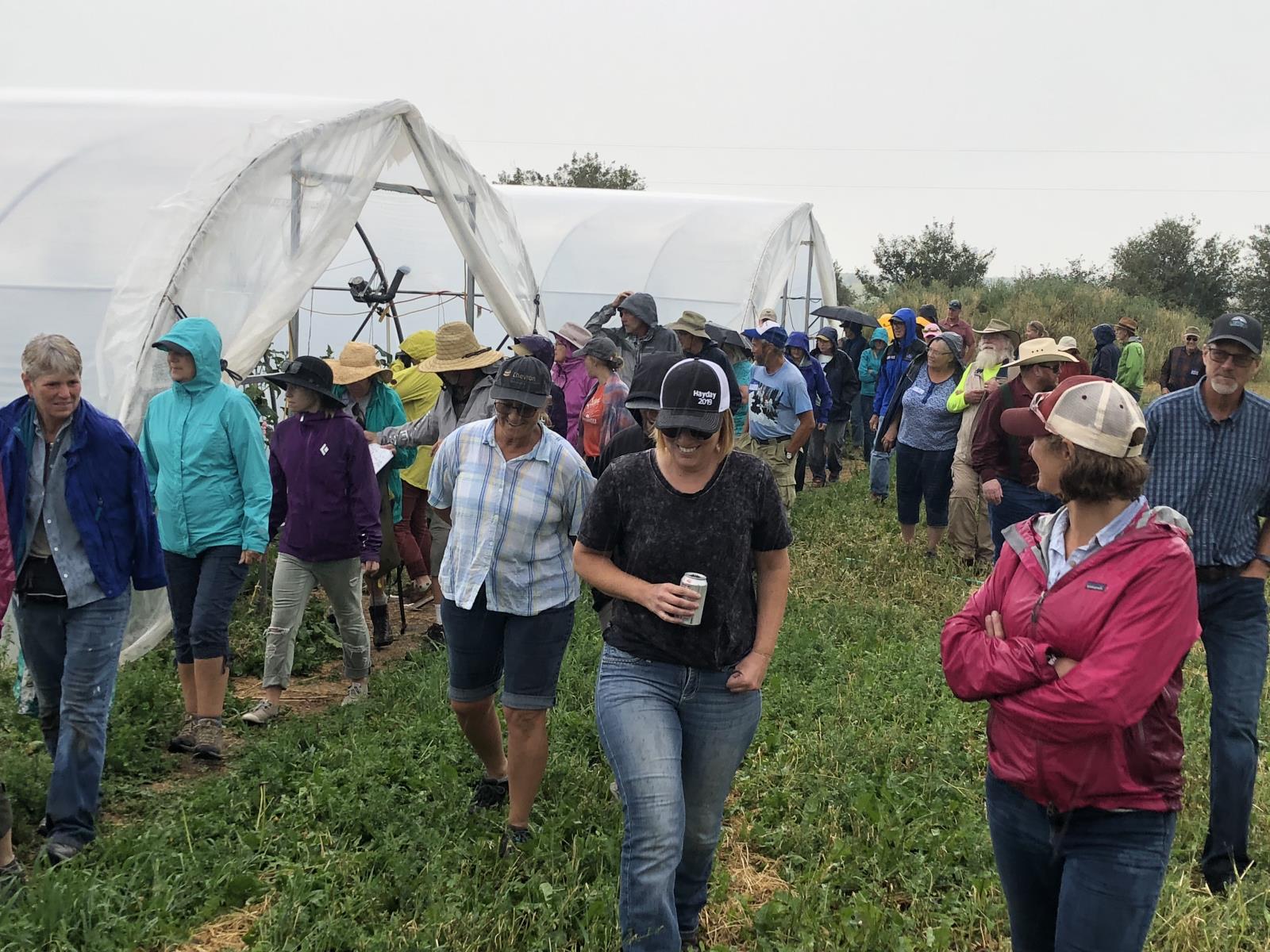 By Sean Ellis
Idaho Farm Bureau Federation
DRIGGS – Groups in Teton County are proving that agriculture and conservation don't have to be competing ideas.
On Aug. 8, those groups sponsored an agricultural tour to show community members how farmers, ranchers and conservation groups are working together on natural-resource related projects that benefit the soil and water.
"Ag producers here are farming and ranching in a way that improves soil health … and improves water quality and quantity," said Amy Verbeten, executive director of Friends of the Teton River. "The purpose of this tour is to help our community understand the value that our agricultural producers bring to this community."
About 100 people attended the 2nd Annual Teton Farm & Agricultural Tour, which was sponsored by several groups, including Teton County Farm Bureau, Friends of the Teton River, Teton County Soil Conservation District, Teton Reginal Land Trust and local farms and ranches.
The five-hour bus tour was held to highlight the work local farmers, ranchers and conservation groups are doing to benefit the health of the Teton Valley's ag lands, community and ecosystem.
More than 50 percent of the land in the Teton Valley is in agricultural production and the presence of the Teton River has resulted in a strong fishing and recreation industry that brings millions of tourism dollars to the area.
Verbeten said some people have fallen into a faulty way of thinking that agriculture, conservation and recreation are competing economies and if one was strong, the others had to be weak.
"What we're finding here and proving in Teton Valley is that that's not true at all," she said. "We're finding that these industries can actually be stronger when we work together. We're finding that agriculture can bring great value to our community and make our water and soil and way of life better."
Teton County Farm Bureau President Stephen Bagley, a rancher and farmer, said farm and conservation groups in the valley had fought each other in the past with very little communication.
As the tour demonstrates, "we can at least get a dialogue opened up between individuals in the community from the agriculture, conservation and recreation communities. If we can understand each other just a little bit more, that is a huge benefit in my mind."
"We do not agree on everything 100 percent but we have definitely found some common ground and that's been wonderful to see," Bagley said.
One example of how the parties are working together is a voluntary aquifer recharge program that has resulted in more groundwater returning to the Teton River during the critical late summer months, when both fish and farmers desperately need it.
Sixteen canal and irrigation companies in the valley now participate in that program, up from two last year.
The aquifer recharge program has in particular been a big benefit to conservationists and ag producers, Verbeten said. "We're seeing cleaner, colder water than ever before, and more fish."
The groups support a soil health initiative and were able to purchase a no-till drill that is owned by the soil conservation district and rented to agricultural producers.
The groups are also supporting a project experimenting with cover crops and different crop rotations to create healthy soil and prevent erosion into the river. Friends of the Teton River is financially supporting a position that works with producers to measure and document soil health changes on their farms.
Verbeten said the conservation groups bring strong fundraising and grant writing experience to the table and farmers and ranchers bring a tremendous amount of expertise in innovative agricultural best management practices.
The Teton Regional Land Trust offers farmers and ranchers voluntary farmland conservation easements that benefit both producers and the land and water. Farmers are offered a financial incentive to enter into an easement agreement, which is in perpetuity and prevents the land from being developed but allows producers to continue to farm it.
A farmer who enters into this type of agreement can still sell the land but it must remain in agricultural production.
Verbeten said that from her group's perspective, it's far better from a conservation perspective to have that land remain in farming rather than being turned into subdivisions or commercial properties.
"We have far greater concerns about water quality and quantity and about wildlife habitat with development than we do when we have these amazing, conservation-minded producers operating on this landscape," she said.
When the groups first started actively talking to each other about six years ago, "they started to realize that agriculturalists and conservationists have far more in common than we have differences," Verbeten said. "But that only really happens when you take the time to sit down and listen to each other, to get to know your neighbor and to ask questions."
She said Friends of the Teton River was thrilled to begin working with farmers and ranchers on projects that benefit both.
"We can do so much more together than we could when we were trying to fight each other," she said. "When you fight, somebody's got to lose. And in my mind, when you do that, everybody ends up losing at some point. But when we work together, truly everybody can win. We can all come out better than we were before and I really think we're proving that here in Teton Valley."
Tyrel Bingham, Idaho Farm Bureau Federation's regional manager in the Upper Snake River Valley, applauded TCFB and conservation groups for working together.
"They have been able to work together on issues and move forward on projects, which is something this community has not been able to accomplish in the past," he said. "In this experience, we have learned we want to accomplish a lot of the same things and by informing and educating each other, we have been able to find common ground and work on issues together. The conservation groups have come to have more of an understanding that good agricultural practices are a major benefit to their causes rather than obstacles."
Still can't find what you are looking for? Find by topic: