Farm Bureau teams up with petting zoo at Eastern Idaho Fair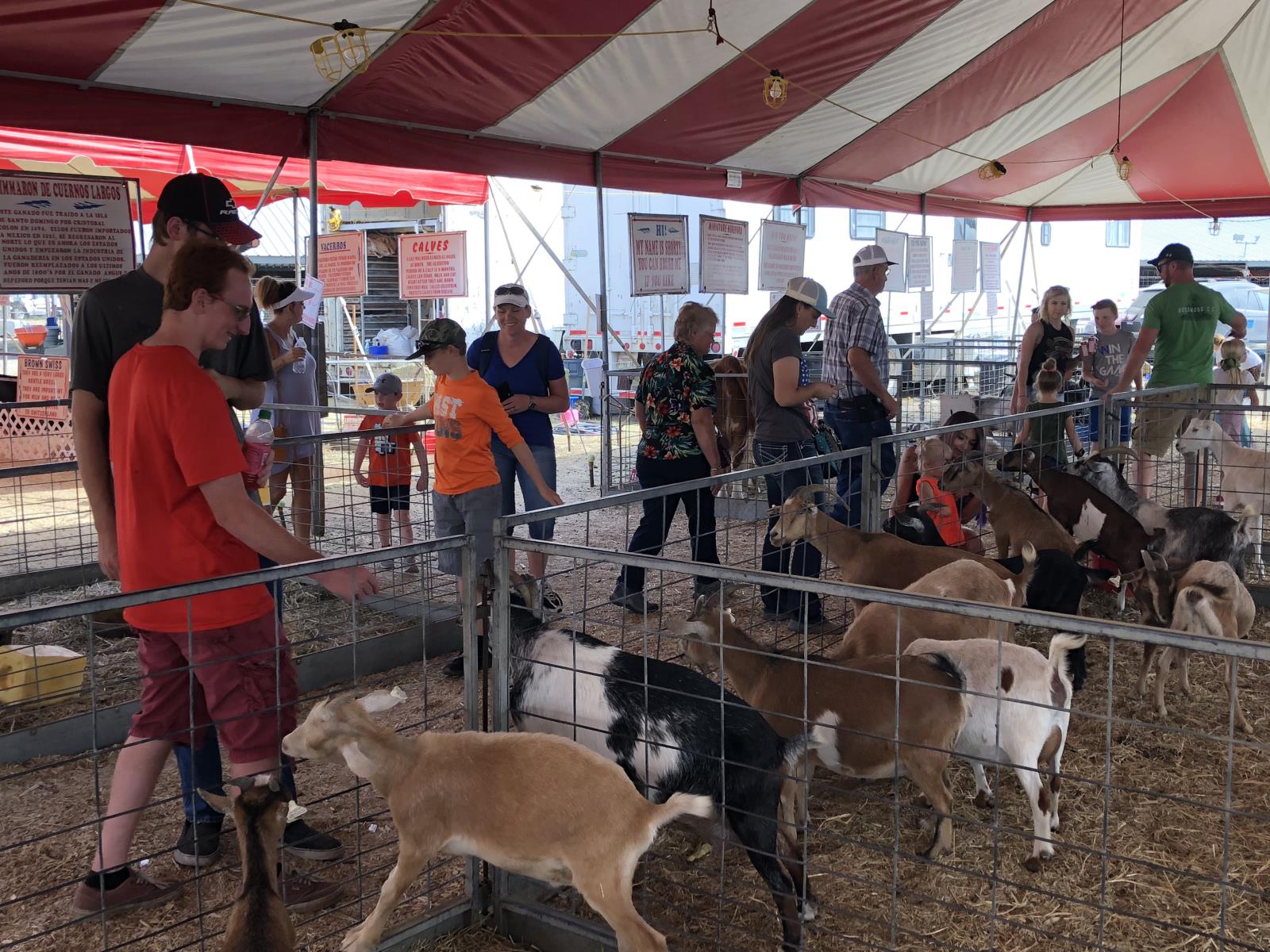 By Sean Elis
Idaho Farm Bureau Federation
BLACKFOOT – Idaho Farm Bureau Federation teamed up with a "petting zoo" at the recent Eastern Idaho State Fair to teach people about animal agriculture through a hands-on learning experience.
IFBF was the main sponsor of the "Bring the Farm to the Fair" display that was set up during the fair, which was held Aug. 30-Sept. 7 and attracted an estimated 247,000 people.
The display featured different animals under two large tents and allows people to milk a cow, watch chicks hatch, pet farm animals and ride a pony.
Several fun facts about Idaho and U.S. agriculture were posted throughout the display, which included a water buffalo, a yak, sheep, goats, a Texas Longhorn, pigs, a Scottish Highlander cow and a miniature Herford cow the kids could brush.
"Basically, all the animals that you see at a farm, and we bring them to the fair and try to educate the general population about agriculture and the important role that animals play in our lives," said Animal Specialties owner Connie Boger, who started the Arkansas-based company 25 years ago when she realized that most kids in her rural community didn't have a basic understanding of agriculture.
"I grew up on a ranch in South Dakota where I had all the benefit of learning about ranch life and the food cycle and why animals are important," she said. "I felt that it was very important for kids to know the things that I'm trying to teach them right here."
Even in a rural area like Blackfoot, most kids don't have a basic understanding of agriculture, she said.
"Kids don't have an opportunity to go to the farm anymore," Boger said. "All kids used to get to go grandma and grandpa's house and milk the cow and gather the eggs, feed the chickens and play with animals. Well, grandpa and grandma don't have a family farm anymore. So you as Farm Bureau and me as a producer have to keep doing this because we've got to continue to educate the general public."
Boger said she hopes people who visit her display walk away with one main takeaway: "That animals are a very, very important part of our life. We can't live without animals."
An IFBF display set up right beside the Animal Specialties exhibit included a plastic cow that kids could "milk," as well as informational posters designed to help inform people about important issues facing the agricultural community, such as the importance of dams.
Since both Farm Bureau and Animal Specialties focus on educating people about agriculture, it made sense to help sponsor the petting zoo, said Tyrel Bingham, IFBF's regional manager for the Upper Snake River Valley.
"There are a few main things that people come to the fair for: one is the petting zoo," he said. "We're grateful for the partnership we have with Connie and the petting zoo and the opportunity that gives us to provide a little taste of agriculture to all the kids that get to come and see those animals."
Bingham said the petting zoo and Farm Bureau's "milking" cow are two guaranteed must-stops for people with children.
"Many of these kids that come here don't have any idea where their food and fiber truly comes from and this gives us an opportunity to let them know that most of the products they use on a daily basis are agriculture-related," he said. "It's important to tie those dots together and help people realize how important agriculture really is."
Idaho is one of eight states that Boger's animal display visits each year and Idaho is the only state where she teams up with Farm Bureau.
"I'm trying to promote agriculture, just like you are, and I think we have to continue to do that," she said. "I believe in what we're doing. If I didn't believe in it, I couldn't do this because it's a lot of work and it involves long hours. But it is so rewarding when I see a child's face light up when they get to pet animals they've never seen before."
She said her ultimate goal is to instill in children, as well as their parents, an appreciation for farmers.
"We need to have an immense appreciation for farmers," Boger said. "They are the hardest working people in America, bar none. They work seven days a week, they work a lot of hours and they have a lot of variables they don't have any control over. We need to appreciate our American farmer."
Still can't find what you are looking for? Find by topic: