Farm Bureau members urged to go from 'good to better to best'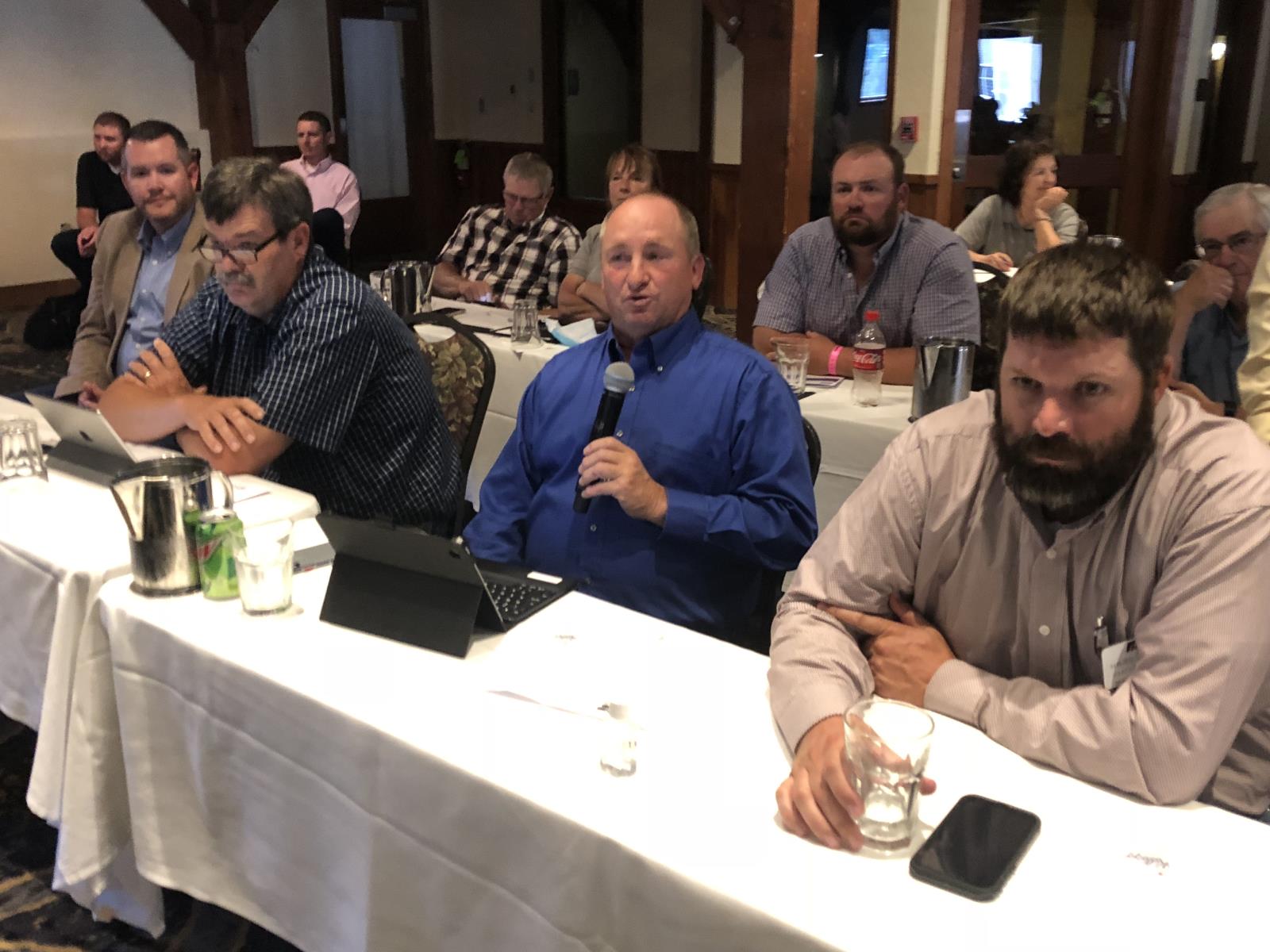 By Sean Ellis
Idaho Farm Bureau Federation
KELLOGG – Idaho Farm Bureau Federation President Bryan Searle told fellow IFBF volunteer leaders July 21 that it was a privilege to work alongside them in working to strengthen the state's largest general farm organization.
"You belong to the greatest agricultural organization there is," Searle, a farmer from Shelley, said during IFBF's County Presidents Summer Conference.
The annual event was held July 21-22 in Kellogg and was attended by presidents of county Farm Bureau organizations throughout Idaho. All of IFBF's county Farm Bureau presidents are actively involved in farming or ranching.
Searle said one of the federation's top goals is to help strengthen the county Farm Bureau organizations and provide their members the tools they need to continue to protect, promote and grow the state's agricultural industry.
"Without strong county (Farm Bureaus), we're weak," he said. "The whole goal is to strengthen our counties…."
Searle also praised the grassroots members that drive the various county, state and national Farm Bureau organizations and give them their marching orders.
"Farm Bureau is strong and Farm Bureau is strong because of the grassroots members," he said.
But Searle and other presenters also encouraged county Farm Bureau presidents and other IFBF volunteers to continue to grow and expand in their personal and professional lives and pledged that Farm Bureau's professional staff would help them accomplish that.
"I believe … your full potential as a Farm Bureau leader is unlimited," he said.
IFBF CEO Zak Miller, a farmer from St. Anthony, said the organization has phenomenal leaders in every county and he challenged them to continue to improve.
"Our leadership is good but … it can be great and it will be," he said. "Our leadership is improving at the grassroots and it must continue to improve. That's one of my visions."
Miller also pledged to continue to strengthen the already-strong Farm Bureau brand.
"All I care about is when people see that brand, they think, 'That company cares about Idaho,'" he said. "I want that brand to mean good things in the mind of anybody that comes across it. I believe we're on the right track but we're going to devote resources to grow that brand even stronger."
Todd Argall, who took over as CEO of Farm Bureau Mutual Insurance Co. of Idaho last November, encouraged Farm Bureau's employees and volunteer leaders to go from "good to better to best."
"Wherever you are at, do not settle. Keep striving to be the best," he said.
Argall said the insurance company has adopted the "good to better to best" adage as a theme "because we're good in a lot of areas, we're better in a lot of areas, but we have work to do to go from better to best."
IFBF Vice President Richard Durrant reminded conference participants of the important role that policy development plays within the organization. Idaho Farm Bureau Federation policy is developed by actual farmers and ranchers, at the grassroots level, and serves as the marching orders for IFBF staff.
He encouraged volunteers to do their due diligence and ensure policies that are adopted benefit all of agriculture.
"We need to work together to make sure we get the best policy possible in our policy book," said Durrant, a farmer from Meridian. "Let's continue to implement good policy."
IFBF leaders also talked about the important role that young producers play in the organization and applauded the work the group's Young Farmers and Ranchers program is doing in helping develop their talents.
"The Young Farmers and Ranchers program is changing Farm Bureau for the better," said Brody Miller, IFBF's director of member relations and a regional manager in southwest Idaho. "This YF&R program is developing leaders."
When Searle asked county presidents to stand up if they had been through or were involved in the YF&R program, about half of the people in the room stood up.
"That's pretty impressive," he said. "What great opportunities there are in the YF&R program. We continue to see it grow and strengthen."
Still can't find what you are looking for? Find by topic: