Farm Bureau leaders learn how to strengthen organization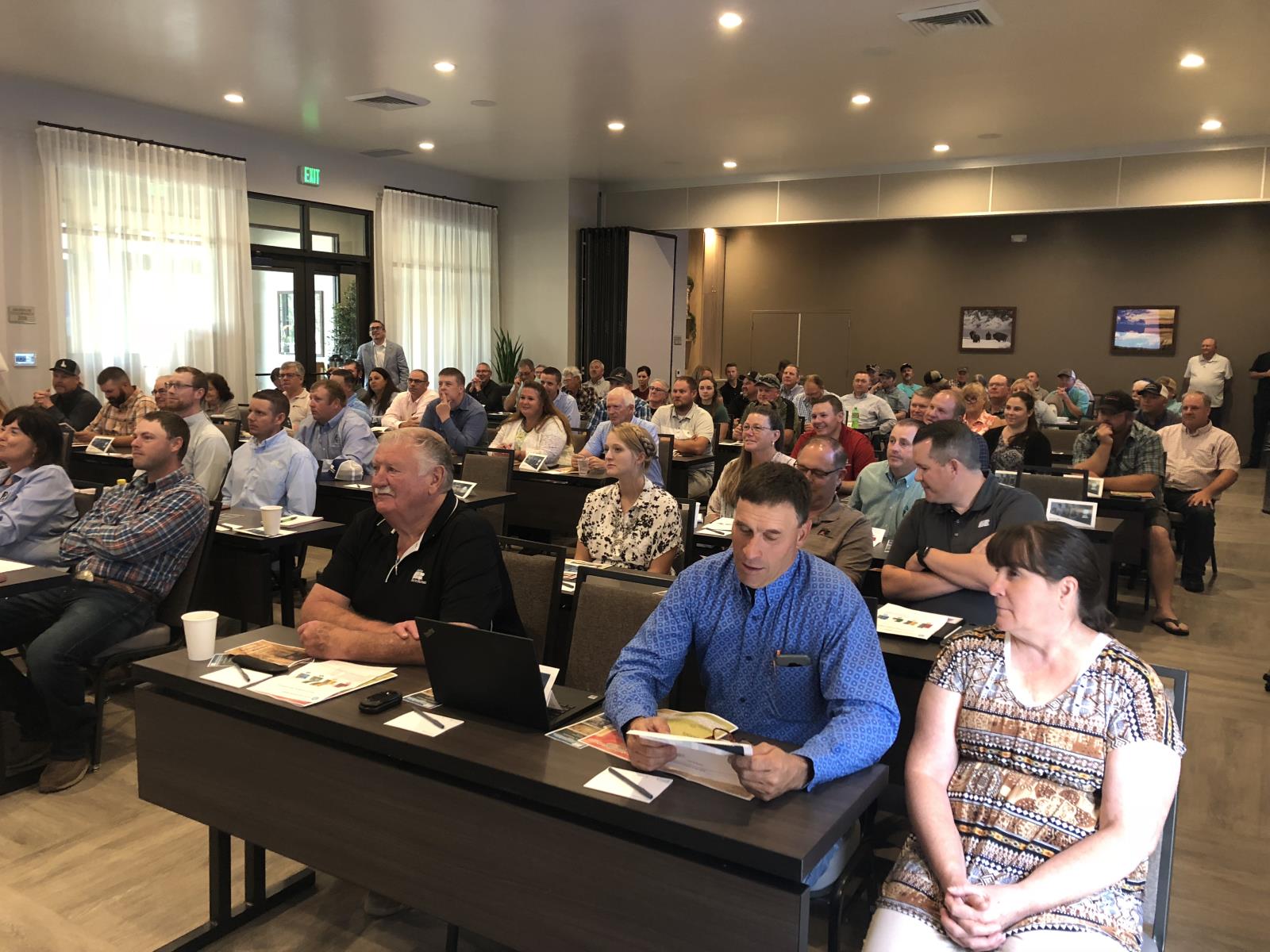 By Sean Ellis
Idaho Farm Bureau Federation
Dozens of Idaho Farm Bureau Federation leaders from throughout the state met in Island Park July 19-21 to learn how they, together, can strengthen and promote the organization and agriculture.
The annual meeting used to be called the Summer County Presidents Conference and brought together presidents of IFBF's county Farm Bureau organizations.
But the name was changed this year to the Summer Leadership Conference and in addition to county Farm Bureau presidents or vice presidents, participants included members of the state's Young Farmers and Ranchers Committee and Promotion and Education Committee, as well as the chairs of IFBF's various commodity committees.
IFBF President Bryan Searle, a potato farmer from Shelley, said the organization's leadership felt it was important to bring together leaders from throughout the organization to show them how they can work together to strengthen Farm Bureau.
Sometimes, Farm Bureau members can become their own individual silos and not see the bigger picture, he told participants.
"We felt the need to bring down some silos and work as one," Searle said. "It's important we do everything we can to work together. We're a state organization and we ought to function that way and not just get in our own little circles."
He said the conference is an "opportunity to network and it's an opportunity to learn how we can strengthen each other."
The conference was a chance for Farm Bureau members to meet and network with others and learn more about how the organization functions and the tools it offers to help farmers and ranchers succeed both individually and collectively as an industry and organization, said IFBF CEO Zak Miller.
"We need to encourage our members to recognize the strength they have not just individually but collectively by getting them together to see how strong we are together, how much we have in common with one another and all of the tools that are available to them to take back to their counties, to their communities and help collectively share the story of agriculture," he said.
Hopefully, he added, the conference will allow some people to begin to realize the potential they have as individuals and collectively together with other farmers and ranchers.
"What we've seen as staff is that all of our members have phenomenal stories, they just don't believe in themselves enough sometimes to tell that story," Miller said. "We need leaders to help people embrace their own potential and to tell their story."
The conference included a discussion on various policy proposals that Farm Bureau members will be asked to vote on later this year during IFBF's annual meeting.
"It's important that everybody is educated on all of the issues," Searle said. "If I'm a potato guy, I need to know about the wolf and rangeland issues also."
Searle said Farm Bureau operates most effectively when its members are on the same page on the various issues and work together to strengthen and promote agriculture.
"We are family and we are stronger together," he said. "We are in this together and as we go forward together, we'll be stronger as an organization."
"We appreciate you and we appreciate all that you do," Searle added. "Continue to come with those ideas because it's you that makes us strong."
During the conference, Todd Argall, CEO of Farm Bureau Mutual Insurance Co. of Idaho, told participants that the company is in a solid position financially.
But he also said the insurance company would continue to strive to become even better.
The theme of FBMIC, he said, is to go from good to better to best when it comes to meeting the company's mission of providing financial peace of mind to Idaho families, farmers and businesses.
"We're good in a lot of areas but we have work to do in a lot of areas also to accomplish that mission," he said.
The insurance company will continue to work closely with Idaho Farm Bureau Federation to accomplish its goals, Argall added.
"We are in this together for the long haul," he said. "A strong insurance company means we will have a strong federation and a strong federation means we will have a strong insurance company."
Conference participants also learned that during 2020, the state's county Farm Bureau organizations collectively provided $137,000 in academic scholarships to Idaho students and donated $166,000 to local 4-H and FFA chapters.
Those county Farm Bureaus also donated $172,000 to charitable causes and spent $87,000 bringing members together at county barbecues and picnics.
Those totals do not include what the insurance company spent improving local communities, said Justin Patten, IFBF's director of operations.
"We're doing all of this together, under the Farm Bureau name," he said.
Still can't find what you are looking for? Find by topic: