Drone puts a little fun into chores for rancher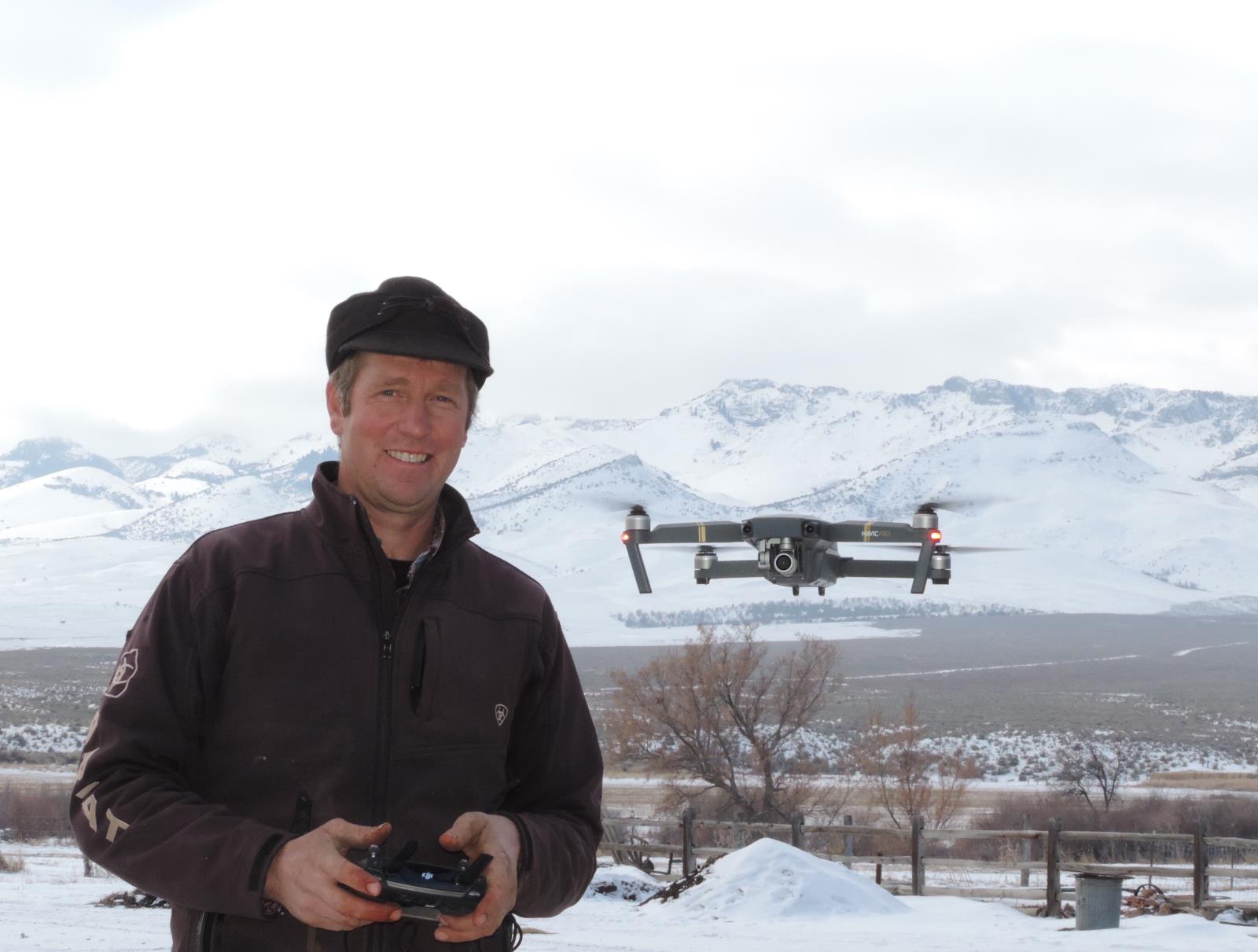 By Dianna Troyer
For Idaho Farm Bureau Federation
To care for his cattle, rancher Brian Kincade relies on an uncomplaining personal assistant that is attentive and follows orders immediately.
With its acute airborne electronic eyes, his DJI Mavic Pro drone transmits indispensable data to his cell phone.
The bird's eye view helps him prioritize chores and deal with calving, maintaining fences, and keeping water troughs full at Kincade Ranch near Elba in southeastern Idaho.
"It's another tool to use and puts a little fun into a day's work," Kincade said.
He bought the drone in the fall of 2017 at Costco.
"It was compact and durable and had an affordable price of about $1,000," he said. "It's not the most expensive model that has infrared vision to see at night."
Since he started flying a drone, friends and neighbors watched to see whether his investment would pay off. Convinced, they bought one, too.
"I've helped some others out, so the drone has made life easier for all of us," Kincade said.
During calving season from January to May, the drone makes it easy for Kincade to monitor cows giving birth in hard-to-access areas of pastures.
"Some like to calve in the clumps of willows along the creek," he said. "I can zoom in and see a cow's ear tag and know her history and whether she's had trouble calving before."
Kincade said learning to fly the Mavic was fairly easy. He became registered to pilot it by correctly answering a short series of safety questions.
"You had to pass the test before the software would allow you to fly it," he said.
The drone must remain in the pilot's line of sight and cannot fly above 400 feet or in restricted airspace.
He taught himself to fly it by reading a brief instruction manual and watching classes on the internet.
"I call it You Tube University," he said, grinning. "You can learn just about anything there. The software is pretty sophisticated, so it almost flies by itself."
To begin a flight, he clicks its propellers into place and slides his cell phone into the control module. It whirs to life on the ground. Toggling joysticks, he makes it hover and go straight up.
Set to a regular mode, it automatically avoids objects. It is also programmed to return to its launch site if its battery is running low. If it does go down, its location can be traced.
Once clear of obstacles and buildings, he sets it on a sport mode speed of about 40 miles an hour. Looking at his phone screen, arrows show the direction the drone is moving, so he knows where to guide it.
"I want to get it out there and back before a battery gets low," he said. "Each battery lasts about 21 minutes, so I always carry two extras when I'm out."
The drone proved its worth shortly after Kincade bought it. It not only showed him what water troughs needed to be filled, it helped him herd his cattle.
"It sounds like a hive of bees, which can get them moving," he said, laughing. "I flew it low enough to bring them off a ledge and down into the canyon where I was riding my horse, so I could move them to where they needed to be."
Since then, most of his cows have become accustomed to the Mavic's sound and just look at it.
"I haven't had any trouble with it," he said. "Considering how much I use it, it's lasted a long time."
Still can't find what you are looking for? Find by topic: