Data show agriculture's importance to Idaho's economy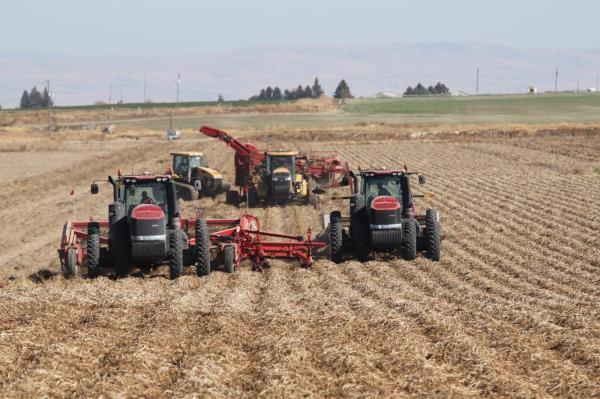 BOISE – University of Idaho economists have come up with different ways to show how important agriculture is to Idaho. During a recent presentation to lawmakers, U of I Agricultural Economist Garth Taylor provided another example.
According to data from the U.S. Bureau of Economic Analysis, Idaho ranks No. 5 in the nation when it comes to a state's gross domestic product from farming as a percent of that state's total GDP.
Gross domestic product is the total value of all finished goods and services and a comprehensive measure of economic activity.
Idaho ranks very low in total population but ranks right with the traditional heavyweight farm states in that measure, trailing only South Dakota, North Dakota, Nebraska and Iowa.
According to U of I calculations, Idaho's vast agriculture industry is responsible for 13 percent of the state's total GDP, one in every eight jobs in the state and $26 billion in sales annually.
"If I could leave you with one slide today, it would be this one, which shows Idaho is the fifth largest agricultural economy in the nation in terms of total farm GDP as a percent of a state's total GDP," Taylor said. "That's remarkable, really."
"That is an incredible figure that shows how important agriculture is in the state," he told Idaho Farm Bureau Federation following his Jan. 2 presentation to lawmakers on the condition of Idaho's agriculture sector.
Taylor's presentation, which synopsized the findings of several U of I ag economists, included slides that show Idaho's agriculture sector is growing at a faster rate than the nation's farming sector and also faster than the state's overall economy.
Since 1997, total farm cash receipts in Idaho, adjusted for inflation, have grown by 70 percent, while they have grown by 20 percent nationwide, according to USDA Economic Research Service data crunched by U of I economists.
"Idaho is far outstripping the growth in the United States in farm cash receipts," Taylor said.
He said that's largely due to the fact that Idaho produces a very different portfolio of farm commodities than the rest of the country. Idaho's No. 1 farm commodity in terms of cash receipt is dairy and milk cash receipts have grown by 200 percent since 1997.
Idaho's No. 2 farm commodity is beef cattle. Together, dairy and cattle account for 60 percent of the state's total farm cash receipts and when feed crops such as hay, corn silage and sugar beet pulp are factored in, that number rises to more than 70 percent, Taylor said.
Idaho also leads the nation in potato, food trout and barley production, ranks No. 2 in hops and also is a significant producer of wheat, hay, beans and sugar beets.
"Agriculture is far different in the state of Idaho than it is in the United States," Taylor said.
Not only is agriculture the most important part of Idaho's economy, he said, that sector is also growing much faster than the state's overall economy.
Based on data from the BEA and U.S. Department of Commerce, farm GDP in Idaho has grown 40 percent more than total Idaho GDP since 1997, Taylor said.
"Stodgy old grandma and grandpa on a tractor … are far outstripping the state's total growth in GDP," he said.
Still can't find what you are looking for? Find by topic: