Chumrau takes over as director of Idaho Wheat Commission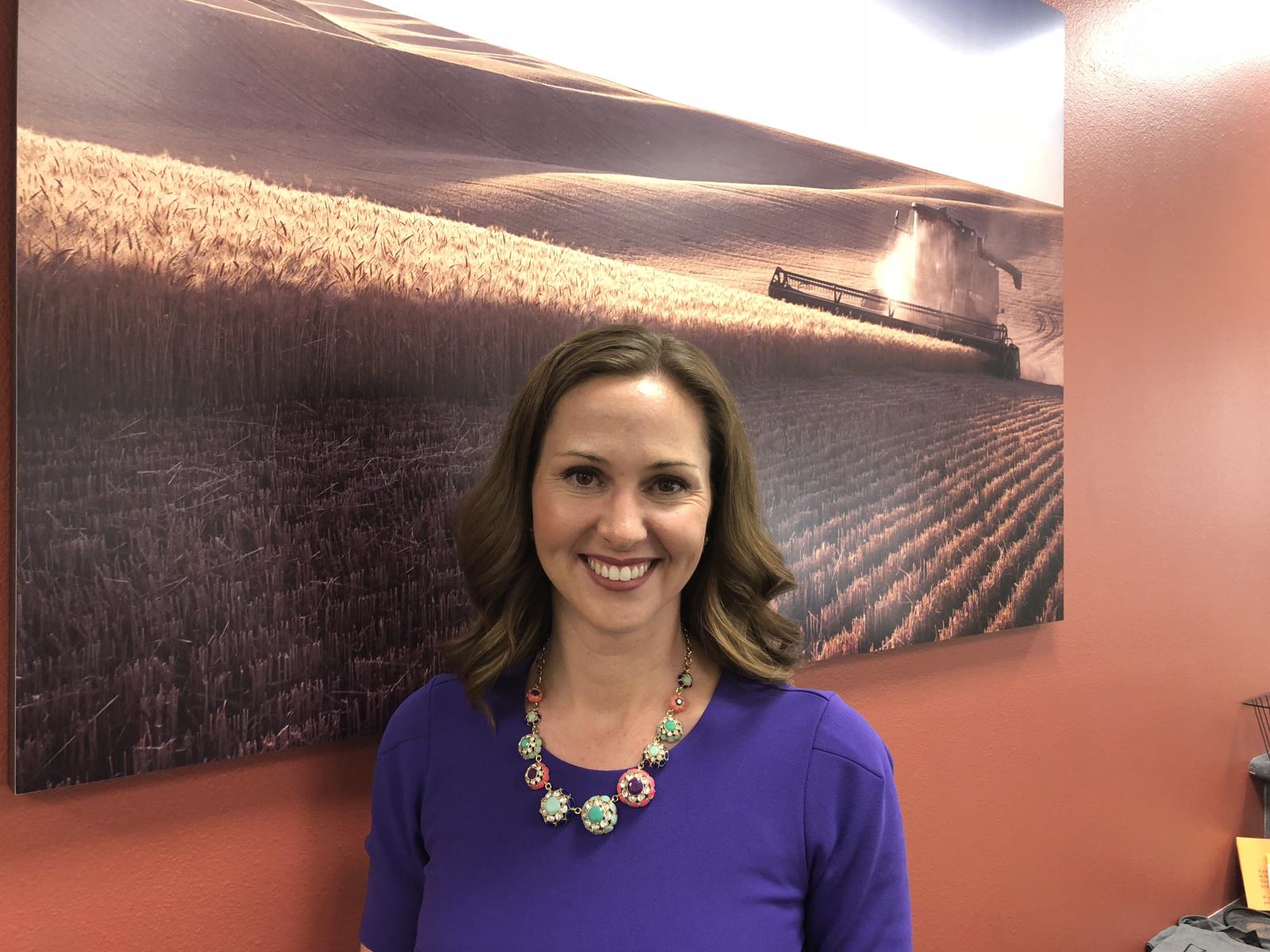 By Sean Ellis
Idaho Farm Bureau Federation
BOISE – The Idaho Wheat Commission's new executive director, Casey Chumrau, knows she has big shoes to fill but leaders of the state's wheat industry are confident she has the skills and experience to do that.
In January, Chumrau began working alongside Blaine Jacobson, who led the wheat commission for 18 years and retires at the end of June.
The wheat commission, which is financed by a grower assessment fee, markets and promotes Idaho wheat, funds research and educates wheat farmers.
The six-months transition period has allowed Jacobson to transfer much of his institutional knowledge about Idaho's wheat industry to Chumrau.
"It is definitely a daunting thought to have to fill Blaine's shoes," Chumrau told Idaho Farm Bureau Federation. "But we've had six months together and he's just been wonderful in trying to dump as much knowledge onto me as he can. We've been working really well together and I really appreciate all the time he's dedicated to me and my future success in this role."
Chumrau, who is originally from Montana, previously worked 8.5 years for U.S. Wheat Associates, the export market development organization for the U.S. wheat industry.
She spent four years in USWA headquarters in Arlington, Va., where she monitored global wheat market trends, produced weekly price reports and provided contract, quality specification and price assistance to wheat exporters and importers.
She then spent 4.5 years in Chile as USWA's marketing manager for South America, where she helped develop and expand export markets for all classes of U.S. wheat. During her time in that position, she also brought trade teams to Idaho.
"Casey's going to be wonderful because she has a very good background in the wheat industry," said Jacobson. "In the five months that she's been here, she has just been a quick study. She's picked up things very quickly and I think she'll move things along really well to the next level."
IWC Commissioner Bill Flory, a North Idaho wheat farmer, said Chumrau brings a wealth of experience to the commission.
"She has quite a breadth and depth of experience that she brings to the office that will benefit the entire industry," he said. "Blaine has done a phenomenal job of mentoring here and transitioning her into the position and the commissioners are dedicated to making sure she's a success."
Clark Hamilton, one of the IWC's five commissioners, said Chumrau's experience and professional skills make her more than capable of leading the commission into the future.
"I feel we're in good hands going forward and we're excited to have her," said Hamilton, an East Idaho farmer.
Chumrau said Jacobson has the commission in a good place but one of the IWC's objectives going forward is to reassess how the commission's research dollars are spent. About a third of the IWC's total $3 million annual budget goes toward research.
"We want to make sure those dollars are getting a good return on investment for the grower and that they are research projects that are going to help increase the bottom line of our growers here in Idaho," she said.
Chumrau said one of her initial goals was to go out and meet wheat farmers and other industry members in person but the COVID-19 outbreak has slowed that plan. But she said she has been welcomed warmly by the industry.
"I have been so warmly welcomed," she said. "The people have been so nice and open and absolutely wonderful and that makes me very sure that I made a good decision."
Still can't find what you are looking for? Find by topic: