Big Dam Meeting includes both sides of salmon recovery issue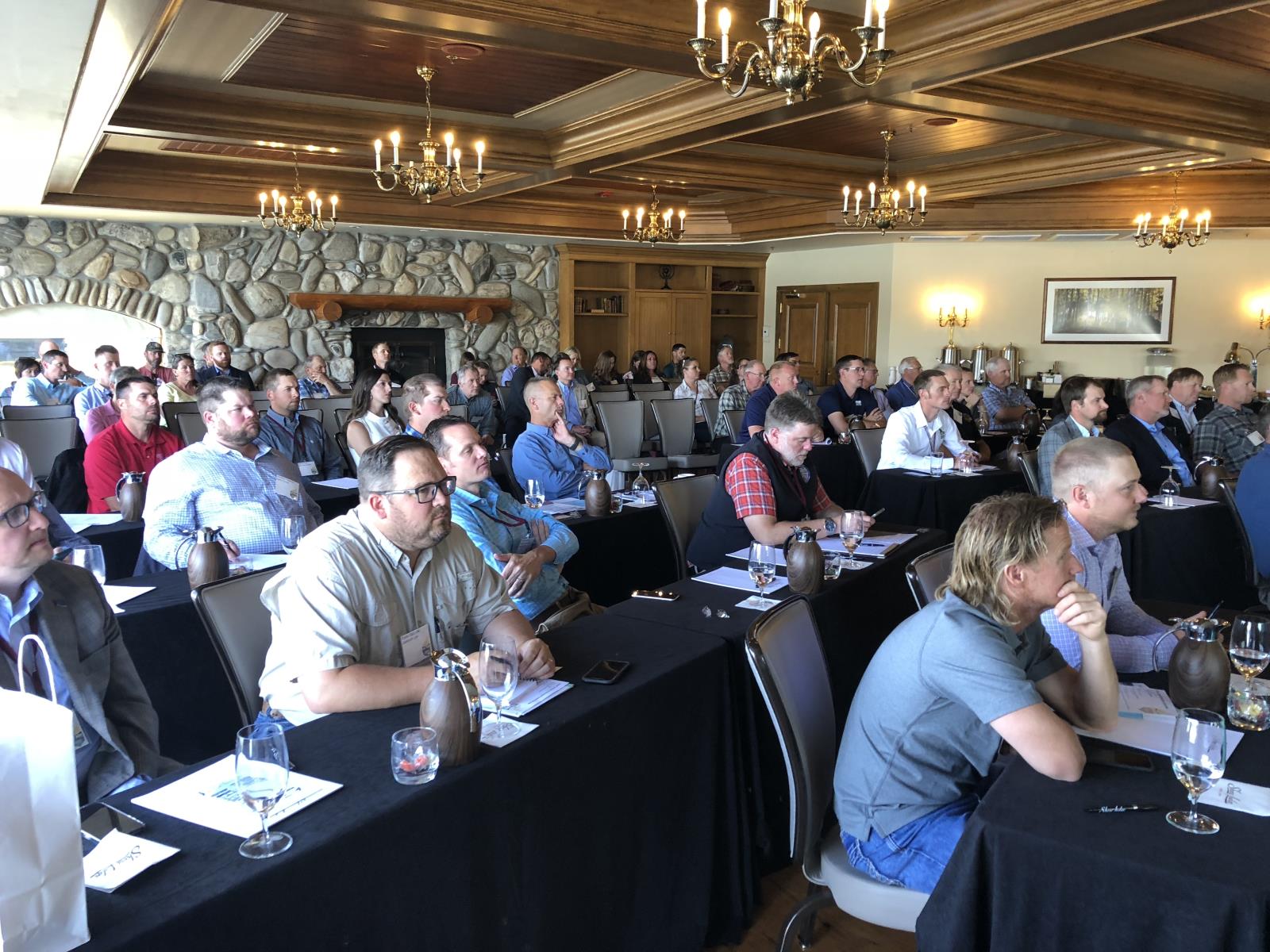 By Sean Ellis
Idaho Farm Bureau Federation
MCCALL – A proposal that would result in the removal of the four lower Snake River dams was discussed openly and passionately by supporters and opponents of the plan during an event known as the Big Dam Meeting.
The meeting, held June 1-2 in McCall, was hosted by the Idaho Grain Producers Association, which represents wheat and barley growers in Idaho and is opposed to dam breaching.
About 125 grain growers from around the state attended the event and they overwhelmingly opposed a $33.5 billion proposal by Rep. Mike Simpson, R-Idaho, that would result in the removal of the dams, which allow a large amount of wheat, barley and other agricultural commodities to be barged to the West Coast for export.
Removing the dams would make the Columbia-Snake River system unnavigable for barges.
Simpson was invited to speak at the event and he defended his proposal while being challenged by dam removal opponents.
Some members of a panel discussion also argued in support of removing the dams as a way to help recover populations of endangered salmon.
IGPA and other farm groups, including Idaho Farm Bureau Federation, have longed opposed efforts by environmental groups and others to breach the dams.
Dam breaching supporters claim it's the only way to prevent Idaho salmon runs from going extinct.
The questions and conversation during the Big Dam Meeting were respectful but sometimes pointed.
IGPA Executive Director Stacey Satterlee said the organization thought it was important to invite supporters of Simpson's plan as well as opponents to the meeting.
"If we just invited our side, we're essentially talking into an echo chamber," she said. "We would be doing everyone a disservice by only having our side of the conversation represented. It is a complex conversation. There is not an easy answer and everybody needs to hear what those other positions are within the broader conversation to really understand what the full picture is."
"Genesee" Joe Anderson, a North Idaho farmer and member of the Idaho Wheat Commission, agreed and told IFBF the meeting resulted in a lot of farmers at least being exposed to the contrary viewpoints of people who support dam breaching.
But, he added, "I don't know that anybody's mind was really changed there."
At least both sides now have a clear understanding of where everybody else stands, said North Idaho farmer and IWC member Bill Flory.
"Everybody understands where everybody else stands and where they are coming from. That's extremely important," he said.
During the meeting, dam removal opponents emphasized how important the dams are not only to agriculture, but to all of the Pacific Northwest
About 10 percent of the nation's wheat exports and 50 percent of Idaho's wheat production is moved to port by barge through the lower four Snake River dams.
The river system also provides for the efficient transportation of fuel, fertilizer and machinery back up the river, which reduces freight costs to businesses and residents in the region.
Those hydroelectric dams also produce a significant amount of power and are an integral part of a hydroelectric system that allows people and businesses in the Pacific Northwest to enjoy some of the lowest power rates in the nation.
As meeting attendants learned, the question of how to recover endangered salmon populations is a very complex one.
"This issue is arguably the most complex natural resource issue in the Pacific Northwest and maybe the entire country," Satterlee told meeting participants.
Issues that affect salmon populations include harvest, hatcheries, habitat and hydropower, said Jim Fredericks, deputy director of the Idaho Department of Fish and Game.
"It's a very, very complex issue," he said.
The issue is like peeling an onion, said Will Hart, executive director of the Idaho Consumer-Owned Utilities Association. "There's just layer after layer and layer."
During his presentation, Simpson, who has faced significant heat and opposition since his proposal was released in January, said he has heard from some people who claim he has abandoned Idaho agriculture.
He defended his record supporting Idaho agriculture during his 23 years in office and read off a long list of legislation that he has authored or co-signed that supported the ag industry.
"I think Congressman Simpson had a good point that he has supported agriculture throughout his career and we're still friends," Anderson said. "But we have a differing of opinion on this issue."
During the meeting, Satterlee emphasized how dam breaching would impact all of Idaho's wheat growers, not just those in North Idaho who depend heavily on the river system to barge their wheat to port.
About 50 percent of Idaho's wheat is exported, most of it by barge down the Columbia-Snake River system, she said. If the dams are removed and it's no longer economically feasible to barge, that wheat has to find a new home.
"It's going to flood your market," she said to wheat farmers in southern and eastern Idaho. "That's a real direct (impact). Everybody stands to be impacted by this."
Satterlee pointed to a recent study that projected dam breaching would result in the loss of about 1,100 wheat farms.
Flory told IFBF that dam removal could result in wheat farmers in the region sustaining a $1 per bushel loss on their wheat.
"That's better than our profit margin," he said. "The impact of dam breaching would be major."
But Simpson and some members of a panel that debated the issue defended dam breaching as the only way to recover endangered salmon populations.
The congressman, whose plan proposes to compensate industries, including the grain industry, that would be impacted by dam breaching, said the salmon will go extinct unless the dams are removed.
Bonneville Power Administration spends $750 million every year on salmon recovery and "the one thing they are not doing is recovering salmon," Simpson said. "The only way we are going to recover salmon is by removing those dams. The science is overwhelming" on that. "If something isn't done, Idaho's salmon runs will go extinct."
Justin Hayes, executive director of the Idaho Conservation League, said no plan that doesn't include dam breaching will succeed in recovering salmon populations.
"The situation is real dire," he said. "Restoring salmon is how we will end the salmon wars."
Hayes added, "These dams will be coming out in all of our lifetimes," a claim that was disputed by others who opposed dam removal.
The discussion on dam removal and how to make sure those impacted by it are compensated is a discussion that needed to happen, Simpson said.
The one thing he wants to avoid, he said, is a judge determining the fate of the dams with those impacted by it getting nothing.
"We knew when we released this, we were kicking a hornet's nest but it was a hornet's nest that needed to be kicked," he said.
The congressman said Idaho salmon travel 900 miles over eight dams to reach the ocean, then later in their lives, they come back the same way to lay eggs and die.
"That's a lifecycle only God can create," he said. "Maybe we shouldn't mess with it."
Simpson said if a solution isn't found, the endless salmon lawsuits, filed by environmental and other groups against the operation of the dams, will continue.
His proposal aims to end those lawsuits and calls for a 30-year moratorium on lawsuits targeting the operation of the dams.
Dam breaching opponents disagreed with the assertion that the dams will definitely be breached and they also had serious doubts any type of litigation moratorium would be followed.
"I do not think there will be 30 years of litigation set aside as the concept proposes," Flory said. "One district court judge will change that."
"There's no trust that a litigation moratorium will work," said Paul Arrington, executive director of the Idaho Water Users Association.
One of the main points discussed during the two-day event was the impact that ocean conditions have on salmon populations.
Dam breaching opponents argued that ocean conditions, more than anything, impact salmon numbers and removing the dams would be a moot point and result in economic hardship to many PNW residents and industries for no reason.
Even those opposed to dam breaching said they supported recovering salmon populations but they said removing the dams is not the way to do it.
"The Port of Lewiston is pro salmon recovery and anti-dam breaching," said Port of Lewiston Manager Dave Doeringsfeld.
He said the ocean is the biggest factor by far affecting salmon populations and he questioned whether the economic pain that would result from dam removal would be worth an incremental improvement in salmon survival.
"I don't think that is enough to justify the economic impacts that would result from removing those dams," Doeringsfeld said.
Gov. Brad Little, a Republican rancher from Emmett, also spoke during the event and he reiterated his opposition to dam breaching.
"Everybody knows where I stand on the issue of the dams on the lower Snake," he said.
Still can't find what you are looking for? Find by topic: