Amy Heikkila wins Leadership Speech Contest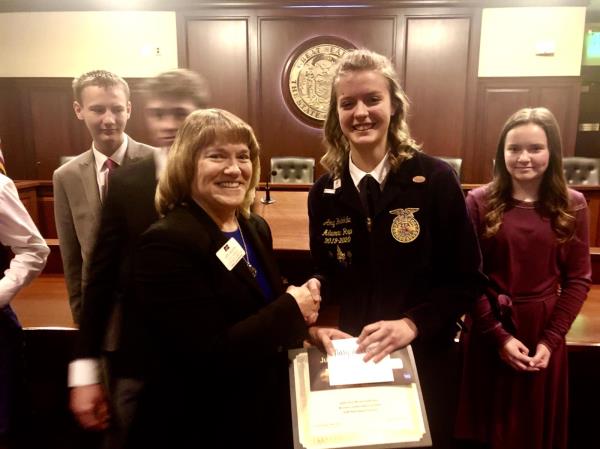 Boise—Amy Heikkila a Meridian High school junior won the Women's Leadership Committee Speech Contest this morning at the Idaho Statehouse.
The annual event is sponsored by the Idaho Farm Bureau's Women's Leadership Committee.
"It's a wonderful experience to get to listen to our high school students," said Leadership Chairman Judy Woody. "Students enter the competition on the county level and by the time they get here, the speeches are polished and they do a great job."
Idaho Senator Lori Den-Hartog of Meridian welcomed the contestants to the East Wing of the Statehouse. She emphasized the importance of communication in agriculture and speaking with passion and conviction, she urged students to hone their craft and tell the world about Idaho agriculture.
Six contestants delivered well-crafted speeches that centered on farm labor shortages. Today's speeches focused on the problem of finding labor and possible legislative solutions on Capitol Hill.
Heikkila's speech immediately captured the Statehouse audience by addressing the importance of labor in Idaho agriculture. She added that while technological changes like robotics might help the situation, it till not completely solve labor shortages, she said a viable H2a program is the first step.
"I struggled with my research, then I talked to fellow classmates who farm and through those conversations was able to develop a better understanding of the issue. I also talked to my Dad who also farms and he told me about robotics and its impacts on the labor shortage, that put it all in perspective, said winner Amy Heikkila.
Heikkila won a $250 scholarship check, she says she will use the money for her college fund.
Still can't find what you are looking for? Find by topic: