Ag labor coalition wants H2A wage relief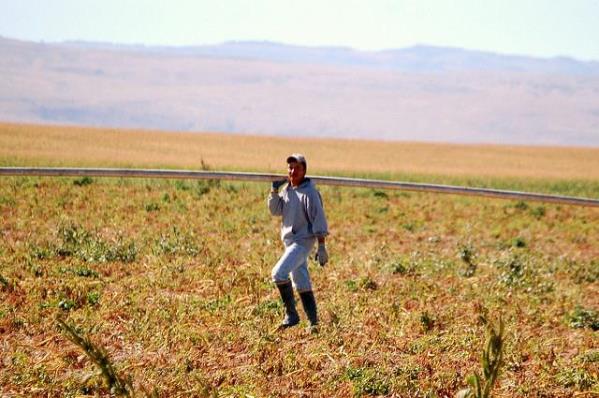 WASHINGTON - An Ag labor coalition group is asking US lawmakers to change oppressive ag labor laws.
In December the US House of Representatives passed the Farm Workforce Modernization Act or H.R. 5038. The bill is significant because for the first time it addressed the dairy industries' unique workforce needs.
The government-mandated wage rate for farmers who use the H-2A program went up last Thursday, and that adds more hurdles to an already tough ag labor market.
The Farm Bureau is concerned about the higher wage rate and the impacts it'll have in different states.
"It's one thing if we have a great program or even a good program that helps us get legal workers when we need them and streamlines the process, but if I was a farmer and I can't afford those workers because of the wage rate, good program or not, it's got to be affordable," said Dale Moore, Executive Vice President of the American Farm Bureau.
The Agriculture Workforce Coalition, which includes the American Farm Bureau Federation, sent a letter to the Senate urging reforms. Allison Crittenden, AFBF congressional relations director, says the Adverse Effect Wage Rate will immediately increase farmers' labor costs at a time when revenue for agricultural goods is declining.
"On a national average, we're seeing a six percent increase. The AEWR is calculated into different regions, so some regions will see a greater increase than that; other regions will see a slightly smaller increase. But, overall, it's going up another six percent while prices that farmers are getting for their commodities continue to be pretty stagnant," said Crittenden.
Crittenden says the coalition seeks legislation that will ensure a level playing field for America's farmers and ranchers.
"We asked the U.S. Senate to come up with a solution that replaces the AEWR and allows American farms to be competitive. We're continuing to see an influx of goods imported from other countries where their labor is much cheaper, and that's driving down the prices for American agriculture goods," said Crittenden.
Without reforms, she says some farms may go out of business because of the U.S. farm labor crisis.
"A lot of farmers are forced to use the H-2A program, which subjects farmers to also paying for housing, transportation, and the inflated Adverse Effect Wage Rate. So, it's a matter of making sure farmers have access to the workforce that they need at a cost that won't put them out of business," said Crittenden
Still can't find what you are looking for? Find by topic: