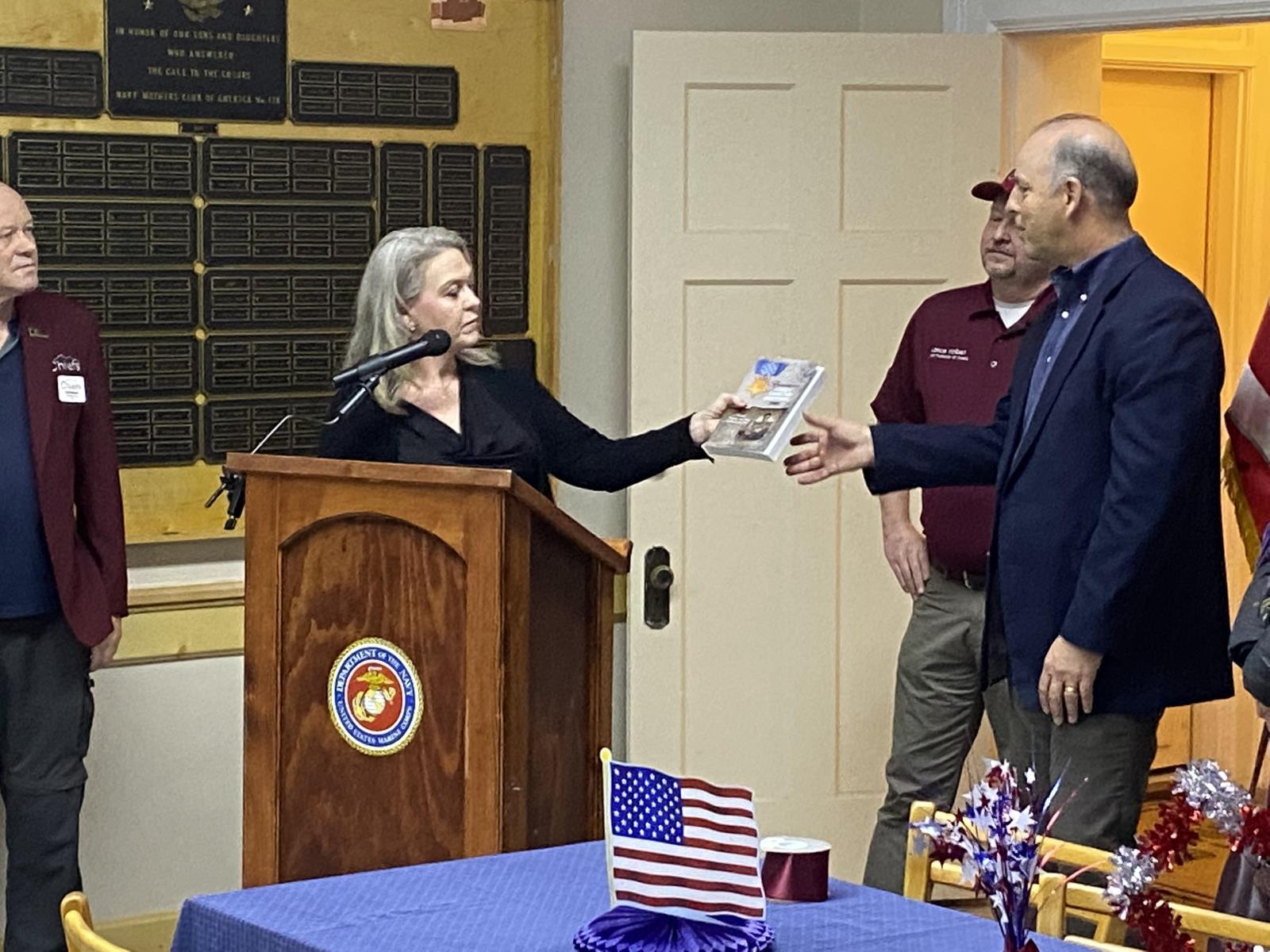 By John O'Connell
Idaho State Journal
POCATELLO — When Farm Bureau announced in early October it was postponing the annual Salute to Idaho Veterans celebration due to COVID-19, some local veterans organization leaders got to work planning an alternative.
Plan B proved to be a memorable Veterans Day affair, attended by a few hundred veterans, active military members and their supporters. It started at 11:11 a.m. Thursday at the Bannock County Veterans Memorial Building, 300 N. Johnson Ave.
In addition to hearing patriotic speeches, the group celebrated the ribbon-cutting of a new military museum at the Veterans Memorial Building, as well as the establishment of a new veterans scholarship endowment fund.
And near the end of the event, employees with Chubbuck-based Steel West Inc., made a surprise check presentation of $15,000 to erect a new flagpole outside of the building.
Steel West staff members were given a break from work to attend, and Farm Bureau covered the bill for Blackhawk BBQ Pit to cater the festivities. Furthermore, several Farm Bureau Mutual Insurance Co. of Idaho officials attended, including Executive Vice President and CEO Todd Argall.
"The veterans felt strongly that we can't do a celebration without Farm Bureau. It just doesn't feel right," said Lance Kolbet, adjutant with AMVETS Bengal Post 1901 and a participant in the Bannock County Veterans Memorial Association.
The keynote speaker, retired Sgt. Major Gary Truscott, of the U.S. Marine Corps, reminded the crowd that 2.7 million Americans have served in Iraq and Afghanistan, and more than half of them were deployed more than once.
"I'm confident that if you take the time to learn about any veteran where you live, you'll be amazed at the stories of service and sacrifice known only to those who witnessed it firsthand, and then there's the unbelievably brave accounts of heroes who can no longer speak for themselves," Truscott said. "It's up to us to not only tell their stories but to honor their service by remembering them and their families."
At 11:45 a.m., the Pocatello-Chubbuck Chamber of Commerce led a ribbon-cutting of a new military museum, which was opened at the facility about a month ago.
Kolbet explained that several boxes were found in storage containing historic military documents and memorabilia. There were knives from D-Day, documents about the War Mothers organization started in Pocatello in the 1920s, lots of military photos and numerous items from World War I and World War II.
There's also a tattered American flag on display in the building from the Spanish American War.
Teresa Vialpondo, the AMVETS vice commander who helped set up the museum, said people from the community will be encouraged to loan their military memorabilia so that the museum can change displays quarterly.
"It brings that pride back out to the community and gives everybody a little bit of history and reminds them that this is why we're here. This is a building for a reason," Vialpondo said.
Miguel Dominic, a retired U.S. Army corporal, said the museum also offers a history of the Veterans Memorial Building. His favorite part of the display is the Battlefield Cross — a rifle with a bayonet stuck in the ground by a pair of boots supporting a helmet and dog tags to symbolize a fallen soldier.
The endowment, honoring Pocatello Medal of Honor recipient James E. Johnson, who was killed in Korea, supports a scholarship that will be awarded in perpetuity to a Bannock County veteran. Preference will be given to students attending ISU's College of Business.
The endowment was started with $5,000 in donations from Kolbet, on behalf of AMVETS, the Marine Corps League and a client of Kolbet's who wishes to remain anonymous.
AMVETS Bengal Post 1901 Commander Ayriss Torres, the reigning Miss Idaho and a member of the U.S. Army Reserves, presented a check to Shane Hunt, dean of ISU's College of Business.
Shawn Lund, director of finance and administration with Steel West, surprised Dominic, who serves on the board for the Veterans Memorial Building, with a $15,000 check to Dominic to replace the facility's current flagpole, which is crooked and beyond repair.
Kolbet said the new flagpole will be 50 feet tall and will have lighting at the base to illuminate the flag.
Still can't find what you are looking for? Find by topic: